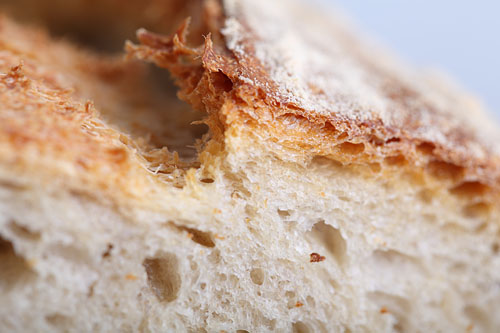 Nasa has nothing to do with making a good sourdough culture, nor has dancing in the moonlight!
Useful bread baking tips on flour, water and bread in general
Never trust the amount of water given in a bread recipe, your flour could be (acting) different from theirs, absorbing more or less liquid.
Use steam! Using steam (spray water on the sides of your oven, be careful not to damage your oven by spraying on electrical things) during the first 8 minutes in the oven gives the bread room for expansion and forces the enzymes in the crust to give your bread a nice color!
Use a dough scraper, they are great for dividing dough and for dough folding, especially with wetter dough!
Read a good book about bread baking techniques; we like 'Bread' by Jeffrey Hamelman, his recipes really work for us.
Make your own sourdough culture. There are lots of articles about sourdough. Some are very technical and elaborate talking about sourdough starters as if the are designed by Nasa and need the upkeep done at moonlight, dancing around Stonehenge. All you need is unbleached organic flour, water, a jar and a spoon. Read our instructions on how to make your own sourdough culture.
Do NOT store bread in your fridge because the temperature of the fridge (about 5 degrees Celsius) is about the worst climate for keeping bread so it's the fastest way to old and stale loaves and rolls. Store it in your freezer or in a plastic bag at room temperature. The best thing of course is to eat it after it has (almost) cooled down, although some breads, like rye bread get a bit better with age.
If your bread is a bit stale, do not throw it away but give it a quick 'pick me up' in the oven for 5 minutes at about 175 ºC / 345 ºF. You will lose some moisture but you will get your crust back. Be aware, this will work only once! Check out other tips on using stale bread.