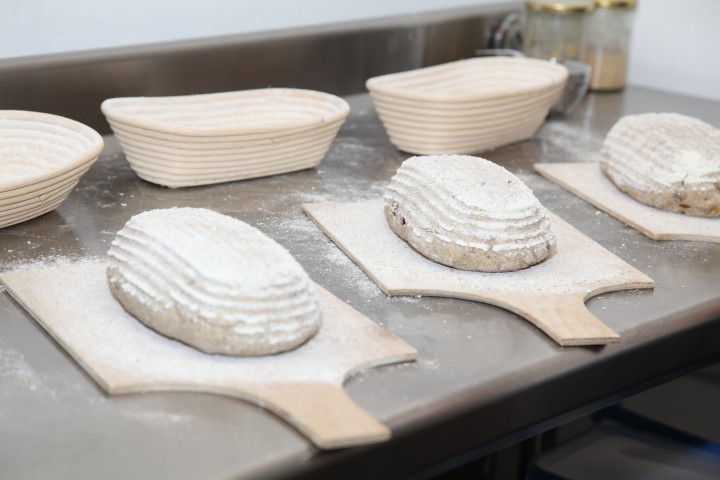 It feels great to master a recipe and get the same result time after time…
You have baked your most fantastic loaf ever! Everybody loves it. Next week you bake it again. But…this loaf turned out different. It's not as well risen, it lacks a bit in salt and where are those big holes from last week? If you want your favorite recipes to work every time, there are some simple steps you can take to get the perfect loaf bake after bake. Here are some tips that work for us. They have improved our baking results dramatically.
Remember that making bread is an exact science. If you repeatedly want to produce the same quality loaf, you have to measure your ingredients and write things down.
Before you start, always read the entire recipe and make sure you have everything you need in place to create the optimal conditions for making a great loaf!
Buy a dedicated bread notebook (the old version, made of paper) and write down the exact amounts, dates, time and temperature (room, oven, water and dough) each time you bake. We use a CDN ProAccurate Quick-Read digital thermometer to measure water and dough. Make notes on how every step turned out and how it can be improved next time. Keep score of what works and what doesn't.
Weigh your ingredients carefully and keep score of the amount of water you use each time. Especially when buying a new batch of flour, it could absorb more or less water than your previous batch.
Even different brands (and therefor qualities) of the same type of flour can give dramatically different results
For small amounts of yeast and salt it is of great help to use a precision scale that measures exactly the 0.2 grams of yeast you want to add to your starter/poolish for example.
The weather and especially the temperature in the room can also play a role in baking results. You can help your dough by adjusting the temperature of the water you use to get a consistent dough temperature (with most recipes this is 24ºC / 75.2ºF).
Measure your water by weighing instead of using a measuring jug. It is much more precise (for the record:1 ml of water is 1 gram).
Buy one or more timers that alarm you when the next stage of your bread making wants you back to your dough or loaf. This way you won't forget or be to late.
When you have perfected a recipe, turn it into a document and print it out, so you can use this as your perfected guideline
Keep the print out of your recipe together with a pen close to your work surface so you can make notes as you go along. Do not think you will write it all down later because you'll probably forget.
Practicing the baker's percentage helps to understand the dough composition, and makes adjustments precise (Thanks to Anton).
If you have any more tips we would love to hear them!