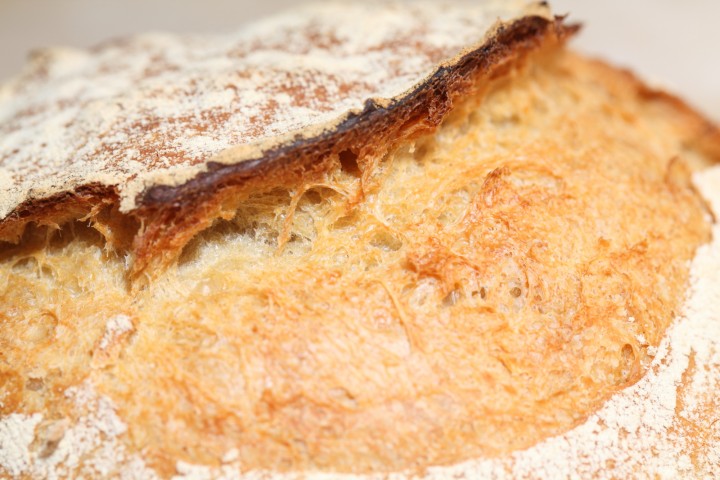 Oui, oui, iet ies see famoes Baguette Boule!
Klik hier voor de Nederlandse versie
For people who, for various reasons, cannot or will not make baguettes, this bread is a great alternative! And you do not need a mixer…
This recipe will yield two breads of about 675 g each. We advice you to make this recipe as stated. You could divide all the ingredients in half and end up with one boule. But because of the lengthy process and the fact that the piece of dough for one boule will be a bit too small to handle during stretch and folds, we would urge you (provided you have the oven space) to make the two breads in one go.
From baguette to baguette boule
So what's the difference from our original 80% hydration baguette recipe ? The most important step was we only used 75% hydration instead of 80%, estimating we could shape a good loaf this way. So for the two baguette boules in this recipe we reduced the amount of water in the final dough from 304 g to 266 g. The amount of water in the poolish stays the same as in the original baguette recipe. The end result is great, the crumb is moist, lovely and sweet like the baguette, but the shape allows you to have a nice sandwich (we Dutch love our sandwiches). The oven spring was a joy to watch, the crust is much like the crust of a baguette. We also really like the color of this bread, you can see how beautiful it has caramelized.
So in honor of this successful experiment we decided that this bread is a keeper and should have a name. So next to the PR (Pain Rustique), PL (Pain au Levain), SF (San Francisco Style Sour Dough) and the MB (Mini Boules) we now have the BB (which either stands for Baguette Batard or Baguette Boule, depending on the shape you choose).
Before you start, you might also want to check our tips for scoring bread with confidence and handling wet dough. You can check out the stretching and folding technique used for this dough in our baguette making video.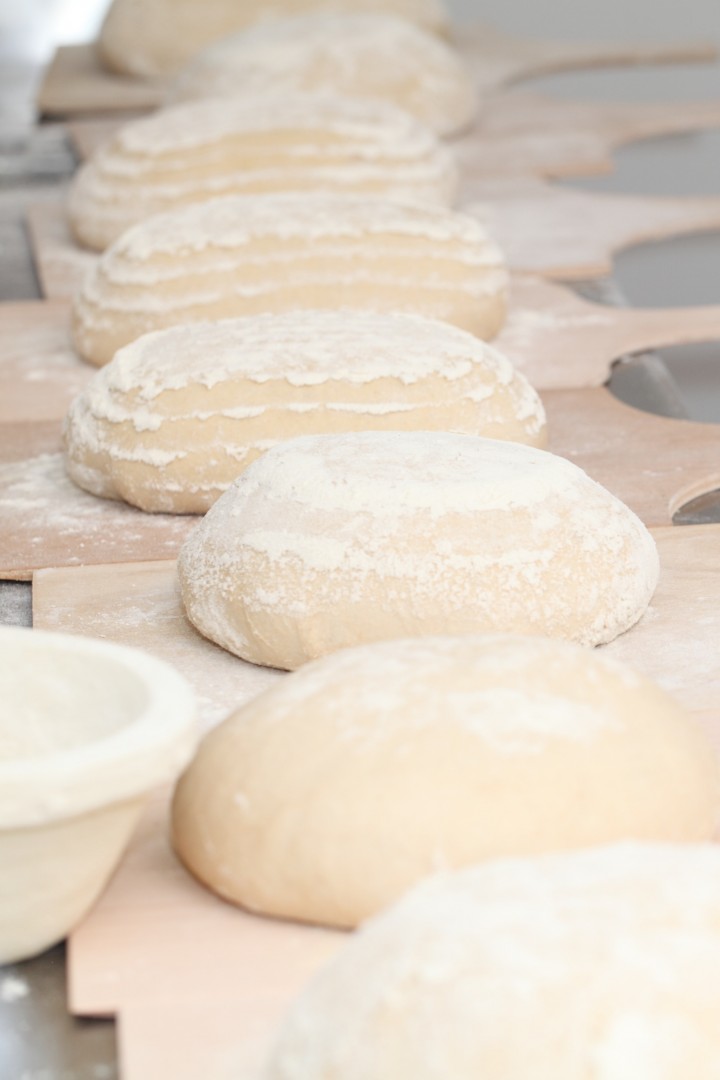 Ingredients for the poolish
380
g
wheat (bread) flour (around 12% protein)
304
g
water (room temperature)
3
g
instant yeast
Ingredients for the Baguette Boules
makes 2 boules of 673 g each
the poolish from step 1
380
g
wheat (bread) flour
266
g
water
12
g
(sea) salt
1.5
g
instant yeast
Making the 'Poolish'
Normally a poolish has equal parts of water and flour, however this time we make a preferment of 80% water which is in between a biga and a poolish. So it is less wet and much less slurry than an actual poolish. In a bowl stir together 380 grams of bread flour with 304 grams of cold water 3 grams of instant dry yeast. Mix it until you have a consistency that looks like very very thick dough-like batter. Cover the bowl and leave for one hour at room temperature. After this hour at room temperature you put the poolish in the fridge for 10 to 17 hours. So if you want to begin your bread making in the morning, you can make your poolish the evening before.
Making the BB's
The times given in this recipe work best if your room temperature is between 19ºC / 66ºF and 23ºC / 73ºF. If your room is colder, use room temperature water instead of cold water (straight from tap) in the final dough.
Please note: There is no real mixing or kneading in this recipe. It's all stretch and fold. In a bowl, combine the poolish (directly taken from the fridge!) with all the other ingredients until you have a shaggy mass. Cover your bowl and let it rest for 10 minutes to let the flour absorb the water. Turn out the mass onto your work surface and stretch and fold for 2 minutes in a steady pace. Keep on at it because it doesn't look like it's going anywhere but it will be OK. Put the dough in a greased bowl, cover and leave to rest for 45 minutes.

Stretch and fold a second time, doing
two sets
( letter fold: right over left, left over right, bottom over top, top over bottom, repeat)
But back in your bowl, cover and again leave for 45 minutes.
Repeat the above stage another 3 times, but now each time doing only one set of stretch and fold.
Every stretch and fold is followed by a 45 minutes rest in a covered bowl except for the last one. After the last stretch and fold you leave the dough covered with some clingfilm (now looking nice and plump) on your bench for a 10 minute rest (bench rest).
Preheat your oven to 235ºC / 455ºF (at what stage you preheat your oven depends on how long it takes for your oven to heat through, some take 30 minutes, some, like ours, with stone floors take a lot longer, up to two hours.)
Now divide the dough into 2 equal parts and shape into boules or batards or your preferred bread shape.
Cover and leave to proof. This final proof should take about 40 minutes. To check if it is ready, dip your finger in some flour and gently poke in your dough.
If the hole disappears completely: under-proofed
If the hole dent pops half way back out: proofing is just right
If the hole stays entirely dented in: over-proofed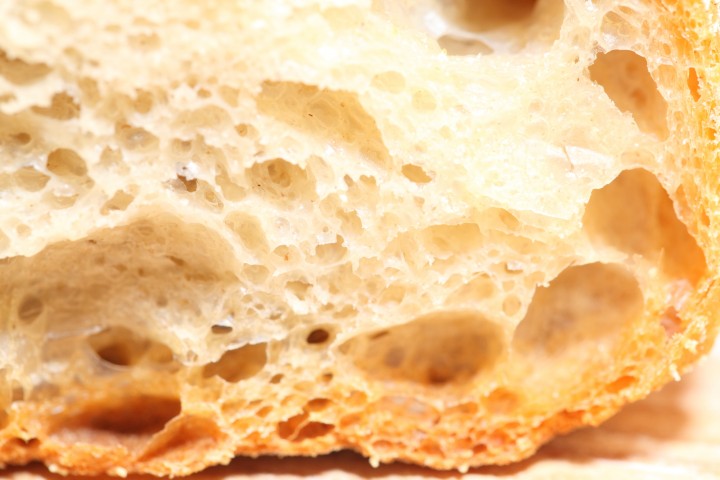 Now Score the top of the loaves with a lame/bread scoring tool. Bake in the preheated oven for 45 minutes.
To get a nice crust, try to create some steam in your oven by putting a small metal baking tray on your oven floor when you preheat the oven and pouring in half a cup of hot water immediately after putting the bread in the oven. Release some steam by setting your oven door ajar (perhaps with the help of a wooden spoon or oven mitt) 5 minutes before the bread is ready. If you are going to create steam with a baking tray, you maybe also want to turn your oven temperature a bit higher, because you are going to lose some heat in the process.
After 45 minutes take your loaves out of the oven and leave to cool on a rack.
Baguette Boules Time Table
Day 1
Make 'poolish'
Day 2
Mix ingredients until shaggy mass
00:00- 10 minutes rest
00:10 – 2 minutes stretch and fold
45 minute rest
00:57 – 2 letter folds
45 minute rest
01:42 – 1 letter fold
45 minute rest
02:27 – 1 letter fold
45 minute rest
03:12 – 1 letter fold
10 minute bench rest
03:22 – divide + shape
03:27 – proof
40 minutes final proofing time
04:07 – into the oven
45 minutes baking time
04:52 – take out and leave to cool