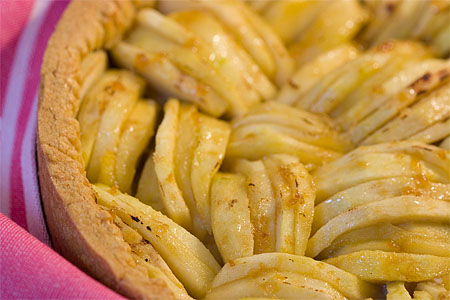 With this recipe combines the best of two worlds: The buttery, sandy dough of the Dutch 'appeltaart' with the filling of a pie from Normandy. So, no cinnamon this time, but you do get the long lingering scent and taste of Calvados ('apple brandy'). And the baking of apples in sugar and butter is no punishment for sure!
Ingredients for the Apple Pie
serves 8-12
175 g cold butter in little cubes
300 g self raising flour
125 g soft light brown sugar
1 egg yolk
a pinch of salt
lemon zest of 1/2 lemon
5 to 6 tart, firm apples
50 g butter and 50 g sugar for baking the apples
Calvados to taste
Making the Apple Pie
Peel and core the apples and cut them into thick slices. Bake the apple slices in the 50 g butter and 50 g sugar until softer but still firm enough so they can 'stand up' as you build the pie. Drain the apples and keep the juices because you are going to need them later!
Mix self raising flour, salt, soft sugar and butter in cubes the lemon zest. Rub with fingertips until you have a mixture resembling bread crumbs. Add the egg yolk and quickly knead everything into a supple dough. You can let the dough rest for 30 minutes in the fridge.
Preheat the oven at 180ºC / 356.00ºF.
Line a buttered baking dish or springform (20-22 cm) with the dough. Be creative and arrange the apple slices in a nice pattern. A little bit of extra work, but worth it, because it looks impressive.
Bake the pie for 30 minutes. When light golden brown get it out of the oven, but keep the fires burning! Now warm up the butter-sugar-apple juices you kept behind and add a generous gulp of the Calvados. Oh, what a wonderful smell, I love it! Let it bubble for a few minutes. Now pour this mixture over the pie and put it back in the oven for another 10 minutes. Serve warm with some crème fraîche.
Enjoy!