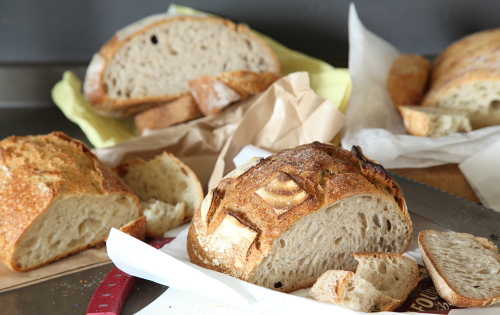 Visiting Amsterdam and in search of the best Bakers and Pastry Shops? Print this list and make your own Artisan Baker journey through the City. Enjoy!
Also check our Pinterest board for more Amsterdam bakeries, breakfast and lunch hotspots!
Also check out our Amsterdam Artisan Bread Test
AMSTERDAM BAKERS
Bakery – Bakken met Passie
'Baking with Passion in the Heart of the old Amsterdam quarter 'De Pijp"
They sell San Francisco sourdough and many more variations in the artisan bread department
You can also have lunch here
Albert Cuypstraat 51 Amsterdam (close to famous Albert Cuyp streetmarket)
T +31 (0) 20-6701376
www.bakkenmetpassie.nl
Bakery – Hartog's Volkoren
'Whole wheat bread for the soul'
Real bakeries like this are rapidly disappearing unfortunately. They have a nice book called 'Volkorenbrood.nl' (only in Dutch) so you can try and bake their famous bread yourself.
Ruyschstraat 56(corner of Wibautstraat) Amsterdam
T +31 (0) 20 665 12 95
www.volkorenbrood.nl
Bakery – De Bakkerswinkel
Breakfast, lunch, High Tea and Parties. Bread is made Dutch baker 'Het Vlaamsch Broodhuis'. Cakes and scones are made on location.
3 different stores in Amsterdam
-Warmoesstraat 69, Amsterdam City Centre – T. +31 (0) 20 489 8000
-Roelof Hartstraat 68, Amsterdam South T. +31 (0) 20 662 3594
-Polonceaukade 1, Westergasfabriek area, Amsterdam West T. +31 (0) 20 688 0632
There's also a Bakkerswinkel in the city of Utrecht, the town of Zoetermeer and in the little Frysian town of Makkum, famous for it's ceramics.
www.debakkerswinkel.nl
Bakery – Gebroeders Niemeijer
You can visit this French patisserie inspired bakery also for breakfast and lunch on a Sunday. Stone oven bread baking going on all day.
-Nieuwendijk 35, Amsterdam City Center – T. +31 (0) 20-7076752
www.gebroedersniemeijer.nl
Bakery – Le Fournil de Sebastien
As the name suggests this baker is of French origin. Boy, can we all learn from him! The best baker in Amsterdam or so we think!
Bread is great, little tartelettes to die for. Baking on site.
-Olympiaplein 119 Amsterdam (South) – T. +31 (0) 20 6724211
www.lefournil.nl
Bread and delicatessen – Le Salonard
Organic bread, Dutch and French cheeses, wine, stuff for the good life. Originally from the Southern Dutch city of Maastricht, where Le Salonard has two more shops.
-Eerste van der Helstraat 21 (Albert Cuyp area) – T. +31 (0) 20 8466469
Bread & Delicatessen – Vlaamsch Broodhuis
Artisan bread, patisserie, organic jams, cheeses, olives etc. Sit down for sandwich and coffee or take out.
Haarlemmerstraat 108 Amsterdam
T +31 (0) 20 528 64 30
www.crustandcrumbs.nl
Cake & Bakeshop – De Taart van mijn Tante
Outrageous cake and coffee shop with eclectic interior. They make fantastic wedding cakes as well.
You can stay in the Bed & Breakfast called 'Cake under my pillow'.
Ferdinand Bolstraat 10 Amsterdam (also close to Albert Cuyp Streetmarket)
T + 31 (0) 20 7764600
www.detaart.com
Baking Equipment – Duikelman Amsterdam
Looking for exotic baking gadgets, appliances and all kinds of luxury kitchen ware? Try Duikelman!
Ferdinand Bolstraat 68-68A Amsterdam (also close to Albert Cuyp Streetmarket)
T + 31 (0) 20-671.22.30
(Closed on Monday)
Patisserie – Holtkamp
The queen's favorite bakery, exquisite pastries, world famous 'kroketten'.
Vijzelgracht 15 Amsterdam, City Center
T +31 (0) 20 624 87 57
Patisserie – Tout
The place to go for very scruptious macaron
Maasstraat 105, Amsterdam, South
T +31 (0) 20 676 26 20
www.toutpatisserie.nl
Patisserie & Tearoom – Pompadour
Check out the chocolates and macaroons! Apple pie with almond paste also noteworthy.
Huidenstraat 12, Amsterdam, City Center (part of 'De 9 straatjes')
T +31 (0) 20-6239554
Patisserie & Tearoom – Kuyt
Famous for their apple pie. Tearoom only open Friday and Saturday
Utrechtsestraat 109-111, Amsterdam, City Center
T +31 (0) 20-6234833
www.patisseriekuyt.nl
ORGANIC FARMERS MARKETS IN AMSTERDAM
Different bakers selling their organic breads and pastry
Amsterdam, Noordermarkt, Saturday, 10.00-16.00
Amsterdam, Nieuwmarkt, Saturday, 10.00-16.00
FAVORITE FLOUR MILLS
Also check out our list with favorite windmills for flour!
Unfortunately they cannot be found in Amsterdam but one of them (our own favorite De Zandhaas) is 'in the neighborhood'.
WHERE TO STAY?
You will find the most unique places to stay – from small charming hotels to luxury bed & breakfasts at weekendhotel.nl. Lots of them with culinary possibilities. Room prices starting from less then 80 euros. You can check vacancies online.
www.weekendhotel.nl.
WHERE TO EAT?
Search for hot and cool breakfast, lunch and dinner spots at specialbite.nl
SHOP TIL YOU DROP
A very good starting point for a lovely shopping spree www.nlstreets.nl