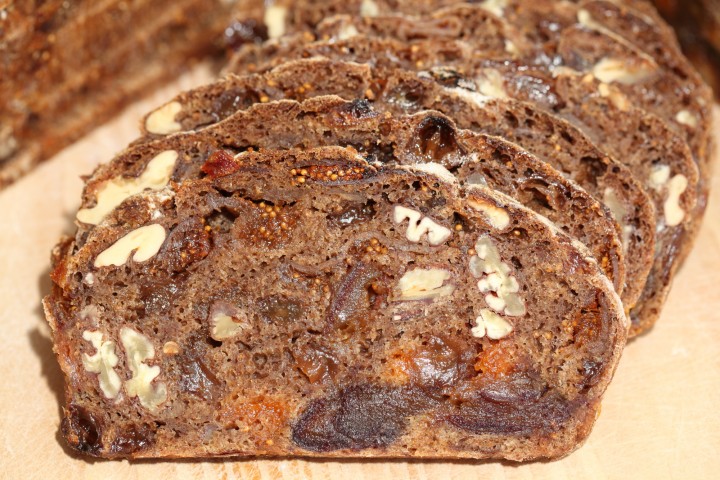 Insane amount of fruit and nuts loaf. Divine with cheese!
You could call this our version of a 'kletzenbrot' (kletzenbrood) but without the 'kletzen'. Kletzen is the Austrian word for a type of dried pear. But this bread will be great with any type of dried fruit you love. Recently we did manage to find some dried pears, so we will be using them for a version of this loaf soon too.
My father has now officially stated that he likes this bread better than pie. I can understand why, it has its sweetness, but the taste is much more complex, with the rye and nuts and spices. Sliced thinly and paired with good cheese it is a very (full)filling thing to eat, especially during these winter months.
We can highly recommend making it in the weeks leading up to Christmas. You can make a few loaves in advance, slice them thinly and store in your freezer, it will keep for many weeks.
Happy baking!
---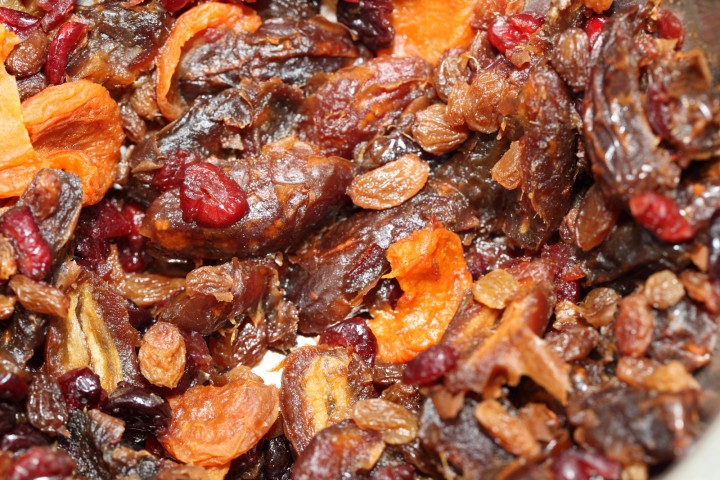 Soak fruit version 1
200 g HOT water
50 g rum
150 g dried dades
100 g dried figs
50 g dried apricots
50 g dried sour cherries
50 g raisins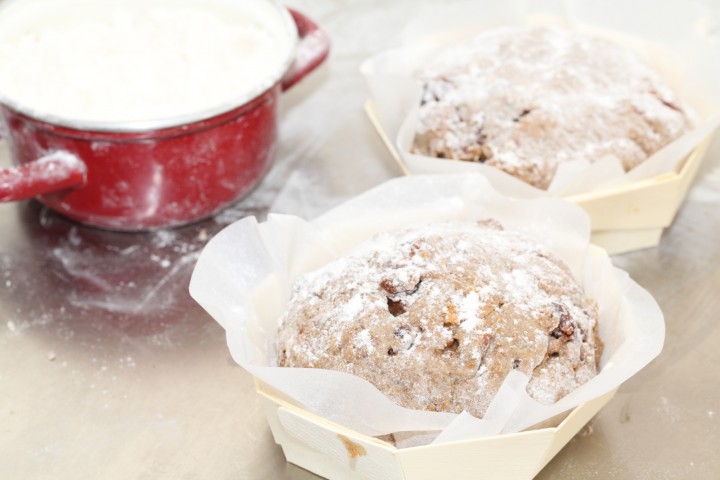 Soak fruit version 2
200 g HOT water
50 g rum
200 g dried pears
100 g dried sour cherries
100 g raisins
Ingredients
makes 2 loaves, about 530 g each
175 g whole rye flour
75 g bread flour
100 g rye sourdough starter (100% hydration)
4 g salt
4 g ground cinnamon
1 g ground cloves
200 g fruity water
400 g soaked mixed dried fruit
100 g nuts (combination of walnuts, pecans, almonds)
---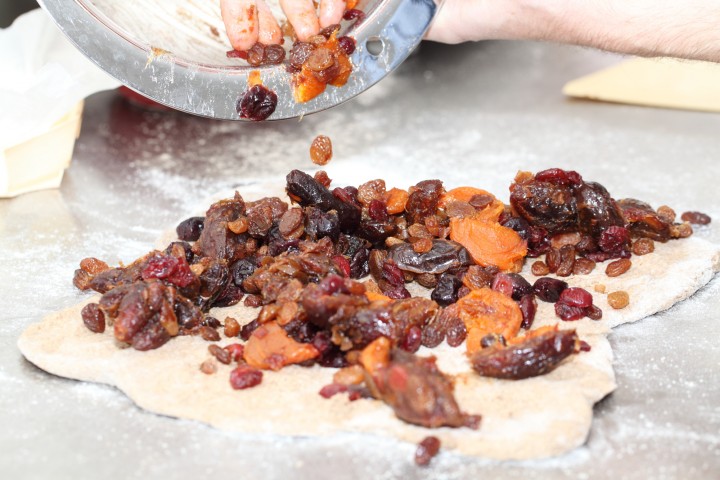 Day 1
Preparing the fruit
Wash your dried fruit and leave it to soak in hot water for one hour. We add about 50 grams of rum to the hot water, which is very nice, but you can replace the rum with water of course. Strain and keep the fruity liquid so you can use this flavored water in the recipe! Cover the bowl with cling film and leave the fruit to absorb the remaining moisture overnight so the fruit will be moist but not wet when you use it the following day. You can decide for yourself if you want to cut the fruit in pieces. We do not do this, because when the loaf is ready we cut thin slices from it and the fruit and nuts get sliced anyway, plus this way it looks more appealing to us.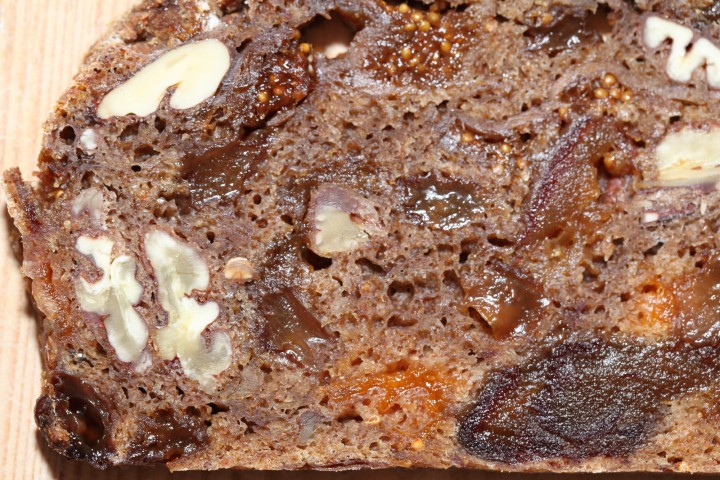 Day 2
Making the dough
The whole process on this day will take over 9 hours, so it is wise to plan and maybe start early.
Measure the fruity water from the soaked fruits and add some more water so you will have the right amount of water for the dough (200 grams). In the bowl of your standing mixer, combine rye flour, bread flour, sourdough starter, salt, spices and the fruit water to your dough and mix for one minute, until everything comes together (of course you can also do this by hand). Cover and leave to rest for 1 hour.
Now knead the dough for 5 minutes (10 by hand) until you have a smooth and somewhat sticky dough (it will cling to the bottom of the bowl). Because of the large amount of rye flour the dough will feel more like a paste than a regular bread dough. Again cover and leave to rest for 1 hour.
Take the dough out of the bowl and press it into a flat rectangle. Distribute the soaked fruit and the nuts evenly across the dough. Roll up the dough and pinch and mold the dough so all the fruit and nuts are well distributed (see pictures). Cover and leave to rest for 3 hours.
Divide the dough in two equal pieces and shape into balls or oval shapes if you prefer. Place the balls onto a tray covered with baking paper, or in bakeable baskets, like we did. Cover the loaves and leave for their final proof. This will take about 3 hours, depending on the temperature of the room and dough.
Preheat your oven to 200 ºC / 390 ºF. To get a nice crust, try to create some steam in your oven by putting a small metal baking tray on your oven floor when you preheat the oven and pouring in half a cup of hot water immediately after putting the bread in the oven. Release some steam by setting your oven door ajar (perhaps with the help of a wooden spoon or oven mitt) 5 minutes before the bread is ready.
After placing the breads in the oven turn the oven down to 170 ºC / 340 ºF (starting higher and then turning down, is done because by opening the oven door and adding the steam you may loose heat very quickly).
After 55 minutes of baking your loaves are ready. Place them on a rack to cool. Store the bread in a paper bag after cooling and leave to set and ripen for about 12 hours before slicing. This way it will be easier to slice and the taste will have improved further.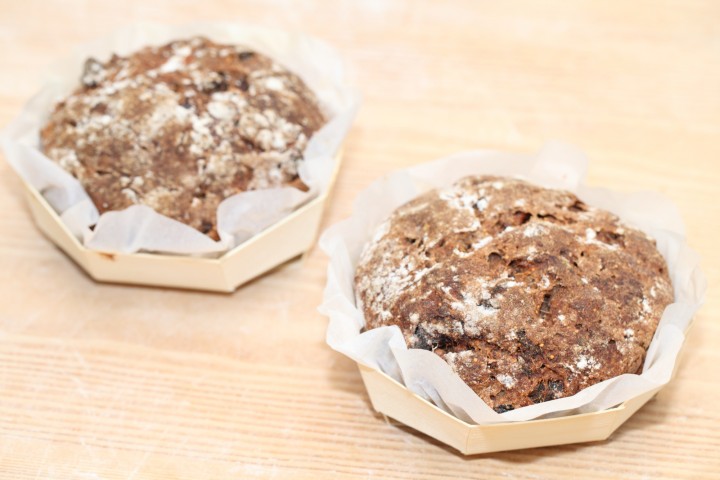 Fruit and nuts loaf time table
Day 1
Evening: Wash, soak and strain the dried fruit
Leave for 12 hours till next morning
Day 2
00:00 – Combine dough ingredients and knead for 1 minute
60 minutes rest
01:05 – Knead for 5 minutes
60 minutes rest
02:15 – Add filling to dough
3 hours rest
05:15 – Shape into two balls
3 hours final proof
08:15 – Bake for 55 minutes
09:10 – Ready and let cool