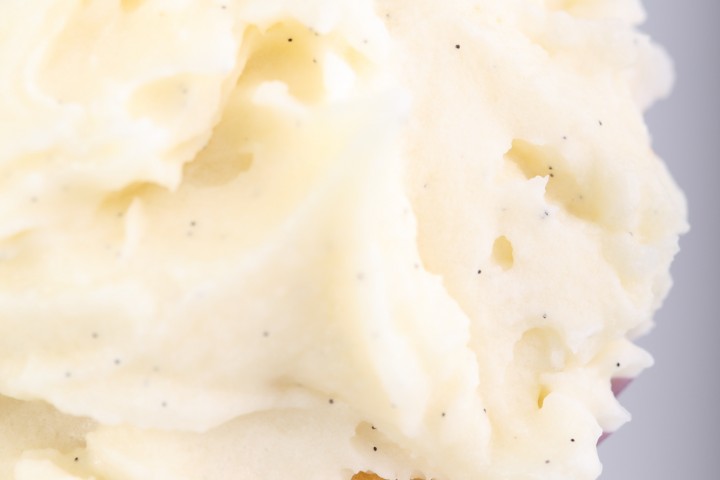 Cupcakes? Vanilla for me please!
Out of all the cupcakes variations you can make, the vanilla ones firmly stay everyone's favorite. I quite like slapping on the frosting instead of piping it on with a piping bag. It sort of looks like a rustic iceberg that way. And it also saves time! I do not like to use artificial food coloring. I love natures colors and it makes me happy to use things like macha green tea to get a beautiful pastel green frosting if I feel like it. Same goes for the flavoring: only natural vanilla for these true vanilla cupcakes! I also use some lemon and orange zest in the cake batter so the vanilla has something tangy to play with. I also use less butter (but always from a fresh packet) in my frosting than a lot of recipes I've seen. Try it! I get quite a lot of compliments for my frosting…
Ingredients for the Cupcakes
makes 12
150 g self raising flour (or all purpose flour with 7 grams (1.5 tsps of baking powder)
125 g fresh butter
125 g fine sugar
2 large eggs
1 tsp pure vanilla extract
lemon zest of 1 lemon or a combination of lemon and orange zest (optional)
a good pinch of salt
70 g milk or buttermilk
Ingredients for the Buttercream Frosting
250 g icing sugar
60 g fresh butter
30 g milk
1/2 tsp pure vanilla extract (maybe more, depending on taste)
Making the Vanilla Cupcakes
Make sure all your ingredients are at room temperature before you start.
Preheat your oven to 170ºC = 340ºF (depending on your oven). Line a 12 hole muffin tin with paper cases. In the bowl of your electric mixer, or with a hand mixer, beat the butter until light and fluffy. Add the sugar and beat for another minute. Add the eggs, one at a time, beating well after each addition. Beat in the vanilla extract (and optional zest).
In a separate bowl sift the flour together with the baking powder, and salt. Now fold inn the flour mixture and the milk, in stages, and combine very gently and stop as soon as combined. Do not over-mix or it will produce too much gluten. Too much gluten causes a cracked and domed top. Spoon the mixture into the paper cases until they are half full (never more then 2/3).
Bake for 18-20 minutes or until nicely browned and a toothpick inserted into the cupcake comes out clean. Remove from oven and place on a wire rack to cool. Once the cupcakes have completely cooled, you can add the frosting.
For the Frosting: cream the butter until smooth. I do this by hand so I can really see and feel what the consistency is, you can also use a mixer. Add the vanilla extract. Gradually beat in the icing sugar. Add the milk and beat until frosting is shiny and fluffy. Add a little more milk or sugar, if needed.
Storing Cupcakes
You can store unfrosted cupcakes and icing separately in the freezer for up to 2 months. Most experts say that cupcakes with whipped cream, buttercream, cream cheese, or ganache frostings should be kept in the fridge for short term storage. My personal recommendation would be: If you're not going to eat them the same day, put them in the freezer.