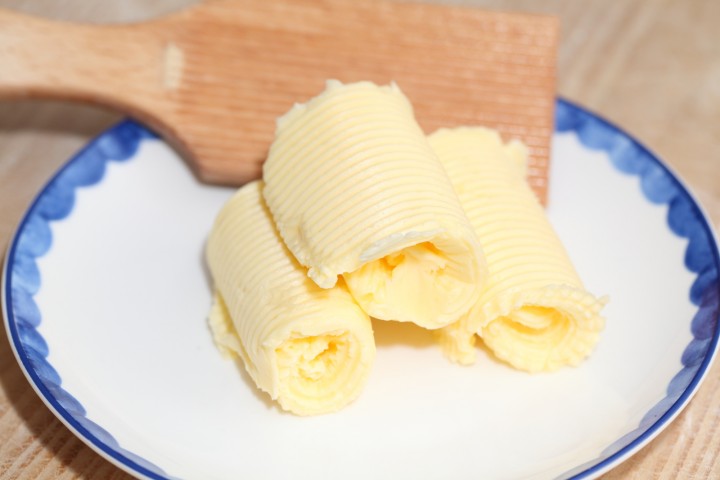 Homemade bread becomes better with homemade butter!
Klik hier voor de Nederlandse versie
Making your own butter is actually very simple. We all know what happens when you beat cream for too long. After that curdling stage you only need to continue a while longer and in the end you will get butter. Our first attempt at making butter was a deliberate one and it turned out as planned. Lovely fresh butter, a plain version and a version with a hint of coarse salt.
To make it a little bit more exciting and to get a butter with a bit more depth of flavor, we decided to try making 'cultured butter' with fermented cream. This fermented version is the one we share with you below. We recommend you to do the same, because taste wise, it makes the butter so much more interesting.
Before the dairy industry raised its giant head, most butter was made with cultured cream. Fresh cream would be allowed to sit out overnight so the milk could settle and the cream could rise to the top. During these unrefrigerated hours, the micro-organisms in the milk caused it to sour slightly, taking on a nutty flavor. This lovely thick cream was then churned into butter.
We believe the better the quality of the cream, the better the butter. If we could lay our hands on some organic Jersey cow cream we would love to give it a go!
---
Ingredients for the cultured butter
Makes about 300 g butter
1000 ml fresh cream
100 ml organic full fat yoghurt*
20 ice cubes
*Because of pasteurization, cream bought in stores today does not contain lactobacillus cultures needed for fermentation. This is why you need organic yoghurt with active lactobacillus cultures to get things started.
Step 1
In a jug, combine cream and yoghurt, stir, cover and leave to ferment for 12 to 24 hours at room temperature. Transfer to the fridge and leave it for 4 to 6 hours so it gets completely cold again.
Make sure you have about 20 ice cubes ready for the taking in your freezer because you are going to need them tomorrow.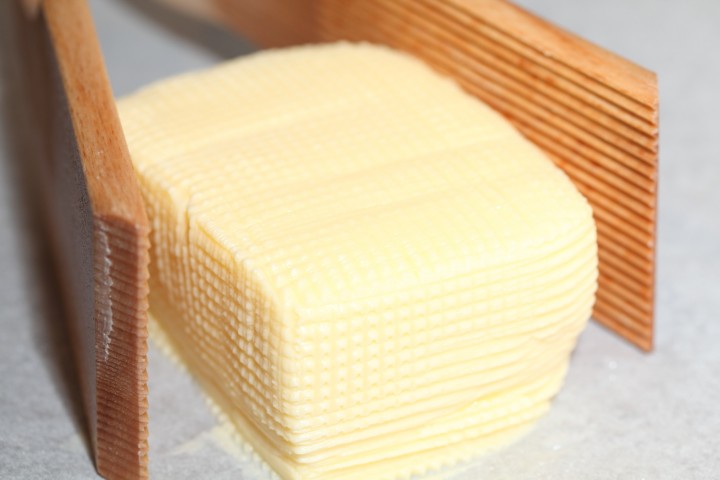 Step 2
Preparing in advance
If you are going to use butter paddles like we do, you need to put them in cold water about one hour before use.
We wrap the top of our standing mixer with clingfilm to prevent the sloshing cream from spraying everything in its vicinity. It works really well.
Take the cream from the fridge. Pour into the bowl of your standing mixer with balloon whisk attached (alternatively you can use a hand mixer). Mix at medium speed until you reach a whipping cream consistency.
Now for the fun part. Normally you would stop at this stage, but be brave and keep on mixing. You will notice the cream going through several stages.
First, the whipping cream will curdle, then it will stick to the sides of the bowl. Next, some liquid will separate from the cream. When you reach this stage, slow down your mixing. This is the stage when suddenly the solids and liquid of the cream will separate completely. Mixing too fierce will cause a big mess with liquid splashing all over the place! Continue on low speed until you have a big lump of butter sticking in your whisk (see picture) and a bowl full of milky liquid (this is effectively what they call buttermilk). The whole process will take about 10 to 15 minutes depending on your mixer.
Step 3
Prepare a bowl by filling it with very cold water and adding about 10 ice cubes to it. With a spatula, remove the butter from the whisk and put it in the cold water bowl. Next we have to cleanse the butter to remove any leftover milky liquid. For this you need to knead the butter with your hand in the very cold water. The cold water will turn white from the milky residue. Throw away the cold water and repeat this kneading process two to three times, adding ice cubes if needed, until the water stays clear. This way the butter will keep longer, if you skip this cleaning step the butter will only keep for a few days in the fridge.
Step 4
If your butter is still cold and firm enough you can continue with the shaping. If the butter is getting too soft, put it in the fridge for 30 minutes to firm up. You can shape the butter any way you like. If you shape the butter by hand, make sure to wet your hands first or else the butter will stick. You can make beautiful butter curls with the aid of butter paddles. You can also use the paddles to easily mold the butter into a brick shape. The butter will not melt and not stick to the soaked wood of the paddles.
Wrap the butter in a piece of greaseproof paper and store in the fridge. If you have done your job well, the butter will keep for a few weeks in the fridge (or you can store it in the freezer). But the butter is too good to end up in the back of the fridge, paired with your own crusty loaf, it will be gone in no time. Slap on the butter and enjoy!
In our shop we have a small amount of butter paddles for people who are inspired to make their own too.