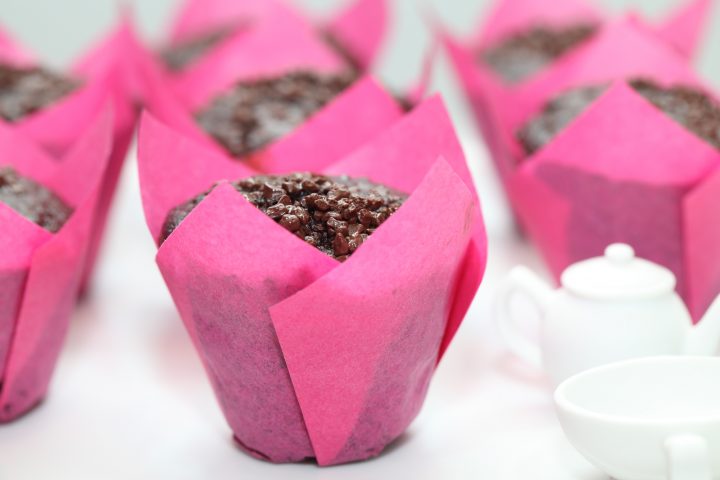 The moistness and super chocolate taste is their biggest selling point.
What a great little treat. With olive oil and yogurt and the best chocolate!
Klik hier voor Nederlandse versie
Big muffins can be such a meal, but these smaller size muffins are indulgent yet modest to serve guests. They are very easy to make and the rewards are big. They have such a wonderful consistency, soft and moist with little chocolate nibbles. When you leave the chopped chocolate pieces just a bit bigger, they partly melt when baking, leaving chocolate morsels that will set again when cooled.
We use very mild olive oil for this recipe and very good quality 52% 'dark' milk chocolate and cocoa powder. On top we use big chocolate sprinkles that do not melt too fast, so you still have some visible on top. If you have a super sweet tooth you can also use a combination of white and dark chocolate.
Love these with a cup of darjeeling tea or a chai latte.
Enjoy!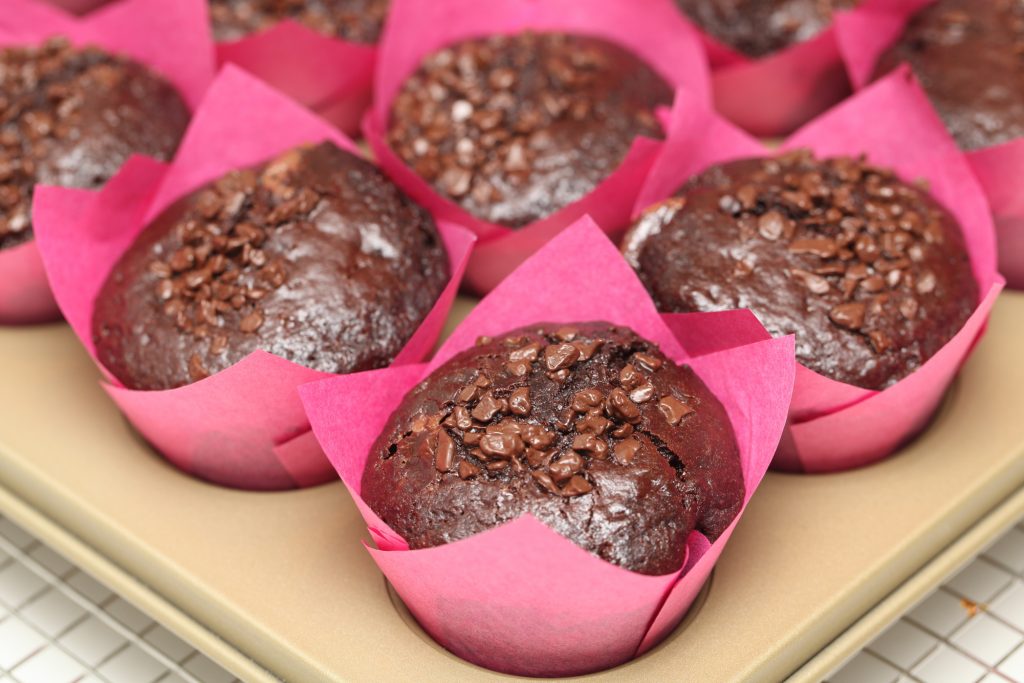 ---
Ingredients
makes 24 mini muffins
160 g soft brown sugar
80 g vegetable oil
40 g unsweetened cocoa powder
90 g hot water to dissolve the cocoa
2 eggs
1 tsp vanilla extract (or to taste)
200 g all purpose / plain flour
8 g / 2 tsps baking powder
1/2 tsp baking soda
1/2 tsp salt
180 g full fat yogurt
180 g chopped up semisweet chocolate
50 g chocolate sprinkles (or more chocolate of choice)
Tools: Hand mixer or standing mixer, sieve, spatula, bowls,
24 cup muffin pan, 24 Tulip muffin cases with Ø 3.5 cm / 1.4 inch bottom.
Carefully weigh all ingredients for best result!
For a vegan version use dark chocolate without added milk products and choose a chia seed vegan egg substitute for instance. Replace the dairy yogurt for a soy based version or other vegan yogurt.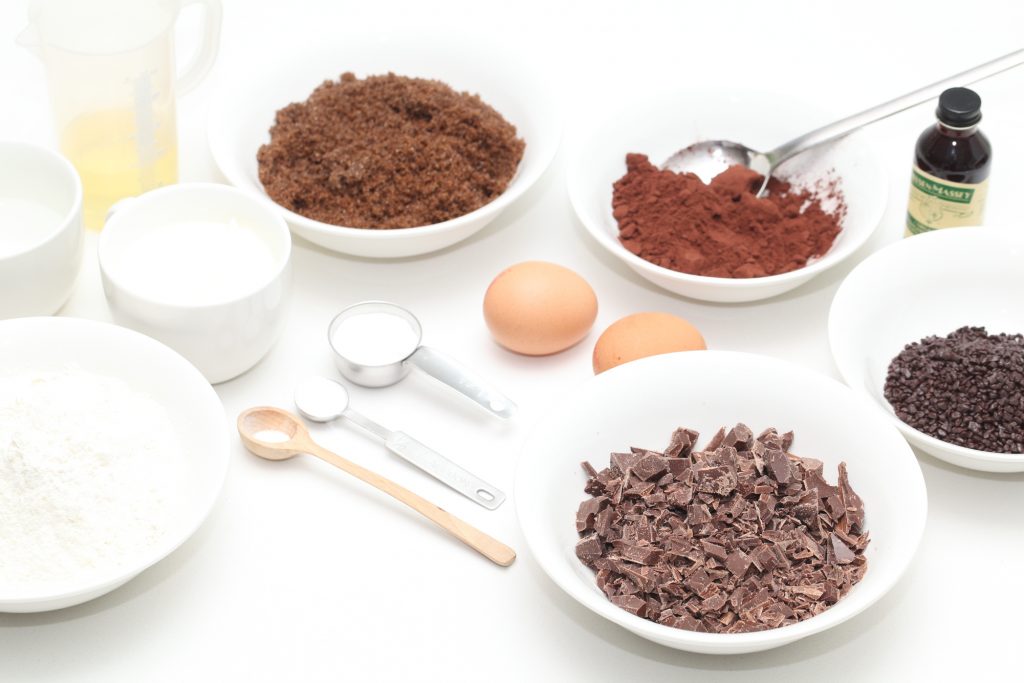 The method
Preheat your oven to 195ºC / 385ºF conventional setting.
Sift the flour with the baking powder, baking soda and salt and set aside.
In a separate small bowl, combine the cocoa and hot water and stir until smooth, set aside.
In your mixing bowl, combine the soft brown sugar and oil and mix for 1 minute at medium speed.
Add the eggs and vanilla and mix for 1 minute at high speed.
Now gradually add the cocoa mixture while mixing at low speed. You can use your spatula to scrape every last bit of cocoa out of the bowl and in to the mix.
Add the flour mixture and yogurt in one go and stir with your spatula (or mix on lowest speed) until everything is combined.
Add the chopped up chocolate and fold it into the mixture.
Fill the cups with the mixture. We use two dessert spoons for this job. Add chocolate sprinkles on top.
Bake in the to 195ºC / 385ºF preheated oven for 13 to 15 minutes. We turn down our oven to 165ºC / 330ºF after 8 minutes and continue for 6 more minutes at this lower setting.
The muffins should still look a bit moist when you take them out. The skewer test will not do, because you very probably will hit melted chocolate and mistakenly think they need more oven time.
Leave to cool in the muffin pan for 10 minutes before transferring to a rack. Store in an airtight container to keep moist and fresh for a few days. They also keep well in the freezer for several weeks. You can warm them in the microwave with a quick high wattage blast and they will be soft and fluffy and almost as good as fresh.