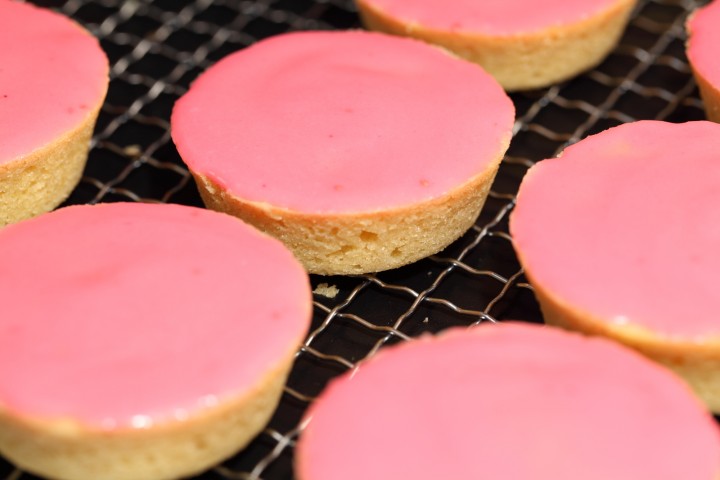 The 'roze koek' is a much loved and eaten Dutch cake with a thick layer of pink fondant or icing.
Klik hier voor de Nederlandse versie
My family cannot get enough of these pink cakes. The beauty of making your own is you get to put in what you like, and leave out what you don't. The supermarket version of these cakes, famous and equally loved and hated in all of Holland, does not taste of real butter, vanilla, lemon or raspberries. This easy homemade version does! Provided you use the best and freshest ingredients, real vanilla extract, zest from organic lemons, fresh dairy butter and raspberries.
We have been baking these cakes for some time now, from the time the pink cakes baking virus swept over the country and everybody started baking them. This recipe gives you the easiest version to make, great baking fun with kids too. Just like the famous Dutch 'rondo', which we also love to bake, these homemade pink cakes are the real deal and there really is no going back.
There is no raising agent in this cake, just eggs, and the trick is to get them not to dome so the flat surface can be easily coated with a smooth layer of pink. You can also fill the cakes with a dollop of raspberry jam or you can add a fresh raspberry inside to create a nice raspberry surprise when you bite into one.
Happy baking!
---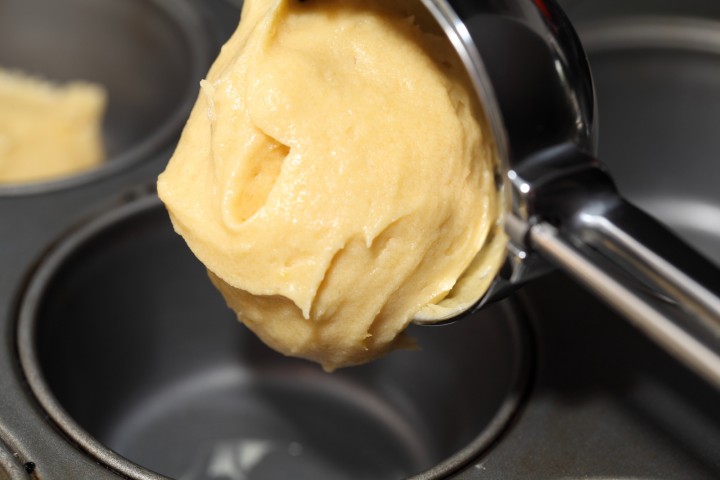 Ingredients for the cake batter
makes 12
165 g pastry flour or all purpose flour / plain flour
150 g butter at room temperature
150 g sugar
pinch of salt
3 eggs (165 grams)
zest of 1 lemon
1 tsp vanilla extract
Ingredients for the pink glaze
120 g icing sugar, sifted
10 fresh raspberries
15 ml / 1 tbsp lemon juice
water if needed
Making the pink cakes
The batter
Preheat your oven at 170 ºC / 340 ºF conventional setting. Grease a muffin tin (for twelve normal size muffins) with melted butter or pan coating. Combine butter and sugar and beat with a hand mixer for one minute until creamy. Add the eggs, one by one until incorporated. Add the lemon zest and vanilla extract and beat for one extra minute. Add sifted flour and salt to the mixture and combine until you have a smooth batter.
Divide the batter equally over the twelve muffin cups. Place muffin tin in the middle of the preheated oven and (this is important) cover the tin with a metal baking sheet. This sheet will prevent the batter from rising too quick. This way they stay nice and even on the surface and can be coated with a smooth pink surface.
After 10 minutes, remove the baking sheet and reduce the oven temperature to 160 ºC / 320 ºF. Bake for 7 minutes more, until light golden brown, then take from the oven. Leave to cool for about 5 minutes before removing them from the tin. Then leave to cool completely before applying the pink glaze.
The pink glaze
Using a sieve and the back of a spoon, squeeze the raspberries to get the essence of the fruit and leave the seeds behind. Mix the fruit puree with the lemon juice, add the sifted icing sugar and combine until you have a very thick paste that is almost not runny.
If necessary you can add some water to reach the right consistency. Apply an even layer of pink frosting on each cake and leave to dry.