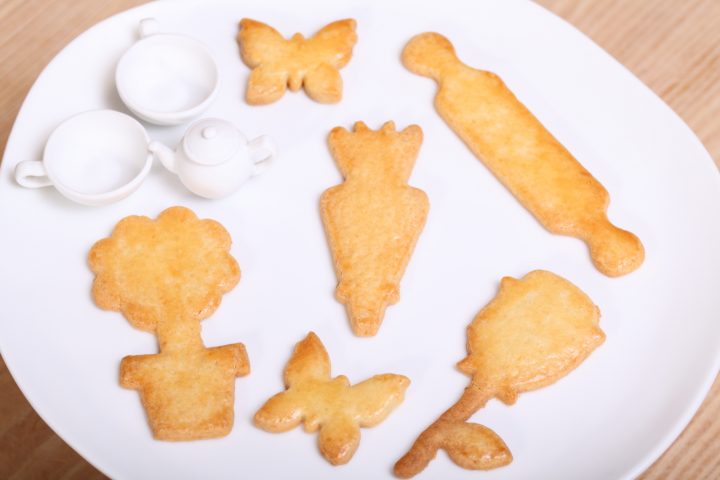 Deze Franse zandkoekjes houden mooi hun vorm tijdens het bakken
Click here for English version
Misschien ken je ze wel uit Normandië of Bretagne, die lekkere Franse sablés met een zacht knappertje en heerlijke botersmaak. Je kunt ze perfect zelf maken en dan smaken ze eigenlijk nog beter! Het zijn ook koekjes die tijdens het bakken niet of nauwelijks uitlopen, dus ideaal om mooie en leuke vormen uit te steken.
Deze koekjes smaken fantastisch en hebben traditioneel niets nodig in de vorm van versiering, maar natuurlijk mag dat altijd als je je creativiteit er op los wilt laten. Je kunt zelf kiezen of je de frisheid van citroen, zoetheid van vanille of misschien een drupje amandel-extract voor een meer intense smaak wilt wilt toevoegen. Citroen past goed bij de zomer, amandel weer wat meer bij koudere dagen.
Het koud uitsteken van het deeg nadat het tussen bakpapier uitgerold en gekoeld is, werkt echt ideaal.
---
Ingrediënten voor de Franse sablés
250 g banketbloem of Zeeuwse bloem
135 g zachte boter
100 g suiker
2 g bakpoeder
1.5 g zout
1 klein ei (50 g)
Rasp van een kleine onbespoten citroen of vanille extract
1 losgeklopt ei om de koekjes te bestrijken
Zo maak je de sablé koekjes
Combineer bloem, zout en bakpoeder in een kom en zet even apart. Combineer boter en suiker in een andere kom en klop met een handmixer of
deegklopper
in 1 tot 2 minuten tot een romig geheel. Voeg het ei en de citroenrasp (of vanille naar smaak) toe en klop tot het goed is opgenomen. Voeg nu het bloemmengsel aan het botermengsel toe en klop tot een geheel. Werk het even met de hand door, tot je een mooi deeg hebt.
Leg je deeg tussen twee vellen bakpapier en rol het met de deegroller tot een gelijkmatige dikte van ongeveer 3 mm. Zorg dat het bakpapier mooi glad is en dat er geen kreukels in zitten. Plaats de deegplak, nog steeds tussen de vellen bakpapier, op een bakblik en zet dit in de koelkast voor een periode van 1 uur. Als je haast hebt kun je ook de vriezer gebruiken (ongeveer 20 minuten). Mocht de plak deeg te groot zijn, dan kun je deze ook eerst in twee stukken verdelen voordat je het deeg uitrolt.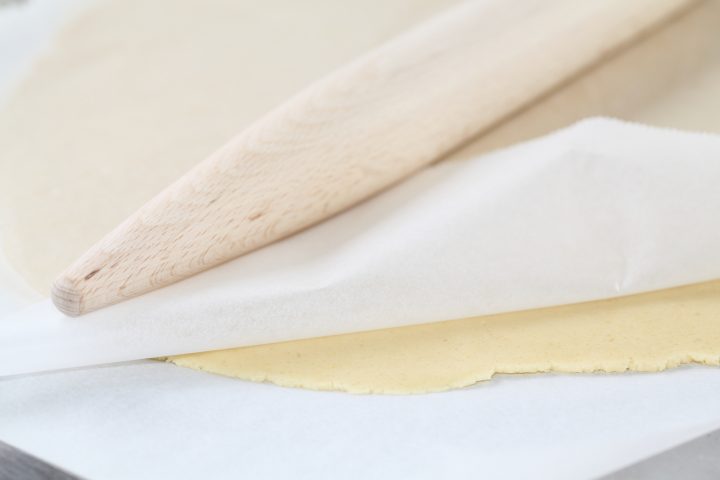 Verwarm de oven voor op 160°C, conventionele oven.
Neem het deeg uit de koelkast of vriezer, leg het op je werkblad en verwijder nu de bovenste laag bakpapier. Leg dit bakpapier op de bakplaat die zo in de oven gaat.
Steek nu met je favoriete uitstekers de koekjes uit het deeg en leg ze op het bakpapier op de bakplaat. Bestrijk de koekjes met losgeklopt ei (voeg een theelepeltje water aan het ei toe, dat strijkt mooier en makkelijker).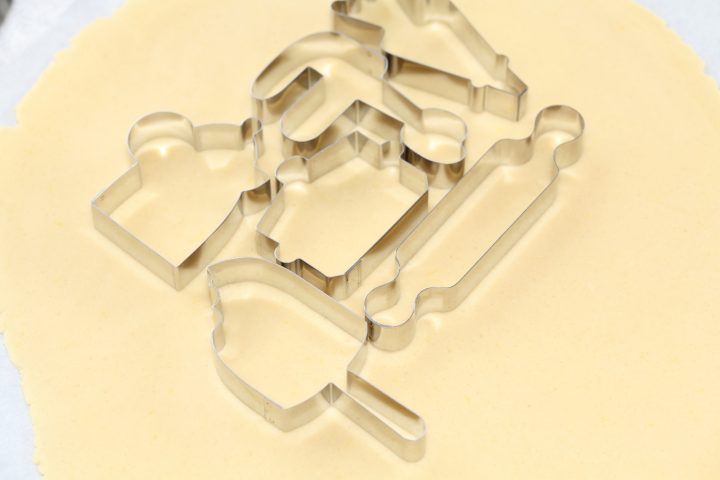 Plaats de bakplaat in de oven (wij plaatsen het bakblik boven het midden, anders bruint de onderkant wat te snel, probeer dit uit bij je eigen oven en zie welke plek de meest gelijkmatige bruining geeft) en bak de koekjes 12 tot 14 minuten, afhankelijk van je oven en de grootte van de koekjes. Houd je koekjes goed in de gaten. De koekjes zijn perfect als ze een mooi goudgele kleur hebben. Neem de bakplaat uit de oven en leg de koekjes op een ​​rek om af te koelen. Het is ook prima deze koekjes een paar dagen van tevoren te maken en in de vriezer te bewaren. Haal ze een half uurtje voor je ze wilt aanbieden uit de vriezer en ze zijn perfect. Bewaar ze anders in een goed afgesloten trommel en eet ze binnen twee dagen, om optimaal te profiteren van de verse botersmaak!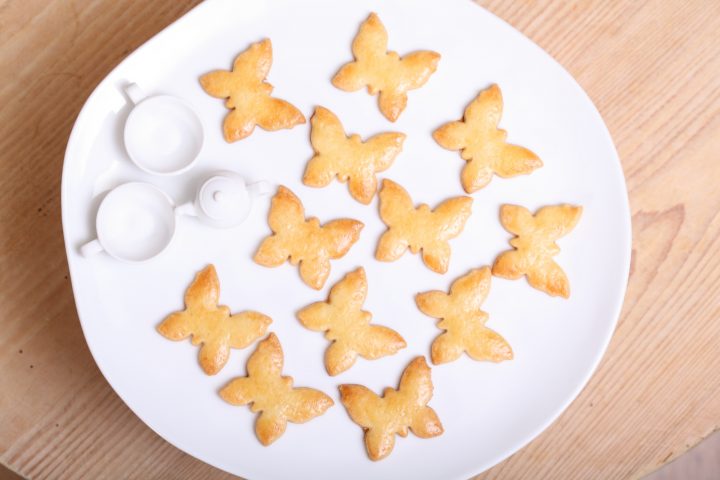 In onze bakshop hebben we ook een leuke collectie uitstekers, bekende, traditionele en originele, allemaal van hoogwaardig rvs.