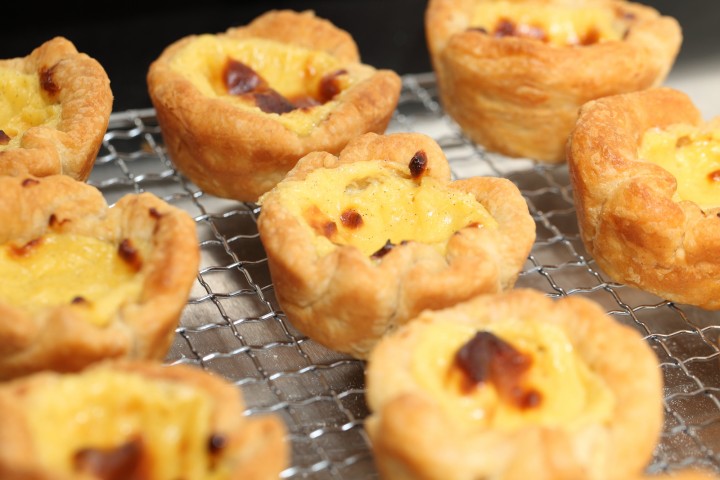 When we saw Bill Granger make these on his Bills Food show, Ed started to shout: "I want those!". Before the program was half finished we were making them ourselves. So if you have some ready made puff pastry lying around, and your eggs look fresh and ready…start making them too. Of course you can also make your own (rough) puff pastry. Before you know it your kitchen will smell like a little French patisserie. Although these are usually called Portuguese Custard Tarts ('pasteis de belém' or 'pasteis de nata' in Portuguese), but I am not sure how their bakeries smell. Lots of recipes to be found for these tarts. Bill's recipe worked very well. We added some lemon peel to the custard which I thought a great addition to the taste.
And there we were sitting on the couch with our tarts and home brewed cappuccinos, watching the rest of Bill's show. We love his recipe ideas and the fresh and bright blue and green down under colors that practically blind you. It's a bit Bill's lala land where everything matches and works and his children are happy and cooperative and dressed in white without any stains. And maybe I shouldn't say this but have you noticed how he smiles after almost every sentence? 'I really love to cut these apricots in half and stir them in some fresh ricotta' …smile:-) into the camera. Now that I have told you this, you can't help but notice too. Sorry!
Custard Tarts

Ingredients for the Custard Tarts
makes 12
3 egg yolks
115 grams of caster sugar
pinch of salt
4 tbsp cornflour (30 g)
250ml Cream
170ml Milk
2 tsps vanilla extract
300g – 6 sheets 12 x 12 cm – puff pastry
Making the Custard Tarts
1. Lightly grease a 12-hole 80ml muffin tray.
2. Combine the milk and cream, set aside. Combine sugar, pinch of salt and cornflour in a pan and make sure there are no lumps. Now whisk in the egg yolks with a dash of the cream milk mixture. Gradually whisk in the rest of the cream and milk mixture until smooth.
3. Place the pan over a medium heat and cook, stirring, until the mixture thickens and comes to the boil. Continue stirring on a low heat for 1 minute to cook the starch. Remove from the heat and stir in the vanilla extract. Transfer the custard to a bowl, cover the surface with cling film to prevent a skin forming and leave to cool.
4. Preheat the oven to 200ºC / 390ºF conventional setting.
5. Make sure the sheets of pastry are pliable. Cut each of the six pastry dough sheets in half. Put one halve of a sheet on top of the other. Now you have 6 dual layer sheets. Roll up each sheet tightly from the short end to get a roll of 3 cm in length. Cut this roll in halve, so you get 12 pieces of 1.5 cm rolls in total. Place each piece of dough with the flat side on your lightly floured workbench. Use a rolling pin to roll out each piece to a flat disc 10 cm in diameter.
6. Press the pastry rounds into the muffin tin. Spoon the cooled custard into the pastry cases and bake for about 25-30 minutes, or until the pastry and custard are golden. For the last stage (5 minutes or so) you can change your oven setting to convection / hot air at 175ºC / /350ºF. Leave the tarts in the tin for 5 minutes, then transfer to a wire rack to cool completely.
Tip: It's just as hard to walk on one leg as it is to eat one of these yummy custard tarts. And if you live by the credo that 'one is none' you might as well have two!