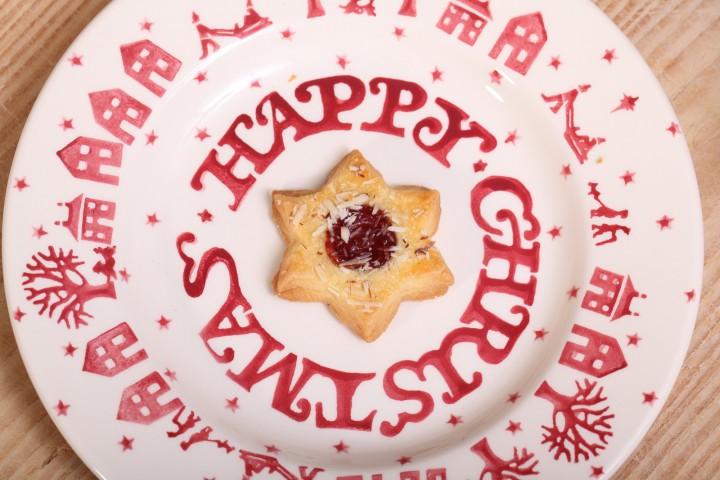 Crunch and melt in the mouth buttery flavor, this Christmas cookie brings joy!
Klik hier voor de Nederlandse versie
One of my favorite cookies to bake. The taste and feel of this dough is so delightful you have to be careful not to eat the lot before you get any baking done. You will have the biggest fun creating your own version of these cookies with your favorite jam flavor.
You can make the jam filled version and sprinkle them with vanilla sugar and almonds, but even the plain cut out versions in different festive shapes are going to be a treat. They keep their shape rather well too after baking. So put on your favorite Christmas music and start baking!
---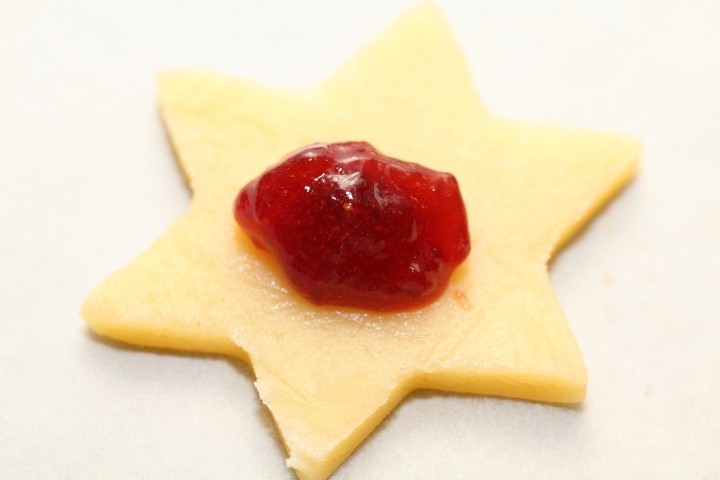 Ingredients
200 g pastry flour
pinch of salt
150 g butter in small cubes
100 g soft white sugar (white muscovado sugar)
1 tsp lemon juice
1 egg, beaten: put 20 g in your dough, use rest for brushing cookies
50 g strawberry jam
vanilla sugar for decorating
finely grated almonds for decorating
Making the Christmas star cookies
Make the cookie dough by adding the salt to the flour. Next rub the butter into the flour and aim for a coarse breadcrumb consistency. Add the soft white sugar, 20 g egg and teaspoon of lemon juice and combine to make a smooth dough. Wrap in clingfilm, shape into a flat disc for easy rolling later on and refrigerate for at least one hour.
This dough should be cold when you roll it out. When it gets too warm it goes a bit soft, colder dough is easier to handle and cut into shapes!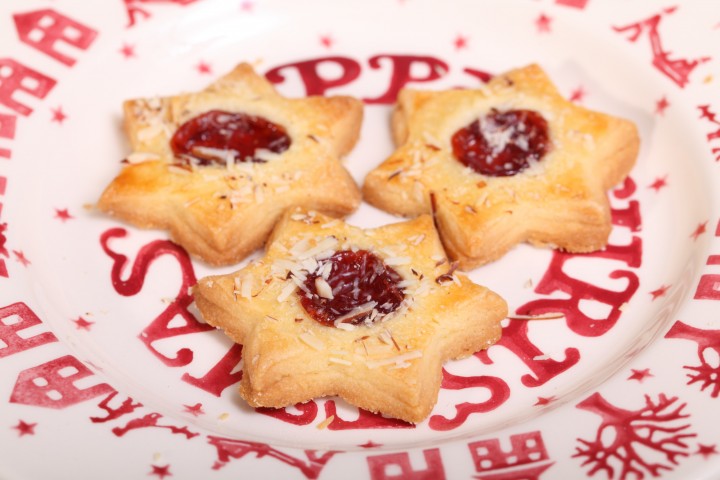 Preheat your oven to 170°C / 340°F conventional setting.
Take the dough from the fridge and roll to a thickness of about 2-3mm. Cut out stars and stars with a center. Place the stars on a baking sheet and add a teaspoon of strawberry jam to the center. Place the star shapes without a center on top of them. Brush with leftover beaten egg to which you add a splash of water for easy brushing. Sprinkle the stars with some vanilla sugar and finely grated almonds (you can also bake them without sugar or almonds, the cookie will still be great).
Bake the Christmas star cookies for 12 to 15 minutes, depending on your oven. Keep a close eye on them as they bake, so they will have the right light golden color. Take from the oven and transfer the cookies to a cooling rack. It is no problem at all to make these cookies in advance because they keep very well in your freezer. When stored in a cookie jar eat within a few days to take full advantage of the great butter taste. Another merry addition after baking and cooling would be the sprinkling of some icing sugar and maybe a decoration of orange frosting for example.
Happy Holiday baking!