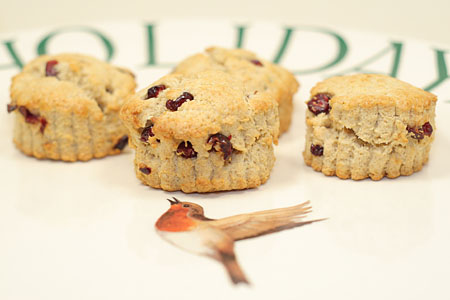 Don't forget to be generous with cream and jam!…And don't forget to feed the birds (not with scones)!
It's 5 days until Christmas and the world around me is white. It's just a little veneer of white, but it looks beautiful all the same. It has been freezing these last days and together with the fog, it has created a thin white coating on everything, including the branches of all the trees. In our park we have some spruces and with their snowy coat they look like magic. I love the cold and snow. Somehow it seems to slow down everybody a bit and the world grows quieter. No point in rushing, just carefully leave your footprints in the white. Unfortunately this 'blanket of silence' will be gone by Christmas, if the weatherman is right. But for now it's the perfect backdrop for baking all kinds of festive cheer. Like these Christmas Scones. It's my standard scones recipe that never fails together with spices and berries of the season to be jolly. Happy Holidays!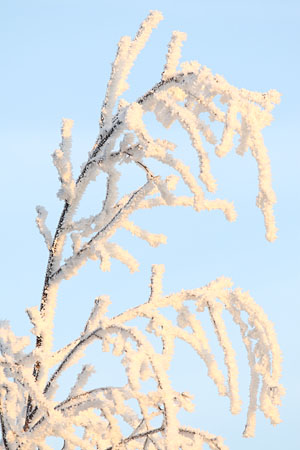 Ingredients for the Christmas Scones
230 g self-raising flour
75 g butter in cubes
50 g sugar
1 egg of a happy chicken (50 grams)
30 – 40 ml (2-3 tbsps milk or buttermilk
2 tsps mixed 'speculaas' spices
dried cranberries
pinch of salt
Making the Christmas Scones
Preheat the oven to 210ºC / 410ºF. Sift the flour and pinch of salt in a bowl, together with the speculaas spices (see recipe here) and rub the butter into the mixture until you have a breadcrumb consistency. Add the sugar. Beat the egg with the milk and add this to the dry mixture together with the cranberries and bring together until the moisture is absorbed. Quickly shape into a dough with your hands. If the dough feels a bit dry, add a little bit more milk. Roll out the dough into a circle. It should be approx. 2.5 cm/ 1 inch thick. Cut out the scones with a cutter or a glass (press it down but do not twist it). Place on a baking tray and brush with a little milk and bake in the oven for about 15 minutes. They have to be well risen and light brown. Leave them to cool on a wire rack. Serve with thick cream, butter and homemade cranberries and port jam.