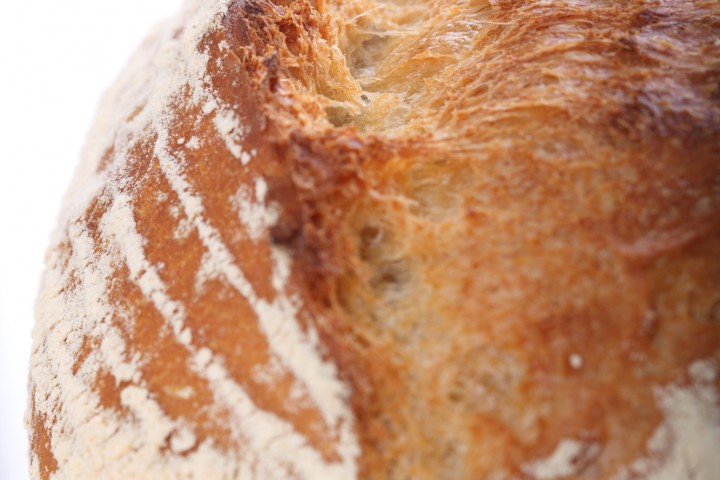 The BB Loaf is what happens when home bakers' minds meet!
Fellow home baker Jeff contacted me after trying out my 80% hydration baguette recipe. He asked if he could use this recipe to make one big loaf in a banneton. I was thinking about the very same thing myself because the baguette shape is sometimes not the most useful shape for your everyday bread. The taste of the dough in the baguette shape is amazing, so transferring that taste to a boule or batard should be interesting. The 80% dough is very sticky so my first thought was to reduce the amount of water to about 75% and use a lot of flour when using the banneton. The final proofing should be in the region of 40 to 50 minutes, instead of the 25 minutes for the baguettes.
The big question was: will the dough be strong enough to hold the shape when you release it from the banneton? There was only one way to find out and that's to try it. After Jeff send me back a positive report and some very promising pictures of his results I had a go myself.
This is what I did:
I took 2 times the amount of my baguette recipe and I baked 4 loaves (if you want to make 1 loaf you logically take half the amount given in the recipe). I only used 75% hydration instead of 80%, estimating I could shape a good loaf this way. So for 4 loaves I reduced the amount of water in the final dough from 608g to 532g (for one loaf use 133g water in the final dough), so the amount of water in the poolish stays the same. I baked the loaf for 46 minutes at 235ºC / 455ºF. The result is great, the crumb is moist, lovely and sweet like the baguette, but the shape allows you to have a nice sandwich (we Dutch love our sandwiches). The oven spring was a joy to watch, the crust is much like the crust of a baguette. I also really like the color of this bread, you can see how beautiful it has caramelized. For people who, for various reasons, cannot or will not make baguettes, this bread is a great alternative.
So in honor of this successful experiment we decided that this bread is a keeper and should have a name. So next to the PR (Pain Rustique), PL (Pain au Levain), SF (San Francisco Style Sour Dough) and the MB (Mini Boules) we now have the BB (which either stands for Baguette Batard or Baguette Boule, depending on the shape you choose).