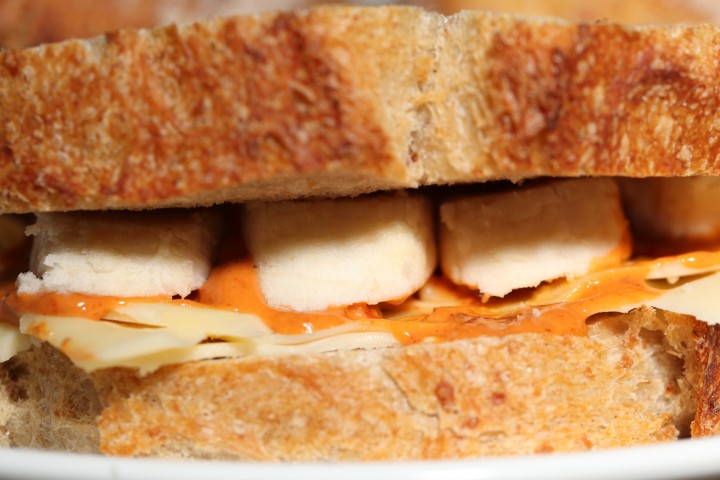 Our favorite toasted / grilled sandwiches, made with our favorite homemade bread of course…
I distinctly remember when toasties (tosti if you're Dutch, croque-monsieur for the French) came into fashion with our family. All of a sudden everybody had a 'hot toasty iron'. Now this was something new and different to look forward to for lunch. Somehow we never got past the cheese and ham ones, except for the apple or apple sauce version,
which was our childhood sweet tooth favorite.
For some time now, I know that there's more adventure in toasties. I love it when I bump into new toasty ideas. Like recently, out for lunch in Amsterdam, the banana, cheese and sambal mayo (chili paste) one. Sweet and hot, unconventional I grand you, but just give it a try…it's a great way to use up your not so fresh loaf of bread!
BTW, we make toasties with all kinds of bread, pain rustique, sourdough, baguette, it all goes between the big toaster!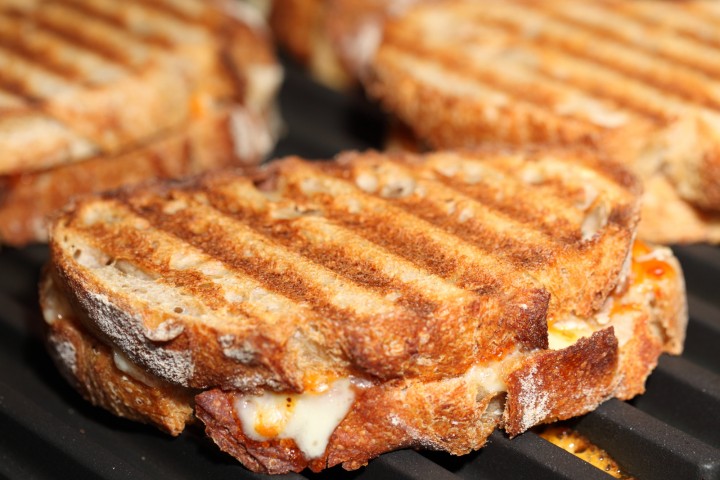 Taleggio cheese, pear and black pepper toasty
Apple, sugar, cinnamon and raisin toasty
Banana, cheese and hot sambal (chili paste) mayo toasty
Goats cheese, appelstroop (sort of like apple butter) and pecans toasty
Peanut butter banana toasty (Elvis' favorite!)
Blue cheese, apple, walnuts and watercress toasty
Cheddar cheese, red onion and mustard mayo toasty
Camembert, walnut and maple syrup toasty
Parmaham, rucola and cheese toasty
Mozzarella, tomato and basil toasty
Truffelpaste and taleggio toasty
Fig jam, pears, white cheddar and rucola toasty
Free range chicken fillet, cheddar (or Gruyere), mustard mayonnaise and daikon cress toasty
Pesto, cheese, tomato toasty
Roasted pepper, cheddar and chili toasty
Asparagus, fontina cheese and organic ham
Free range turkey, brie and cranberry compote toasty
Cheddar, chestnut mushrooms, organic bacon, herb cream cheese and Emmental cheese
Share your favorite hot toasty with us!