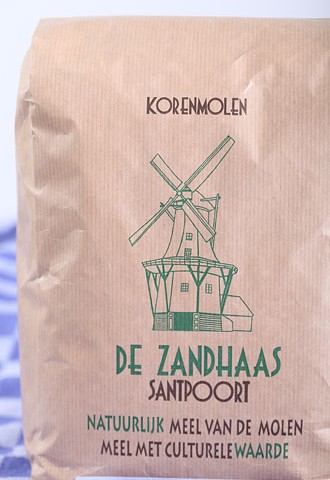 Still no sign of our new Rofco 'semi professional' baking oven. So while waiting for it, we might as well bake some more bread in our little normal household oven with a capacity of one bread at a time. We hope to improve the crustiness of the bread crust and achieve a more open, creamy bread structure with the Rofco and can't wait to try it out. But for the time being we are already producing bread that's a 100 times better and tastier than your average factory or supermarket bread. And the added bonus of the smell of freshly baked bread filling the house is also something I can never get enough of. Ed made the 'pain rustique' from the book 'Bread' by Jeffrey Hamelman for the third time this week. It's turning out to be a great recipe with a nice tasting crumb, however, like I said, the crust softens during cooling.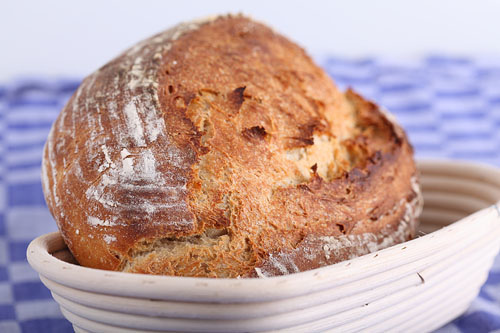 Third go at the 'pain rustique' proofed in our German bannetons (recipe from 'Bread' by Hamelman)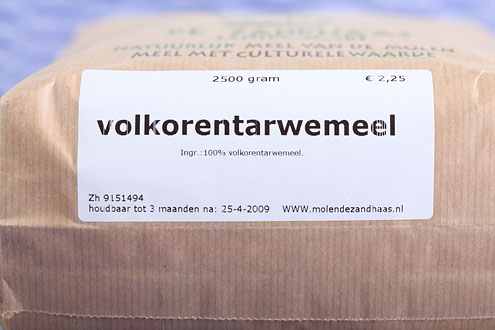 Check the production and 'best before' date for optimum quality and support your local miller!
We use bread flour we get from a miller who uses a real windmill to produce great quality wheat and spelt flour, both regular and organic.
The windmill is called 'De Zandhaas' and is located in the village of 'Santpoort' above the town of Haarlem. Flour is at it's best in the first few months after milling. But it cannot be to fresh either, because the dough would become too springy and elastic to knead and shape and reluctant to rise. The flour needs to oxidise a few weeks before it is used. This process is called sweating. Commercial mills speed up this process by bleaching or adding latent oxidisers. This sounds to us like something you don't need. Patience is a good thing, this goes for bread and a whole lot of other stuff. However old flour can go rancid (especially whole wheat) so do not use a forgotten bag you found in the back of your storage cupboard.