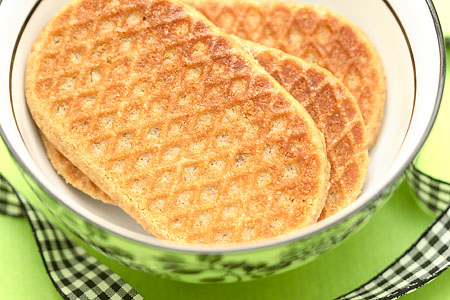 Probably no longer on an open fire, but a gas flame will do to make these cookies…
Nederlandse versie onderaan
I love making old Dutch cookies. I got a real iron plate to make ijzerkoekjes (iron cookies) that come from the town of Vlaardingen (near Rotterdam in Holland) as an early Christmas present from my mother-in-law. They are pretty popular over there, all the bakers bake them, but of course it's also a good tradition to make them at home. Jos also gave me some special flour called 'Zeeuwse bloem' which is made of wheat that grows near the sea. It's great for baking cookies and Dutch pancakes. All these items are hard to come by if you do not live in Holland. But if you have some form of an iron plate and good fine flour, I see no reason why you shouldn't try these delicious cookies. They resemble the Dutch 'stroopwafel' but without the syrup. The original iron and the Zeeuwse flour are sold at the Aeolus Windmill store in Vlaardingen. Jos takes her bike to the mill and brings back these wonderful items for me (yes it sounds and is very Dutch). And I am very lucky. She also has her own recipe for ijzerkoekjes which we are making together on Christmas day.
Ingredients for the IJzerkoekjes
makes approximately 25 cookies
250 g soft butter
125 g soft brown (muscovado) sugar
125 g soft white (muscovado) sugar
400 g fine white / pastry flour, sifted
1/2 egg, beaten
1 tsp / 2 g cinnamon
2 g salt
Making the Vlaardingse IJzerkoekjes
Mix the soft butter and the sugar until combined. Add the egg, cinnamon and the pinch of salt. Knead in the flour with your hands. Make a flat disk and wrap it in cling film. Let rest in a cool place or the fridge for an hour. Roll out the dough on a floured worktop or between two sheets of cling film (this works very well I find). The dough has to be 0.6 cm thick. Cut out the cookies with the special iron cookie cutter (I am sure any other cutter will do the job too). Preheat the iron on a medium flame. Bake the cookies for 3 minutes on one site. Turn them with a pallet knife and bake for about 2 more minutes until golden brown. If you have a IR thermometer it you can measure the hot plate and it should read around 195 Celsius and your cookies should be perfect.If you bake at a temperature of 215C they will only need 1.5 minutes on each side, but the middle will be a little bit more doughy / chewy. Leave to cool on a cooling rack.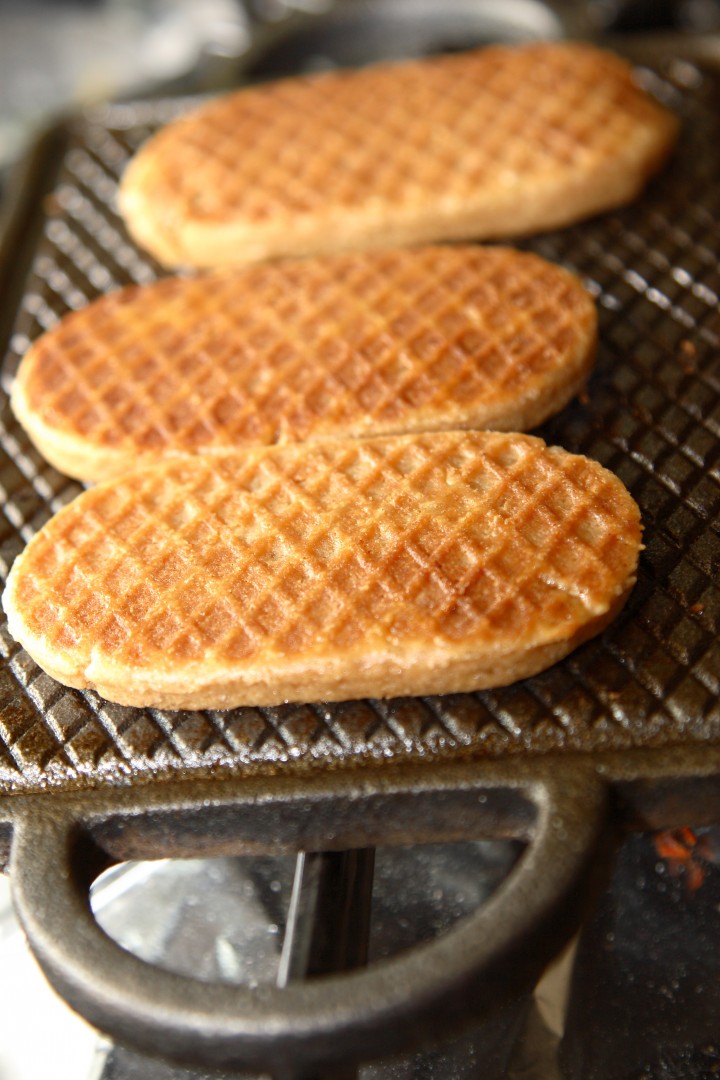 Recipe in Dutch / Nederlands recept
Dit heb je nodig voor de IJzerkoekjes
250 g zachte boter
125 g bruine basterdsuiker
125 g witte basterdsuiker
400 g Zeeuwse bloem of patentbloem, gezeefd
een 1/2 ei, losgeklopt
1 tl / 2 g kaneel
2 g zout
Zo maak je de Vlaardingse IJzerkoekjes
Meng de boter met de twee soorten suiker. Roer ei, kaneel en snuf zout erdoor. Kneed nu de bloem erdoor. Laat het deeg een uur op een koele plek of in de koelkast rusten. Rol het deeg uit op een met bloem bestoven werkvlak, of tussen twee lagen huishoudfolie. Het deeg moet ongeveer 0,6 cm dik zijn. Steek nu de ijzerkoekjes uit met de ovale ijzerkoekjesvorm. Verwarm de ijzerplaat op een matig hoge vlam. Bak de koekjes ongeveer 3 minuten aan een kant. Draai ze om met een palletmes en bak nog 2 minuten aan de andere kant. Let op het vuur. Regel het af en toe bij als het wat te hard of te zacht gaat (al doende leert men). Maar als je een infrarood thermometer hebt en je meet 195 graden Celsius als temperatuur van het ijzeren plaatje, dan zouden je ijzerkoekjes met de gegeven tijden vrij perfect moeten zijn. Als je tot een temperatuur van 215C gaat dan heb je aan 1.5 minuten per kant genoeg. Je koekjes zijn dan nog net wat deeg-achtiger/rauwer aan de binnenkant. Iets wat wel hoort bij een ijzerkoekje want ze moeten niet volledig gaar zijn. Deze hogere temperatuur en snellere baktijd is iets authentieker maar dit heeft weer als klein nadeel dat je plaat gaat walmen. Laat de koekjes afkoelen op een rooster.
Dit heb je nodig voor de IJzerkoekjes van Jos
250 gram zachte boter
250 gram bruine basterdsuiker
1 zakje vanillesuiker
500 gram fijne (Zeeuwse) bloem, gezeefd
een ei, losgeklopt
1 lepel stroop
2 tls kaneel
2 tls koekkruiden
2 tls speculaaskruiden
1/2 tl kardamom
gemalen peper naar smaak
snuf zout
Je maakt de koekjes verder hetzelfde als boven beschreven.
Note: Vlaardingse IJzerkoekjes worden toegeschreven aan een mevrouw genaamd Daatje de Koe. Zij leefde van 1838 tot 1915 en bakte de koekjes op een wafelijzer boven een takkenvuur.
In juni 2013 is er een boekje over de Vlaardingse ijzerkoekjes verschenen, uitgegeven door het streekmuseum Jan Anderson met daarin 29 verschillende ijzerkoekjes-recepten en veel historische achtergrondinformatie.
'Vlaardingse IJzerkoekjes' are the invention of a women named Daatje de Koe. She lived in Vlaardingen from 1838 until her death in 1915. She baked the cookies on an iron waffle plate on an open wood fire.
Molen Aeolus
Kortedijk 16
3134 HB Vlaardingen
The windmill shop (called 't Ambacht) is located next to the windmill.
Here you can find the authentic iron plates and lots of other baking products.