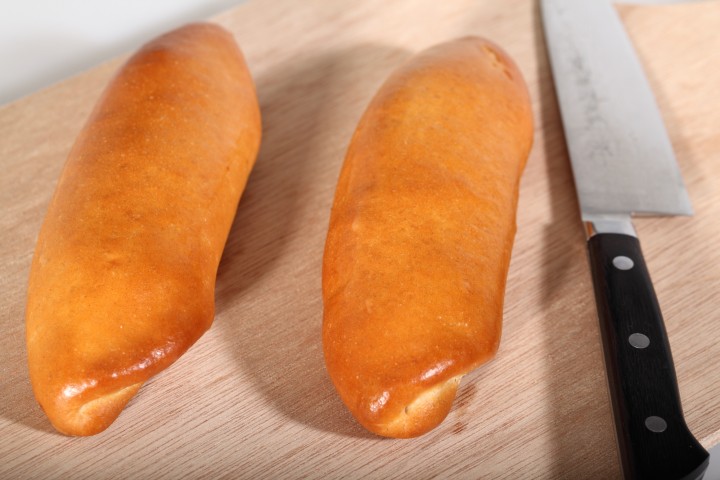 These sausage rolls are so very Dutch and loved by almost everyone!
Sausage filled rolls are much loved in Holland. They go by the name of 'worstenbroodje' made with bread dough or 'saucijzenbroodje' when made with puff pastry. The type of rolls in this recipe are often called 'Brabantse worstenbroodjes' after the Dutch province where they are eaten a lot. There are yearly contests to crown the best 'Brabantse worstenbroodjesbakker', the best sausage roll baker, and bakers devoted to exclusively baking sausage rolls!
For this recipe we are going to make a starter named a poolish. A poolish is a type of wet sponge usually made with an equal weight of water and flour and an extremely small amount of yeast and NO salt. Making a poolish helps bring more taste and strength to your bread while using less yeast.
---
Ingredients for the Poolish
100 g wheat flour / bread flour
100 g / 100 ml water
0,5 g instant yeast
Making the Poolish
In a bowl stir together the flour with the water at room temperature and the tiny amount of dry yeast. Mix it well until you have a homogeneous slurry that looks like very thick batter. Cover the bowl with clingfilm and let the prefermenting begin. After 4-6 hours it is ready for use. If you have to skip making the poolish (because you forgot or don't have the time or do not want to) you can add the 100ml water to the milk in the recipe, add the 100 g flour to the 400 g of flour and increase the amount of instant yeast to 7 g. But it is worth making the poolish, because you do get better flavor and texture!
Ingredients for the Sausage Rolls
makes 16
The prepared poolish (see explanation above)
400 g bread flour
8.3 g salt
approx 200 ml lukewarm milk
5 g instant yeast
1 tsp honey
30 g fresh dairy butter
Sausage Meat and Spice Mix
200 g minced beef
200 g minced pork
1/4 tsp grated nutmeg
1/4 tsp paprika powder
1/4 tsp 5 spice mix
1/2 tsp sea salt
black pepper (20 turns with our mill)
8 allspice/piment berries (use pestle and mortar to grind)
1 egg
toasted breadcrumbs of two sandwiches
1 to 2 tbsp of vegetable oil

Making the Sausage Rolls
Preheat your oven to 200ºC / 390ºF
First make the sausage meat by combining all the ingredients and turning the meat into 16 sausages of about 35 g each with a length of about 10 cm / 4 inches. Cover and put aside until needed. You do not have to bake or brown the meat, it's going in raw!
Now we make the bread dough. In a mixing bowl scoop the poolish, then add the flour, salt, yeast and honey and 2/3 of the milk. Gradually add the rest of the milk while mixing and when the dough comes together and starts forming a ball, add the butter. If you use a KitchenAid type mixer, mix for about 7 minutes, longer by hand. Make sure the dough is not too sticky or too dry. Aim for a bit tacky, which means that when you poke the dough with your dry finger it should stick for a second but then peel of as you remove your finger. Leave to rest for 15 minutes.
Divide the dough into equal parts of about 50 grams and make rolls. Press the rolls with your hand until slightly flat and roll them out to about 15 cm / 6 inches length.
Lay a sausage on a piece of dough and fold it around the sausage and pinch the sides together (if it doesn't stick well, use some water). Then roll carefully with both hands so the fold were you pinched it is smoothed over.
Lay the 16 rolls on a baking tray, cover with clingfilm and leave to prove for 45 minutes. Before they go to the oven you can give them an egg wash to get a shiny brown surface (beat an egg with a tbsp of milk and carefully brush the tops of the rolls)
Bake them in the preheated oven for about 20 minutes (always depending on your oven so keep a close eye). Take them out and leave to cool very slightly but make sure to eat one as soon as possible. You can put them in the freezer when completely cooled and keep them for at least a month. Thaw them and give them a second chance by putting them in the oven for 5 to 7 minutes to heat through and get crispy on the outside. Putting them in the microwave will make the bread soft.