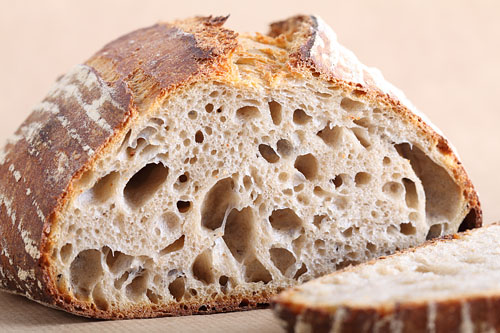 Last week we tried out the San Francisco Sour Dough recipe from Peter Reinhart's latest book 'Artisan breads every day'. We used our home made local Amsterdam rye sourdough culture because we believe our bread thrives on it (rather then buying and shipping a sourdough culture from halfway across the globe that maybe would not feel at home here).
We made it during the weekend because to make these breads you have to have time and patience and planning skills!
First there is the starter stage , 8 hours of fermenting at room temperature, then 10 hours in the fridge. After that making the full dough with the starter: 2x stretch&fold with a 10 minute interval and 2 hours of fermentation at room temperature. Then it's back to the fridge for 15 hours! Take from the fridge and let it get up to room temperature again, 2 hours. Divide and shape, proof 1-1,5 hours. And finally! the baking itself, 44 minutes in our Rofco bread oven. First result: see picture.
We think it's worth it!
All these stages are necessary to build up the sourness in the dough. As the yeast is normally more active in sourdough than the bacteria which produces the sourness, in the form of lactic-acids, you need to stretch time to give the bacteria more time to do there job. Using the refrigerator is an excellent way to stretch time without the problem of the yeast eating up all the 'food' in the dough and ruining your gluten chains which makes the dough gloopy and soft. The cold of the fridge puts the yeast into a dormant state and gives more time to the bacteria to make the lactic-acids.
When the dough went in the oven we were not sure at all about the result. It looked like something between a pancake and a deflated balloon. The dough wasn't easy to handle, it looked flabby. But the oven spring was enormous, as you can see by the final result in the picture. The bread has a pleasant light sour smell, crusty crust and full bread flavour. This first attempt has room for improvement: the crust was a little too dark and the shaping is a challenge. We also adapted the original recipe, used a little less water and added an extra stretch and fold and bench-rest during shaping. However we still need to perfect the recipe because the dough is still very soft and sloppy and hard to work with. The margin of error during shaping is very small, and sometimes the breads turn out as flat kind of pancakes which erupt in the center. But the taste is still very good!