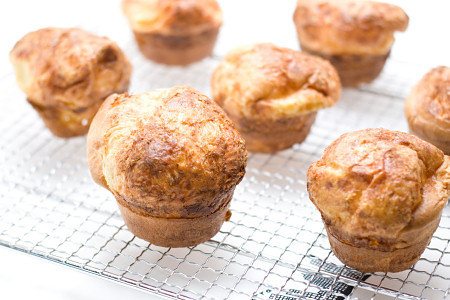 I had the pleasure of being in New York City for a Pilates conference. I lunched at Bloomingdale's with my friend and we both had a very fresh looking Caesar salad with seared tuna. When asked if I wanted a popover with my salad, I was immediately intrigued. Now this looked interesting! And it tasted even better. But what was it? Bread, cheese, warm, hollow, fresh, chewy. Back home, of course I couldn't wait to have a go at those popovers myself. Sort of strange that I'd never heard of them before. I looked trough my cookbooks and on the internet and found several recipes. Of course my goal was to get as close to the Bloomingdale ones as possible.
This is the best one up till now. I think the NY ones had cheddar in them, but that's hard to get here so instead I used Parmesan. I also gave them a little 'kick in the popovers' with some cayenne pepper I bought at Dean & Deluca (of course!). There are special popover pans but I you can also use a muffin tin which also seemes to work fine. As far as I'm concerned popovers are here to stay!
Ingredients for the Popovers
makes 6 popovers
15 grams unsalted butter, melted, plus extra for greasing the tin
125 grams all-purpose flour
1/2 teaspoon sea salt
2 large organic eggs
300 ml milk
50 grams of grated Parmesan (or cheddar)
Hint of Cayenne (optional)
This is how you make the Popovers
Preheat oven to 230° C conventional oven. Grease and flour the tin.
Whisk together the flour and salt in a large bowl. In a separate bowl, whisk together the eggs, milk, and the melted butter, add the cayenne if you want. Pour over flour mixture, and fold until just blended (very important!). Fill the muffin tins one-third full and add some grated Parmesan in the middle then cover with more of the mixture until two-thirds full. Put the tin in the oven, and bake for 15 minutes. Reduce the temperature to 175° C, and bake for another 15-20 minutes. Remove them from the oven, and transfer onto a rack. You can make a little hole in them to let out the hot steam (careful). Eat warm if possible and enjoy!