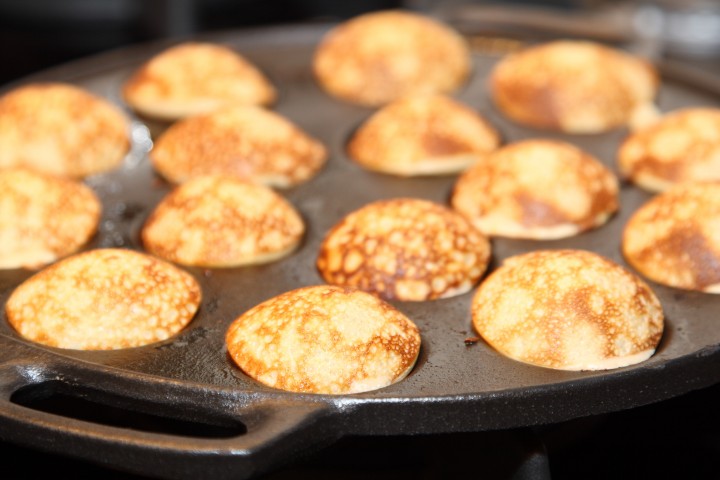 What do you want for lunch? Every ones in a while, without processing this question in my brain, I hear myself shouting: Poffertjes! I don't know if you've ever tasted them, but if you like (Dutch style) pancakes you probably are going to love poffertjes.
Poffertjes are a Dutch specialty, served at fairs (kermis) or pancake restaurants but you can also make them yourself. They're like tiny pancakes, only thicker and sweeter. You can make them with a ready made poffertjes mix but of course I do not recommend this. Like all good food, making your own batter is so much better and tastier and it only takes a minute.
Over the years we have adapted the classic recipe to our own taste to make the poffertjes we love. Hope you like them too!
---
Ingredients for the poffertjes batter
makes approx. 44 poffertjes
80 grams of wheat flour
40 grams of buckwheat flour (quite essential for taste)
enough milk to make a slightly runny batter
a good pinch of salt
2 tsps of sugar
1 egg
1 tsp of vanilla extract
melted butter for brushing the poffertjes plate holes
fresh butter and icing sugar to serve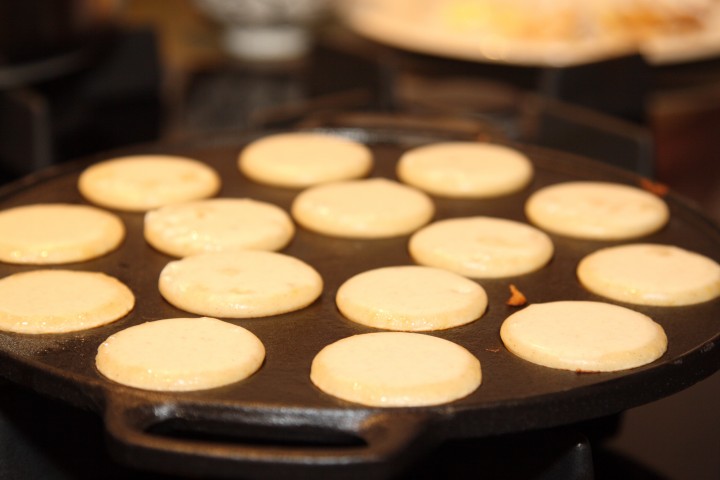 Making the poffertjes
Make a batter with the flour, milk, salt, sugar, egg and vanilla extract, aiming to get a pouring consistency, a bit like the thickness of maple syrup or slightly thicker.
Baking poffertjes is easy but it is a bit of a challenge if you do not have a poffertjes plate. In case you do not own a plate, I suggest you take the batter recipe and make small pancakes or crepes with it, which works really well. If you can get a hold of a poffertjes plate or pan (the cast iron ones are the best, but we also have an electric device with changeable, non stick poffertjes and waffle (Tefal brand), not very authentic, but it works quite well).
Now heat the plate over a medium flame. Test with a drop of water on the hot plate, if it sizzles it is ready. Now butter the little holes with a pastry brush. Squeeze batter (best done with a plastic squeeze bottle) in each of the poffertjes holes on the plate until filled to the rim of each hole. Bake on one side until firm, then turn with a fork and bake the other side. When nice and golden brown serve hot on a plate with fresh dairy butter and lots of icing sugar.
Enjoy!