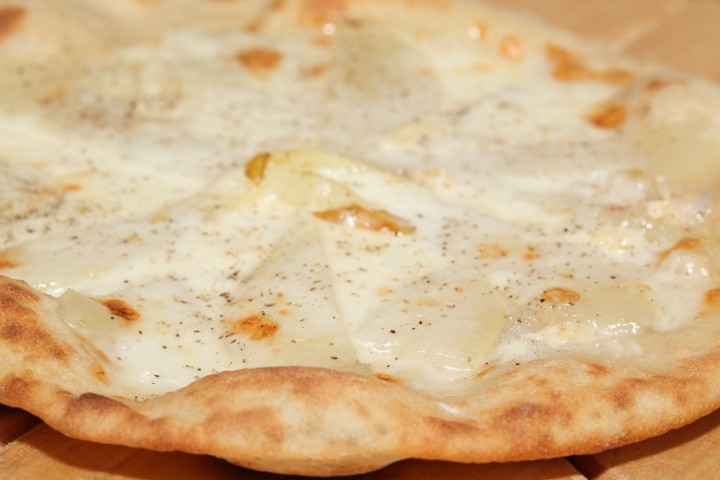 A very simple pizza with sweet pear, soft Taleggio cheese and black pepper, Buonissimo!
This is our Alfredo pizza baker (brand Bestron). It's a very good and cheap alternative for those of us who still intend to ever own and/or build a wood fired oven. Until then, Alfredo is your trusty friend that will go the extra degrees to give you something that resembles a true pizza. While pizza from our normal oven was very tasty (with fresh ingredients for the dough and toppings like good mozzarella and flavorful tomatoes it's still no punishment to eat), we were not satisfied.

We wanted to get as close to the fire of a real pizza oven as possible, until we would have the place, time and money to build one ourselves. Then one evening we zappingly land in the middle of a German cooking "infomercial" about a pizza oven you can use at home. What intrigued us was that the crust on the pizza looked really good.Long story short: We who have never ordered anything by way of a TV channel, were intrigued by what we saw and decided to buy this item. Not via the TV channel exactly but … we searched for the Bestron pizza oven in Holland and found it. … At Dutch postal order company called Wehkamp sold it to us for 59 euros! The advantage of Alfredo is that the temperature within this clever contraption goes all the way to 350ºC / 66o ºF or there about. It delivers the heat a pizza crust needs and bakes it in under 5 minutes. So yes, we are not ashamed to say we love our Alfredo pizza baker!
Tip for Alfredo (type) pizza oven users
Preheat the pizza oven for 20 minutes, setting 2. The moment you start rolling out the pizza dough, turn up the heat to setting 3. The aim is to get the heating spirals just red hot the moment you have finished preparing your pizza. This way the instant heat of the spirals gives your pizza a good boost. After about 2 minutes you turn your pizza 180 degrees, to get an even baked crust. After 4 to 5 minutes, depending also on the toppings, your pizza is baked.
First time pizza makers or 'very slow' pizza makers should turn up the heat to setting 3 after they have rolled out the dough, otherwise the stone will get too hot and burn the bottom before your pizza is done. Also make sure you turn back to setting 2 if it takes a while before you bake your next pizza (because you are eating the first one before making another one, like we do for example). We encourage you to experiment a little bit with settings and timings to get it just right!
Our Alfredo has been our pizza friend for many years now!
In Italy, land of the best pizza and so much more, it is almost impossible to eat bad food (though there are 'a few' tourist hot spots where you want to turn around and walk away from, you know what I mean). When in doubt just take two left turns away from the main squares and you're sure to find something nicer. You just look (works in many countries) for the places the local people eat themselves.
Also in Italy, I dare say from experience, there is an additional safety factor in the form of priests and nuns! When you see them sitting in a restaurant, you can assume that the food is good. As was the case in a place at Lake Como, where we had the best pizzas from the wood fired oven. This 'Sister' knew what she was eating and by the looks of it she had done it before. We just followed her lead and soon we were in pizza heaven! We had our first pizza with pear and taleggio cheese. At home we tried the combination with our own 'Alfredo' pizza oven. Not bad, not bad at all! In fact, it's our favorite pizza now.
Check out our basic pizza dough recipe here
Also check out our recipe for pizza dough with a poolish