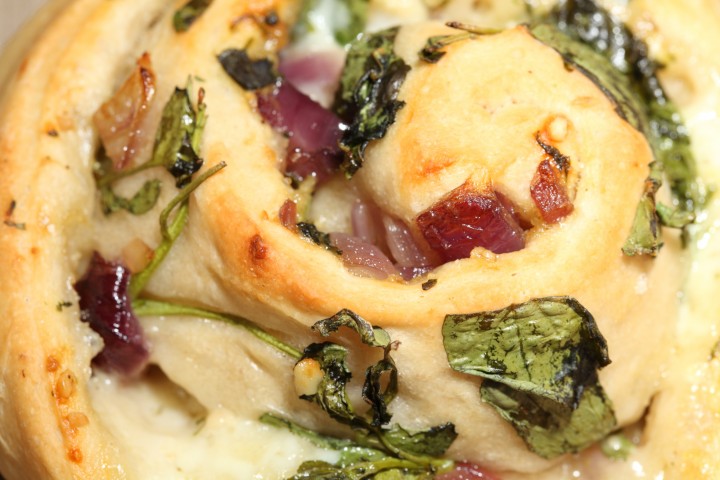 Veggie Danish, Savoury or Savory Danish, no matter what it's called, it's delicious!
This recipe is of our own invention but these buns are very much inspired by our visit to the Eden Bakery at the Eden project in Cornwall. After failing to find any kind of recipe for them, we started experimenting and came up with our own version of this savory concoction. The possibilities for the filling are endless of course. Personally I really like the one with pesto, and lots of it! The combination with mozzarella and tomatoes is the logical one, but we also experimented with goats cheese, sun dried tomatoes, different types of greens, herbs and seasoning. You can try olives, mushrooms, garlic, peppers, artichokes and the list goes on. Anything you would love on a veggie pizza or focaccia would do.
Anyway, we have become very fond of this addition to our bread repertoire and hope you will give them a try, maybe tell us your favorite filling…
Ingredients for the Poolish
200 g wheat flour / bread flour
200 ml water
1 g instant yeast
Start by making the poolish, mixing flour, water and yeast with a spatula until well combined (about 30 seconds), cover the bowl with clingfilm and leave to develop at room temperature for 4 hours.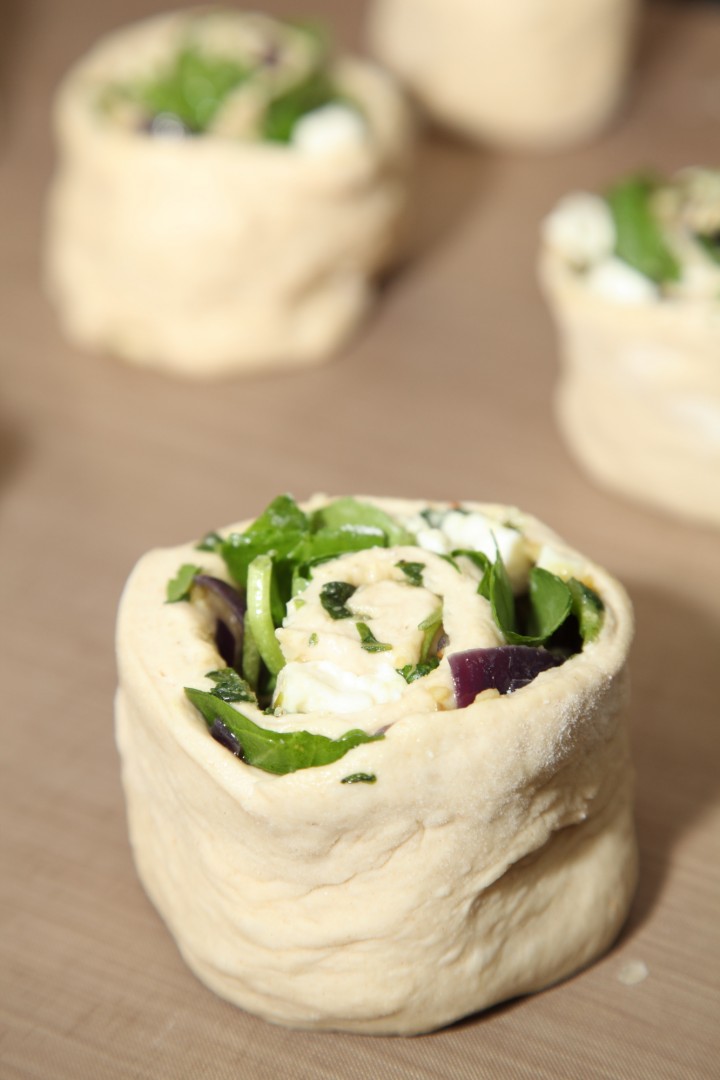 Ingredients for Veggie Danish Dough
poolish
300 g wheat flour / bread flour
70 ml lukewarm water
50 ml olive oil
9 g sea salt
7 g instant yeast
Ingredients for the Veggie part
Version 1
Homemade pesto, mozzarella, softened red onion with some salt, water cress
Version 2
Cherry tomatoes, soft goats cheese, mixed green leafs, herbs of choice (fresh thyme and oregano is good), seasoning to taste
Making the Veggie Danish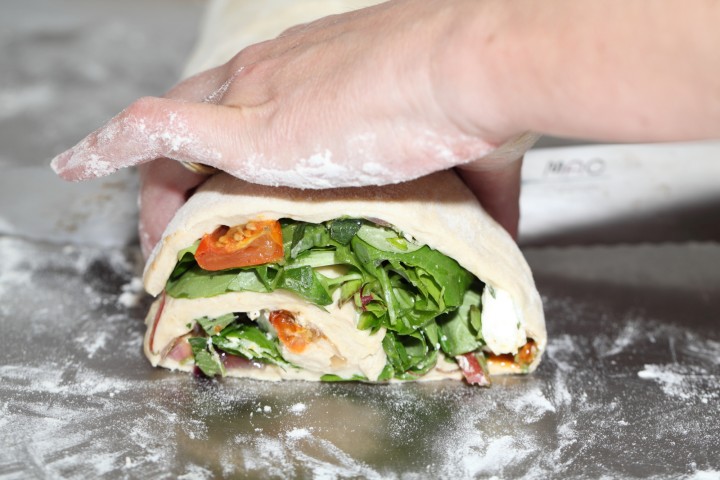 Scoop the poolish you prepared in advance in your mixing bowl. Add the flour, salt, and instant yeast. Now add the water and mix in your mixer with dough hook until it comes together. Now add the olive oil. Knead for 8 minutes, or until the dough is smooth and slightly sticky (if you knead by hand it will take a bit longer, up to 15 minutes). The dough should clear the sides of the bowl but stick ever so slightly to the bottom of the bowl.
Cover the bowl with clingfilm and leave to rest at room temperature for 1 hour.
Preheat your oven at 200ºC / 390ºF.
Turn out the dough on a lightly floured work surface and with a rolling pin roll out into a rectangle of about 5mm or 1/5 inch thickness. Generously spread and cover the surface with your ingredients of choice (see suggestions). Shape into a roll and cut into 7 to 8 pieces, turn the pieces on their side, cover with floured or oiled clingfilm and leave to proof for about 30 minutes.
Bake in the preheated oven for 20 minutes. Eat while warm. You can also freeze them and later reheat them in your oven. But fresh is best of course!