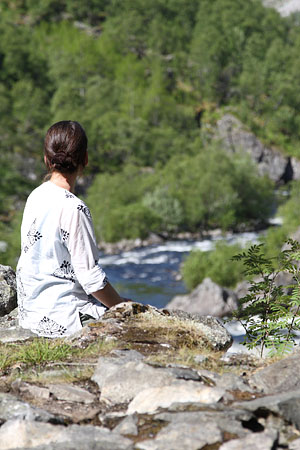 Spending over 4 weeks in Norway has taught us a lot about food culture in Norway.
The short version: if you are particular about your food: Go to Italy!
If you are a resourceful and inventive person there can be no objection. Please go to Norway because it's so beautiful it will move you to tears.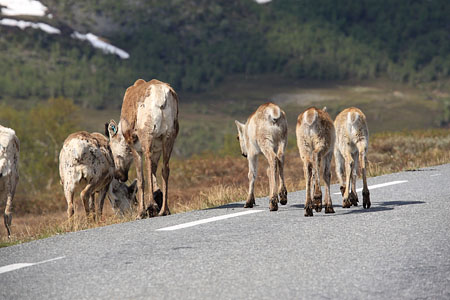 No, we did not eat reindeer…
There is only one sure fire way to eat well in Norway: DIY! Take all the stuff you need to cook a decent meal with you (campinggaz, chefs knife, pots and pans, good olive oil, some herbs and spices) and you will be fine.
If you plan on travelling around and eating in a nice cosy little restaurant every night, good luck to you. The following is not a joke. It's just the way it is in Norway, being a not so densely populated young country. In a 100 mile radius there could be as many as 5 restaurants. But do not think about going wild and visit these places any time you feel hungry.
For example they can:
Be open on Monday and Tuesday and closed the rest of the week
Close their doors at dinner time
Be 'closed' for the season
Open on Friday between 6.00 and 6.30 (well this is a bit of a joke)
Found in your brochure but in actual fact no longer in business
Open, but without any intention of selling you anything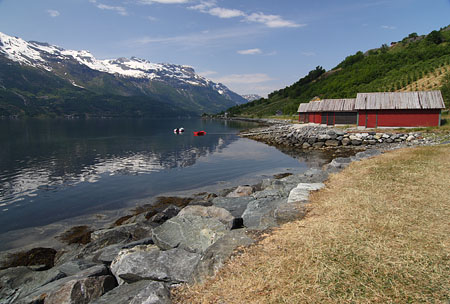 Who needs restaurants when you can have a picknick with this view
Finding a good restaurant in Norway will be (apart from the big cities and some larger places) hard work and it will cost you a pretty penny. And if you visit Norway on a tight budget and you are forced to eat out, you'll be sentenced to pølser (sausages with no taste) and a distant relative of the pizza (if you're lucky). Most restaurants will be in hotels and in some cases that is not a recommendation.
Do not expect to eat a lot of fresh fish when in Norway. There are, as far as I have seen, no fish mongers and no fresh fish sections in the supermarket. Norwegian people catch their own or know people who do. We had very good home smoked trout fresh from the lake because we asked for it!!
Do not expect bakeries in every village. Norwegians buy their bread at the local supermarket (the COOP, Kiwi or ICA most of the time) and they bake very good pies and cakes at home, so I am told, but again you have to get friendly with the locals to get a taste. But I can tell you that there are bakeries in Lom and Beitostølen and there were at least three in Mandal on the south coast!
Do not expect Norway to be the most eco-friendly, good food loving country in the world, just because their standard of living is high. But there are more and more organic products to be found in the supermarkets and there are a few little organic shops here and there, but there is definitely room for more. Judging by the supermarket magazines, they are really trying to 'go greener' but it's hard in a country where children are really fond of 'fluorescent' sugary green stuff (so we were told).
Judging by the labels on their prefab food: Norwegians are not afraid of E-numbers and additives.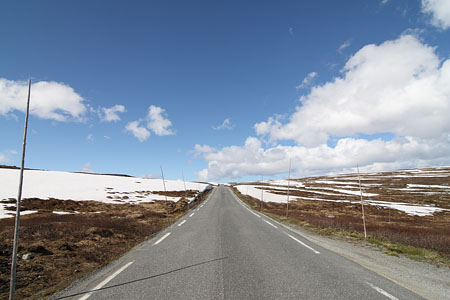 'Can you recommend a good restaurant in the neighbourhood?'
And now the good news!
We ate good food and something different every night the whole month we where in Norway.
4 nights were easy: someone cooked for us. We had the pleasure of returning to the guest house Herang Tunet in Heggenes and have wonderful food and wine brought to our table in the most relaxing atmosphere. And then there was the lovely hot smoked trout at a farmhouse restaurant. For lunch we also returned to the Peppes Pizza in Beitostølen where we had the 'tasty veggie' (nothing like Italian pizza, but very tasty indeed with the sour cream on the side).
For the rest we made meals with stuff we bought in different supermarkets. We tried to think of a theme or country and this worked very well:
We had lovely pasta dishes with blue cheese and rucola, found coconut milk and curry paste, baked pancakes with lovely blueberry jam, made chili sin carne, flash fried smoked-salmon with baked potatoes, had a French cheese platter with port, made a wonderful omelette provençal with Norwegian ridder ost (cheese) and made something tasty out of an organic piece of turkey. We tried the real 'gjetost' (brown goats cheese) but it is indeed an acquired taste. As Dutch people, accustomed to herring, we were not too offended by the pickled variety for breakfast and the Norwegian sour cream goes with just about every meal. The fish we tasted was great and if we had had the fishing gear to catch a fresh salmon, I bet it would have been the best we'd ever tasted.
Looking for great food was a fun challenge for us and we were enthusiastic about the good stuff we found and the unknown stuff we tried.
The air was cleaner, the light was brighter, the grass was greener and the days where definitely sweeter!
Maybe it would be absolute heaven if this unbelievable landscape where dotted with little Italian 'ristorantes' in every village. It would be even better if there were French bakeries and English organic food markets on every corner.
But things can be too perfect….and where's the challenge in that?
Norwegian Food links
Bakeriet i Lom
Åpent Bakeriet Oslo
Herang Tunet: guest house with wonderful home cooking
Fjellbygda Café in Beitostølen has fresh bread and very good cheese
Løkeland Norwegian crab products
Peppes Pizza: safe haven for smaller budgets