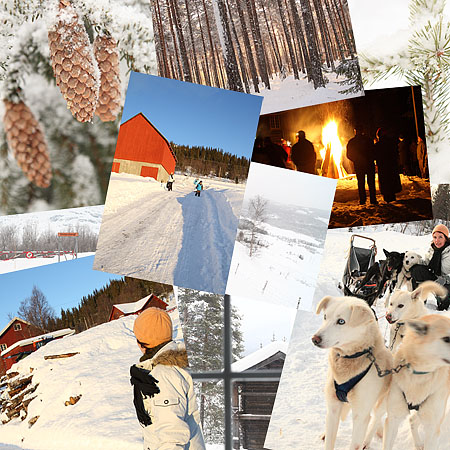 We were fortunate enough to spend the beginning of the New Year in beautiful Norway. It is great to experience a real winter around this time of the year. So we made the most of the snow and did all types of sledding, dog, horse drawn and several odd devices that get you downhill in record time (think bin lids and plastic shovels). And of course we left some angels in the snow. Temperatures varied from minus 5 to minus 20 during daytime. The sun came out the first 2 days, after that, it just kept on snowing. All the while we were cozy and very well taken care of by our hosts at Herang Tunet, a gem of a guest house not very far from Jotunheimen national park (3 hours drive from Oslo). This is also the reason we did not taste much of the local cuisine. We were pampered with fantastic food, warm fire and hospitality, so we never got round to checking out other diner options. We enjoyed every bit of their internationally inspired cuisine, including the elaborate buffet at New Years eve and the unfairly delicious desserts.
But we did do some exploring during the daytime. One of our favorite pastimes when in foreign countries is checking out local supermarkets. In Norway you have your COOP, Spar and Kiwi, among others. The places we visited (Beitostølen, Fagernes) did not have big supermarkets, but there was a lot of unfamiliar stuff for us to check out. One great find (especially for those of us with braces) is the polarbrød. A Swedish product, so I found out, but the lovely, slightly sweet bread is gaining popularity and I am sure it will make a journey south. Home again I could not resist trying to make my own version of the fluffy Polarbrød. You can find the recipe here!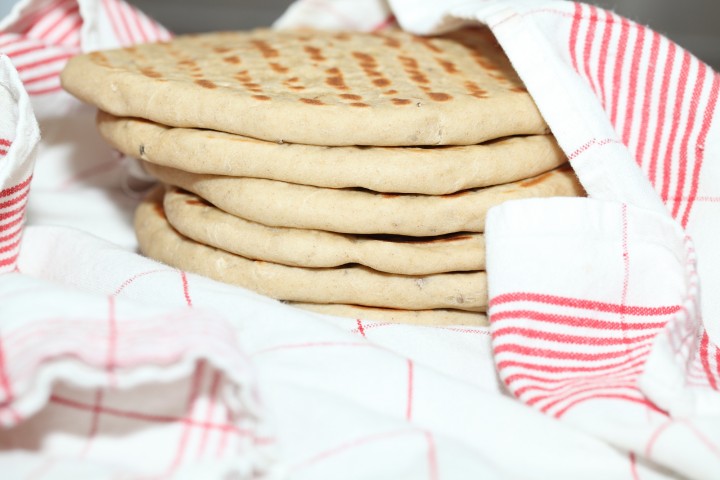 Another great product for the munchies is Sørland chips, claiming to be from Norway's smallest potato chips factory. We further noticed that the chocolate brand Freia (now in the hands of Kraft foods) is more popular than the Mars bar company and Nestle. And of course lots of unfamiliar meat and fish in the frozen section. The cheese is also something you have to dig into. Lots of goats cheese (geitost) options of course. We haven't tasted the brunost (brown whey cheese) yet, maybe because it doesn't look that appetizing to be honest and we are afraid it will taste like the Swiss 'Sieg' cheese (think old sneakers).
Another thing we picked up is the garlic cloves in lemon (sitronmarinert hvitløk). Marco, the owner of the Herang Tunet guest house, told us the tasty veggie pizza, at Norwegian safe haven Peppes Pizza, was a good idea for our lunch in Beitostølen. It's different from the ones you get in Italy, it's pizza with a Norwegian stamp, including sour cream, which was actually very nice. Especially the lemon flavored garlic, and so it got on the list of 'things to try when home again'.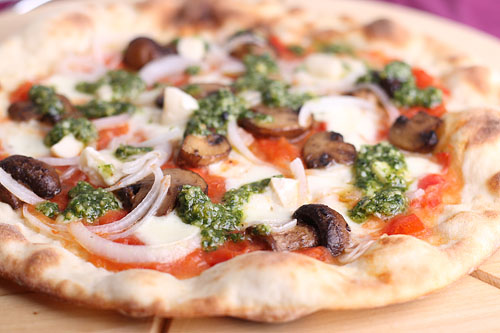 our interpretation of the Norwegian tasty veggie pizza with 'rømmedressing'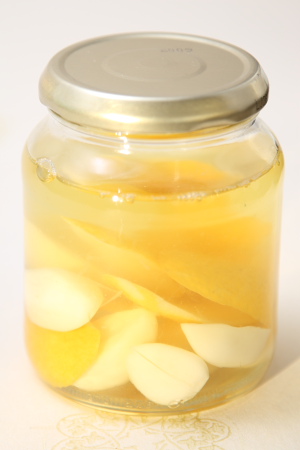 The garlic cloves have been in the jar for over a month now. Yesterday I baked a focaccia bread with slices of the lemon garlic accompanied by sweet mini tomatoes, white onions and mozzarella. This garlic is a great addition to any pizza or bread in this style.
After some pondering how to make this lemon garlic ourselves, this is what we came up with:
This is what you need for the Lemon Garlic
one garlic bulb
one cup of natural vinegar
peel of half a lemon
tspn of sugar
pinch of salt
Peel the cloves of a garlic bulb. Put them in a small saucepan and add a cup of good quality natural vinegar. Then add a teaspoon of sugar, a pinch of salt and the peel of half an unwaxed lemon. Slowly bring the vinegar to a simmer and boil for 4 minutes. This will take the edge off the raw garlic. Put in a sterilized jar and seal. Let the garlic marinate for a good while so the lemon can get her claws in it. Lovely! It tastes amazingly the same as the Peppes pizza's garlic!
P.S.: We also tasted cheese of Dutch origin produced with local milk in Beitostølen at the Fjellbygda Kafé og Mat. Very good!