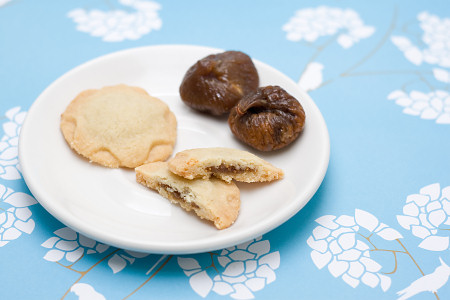 At night, in my sleep, I dream up recipes. These cookies came to me like flying angels with little wings. Light and delicate, buttery with a soft and sweet center. And I love the combination of crunchy and chewy. My goal is the perfect marriage of taste and texture. These cookies are on the road to that goal.
Eat them fresh of course!
Ingredients for the Honey Fig Cookies
200 g pastry flour
150 g fresh dairy butter in cubes
100 g fine sugar
Pinch of salt
½ tsp grated cinnamon
5 good quality dried figs
Tbsp runny honey
Making the Honey Fig Cookies
Put the dried figs in a saucepan and add some water until they are half covered. Let boil for a while until soft. Let them cool for a while and then blend them with the honey to a smooth paste. You can also add a hint of cinnamon to this paste. Keep in the fridge until needed.
For the dough: put flour, salt, cinnamon, sugar and butter cubes in a large bowl. Quickly combine to form a dough, shape into a disc, wrap in clingfilm and let it rest for 30 minutes in the fridge. Roll out the dough, nice and thin (2 mm), between two sheets of cling film and cut out shapes with a cookie cutter for tops and bottoms.
Preheat the oven at 170ºC / 340ºF.
Place the bottom halves on a baking tray lined with baking paper and add a teaspoon of the fig mixture in the middle. Cover with the top halves of the dough and press lightly on the sides and in the middle so the cookie is closed and the paste is evenly spread. Bake them in the oven for about 25 minutes until very light brown (use a conventional oven, not a fan setting). Cool on a rack and serve with a pot of freshly brewed chai.