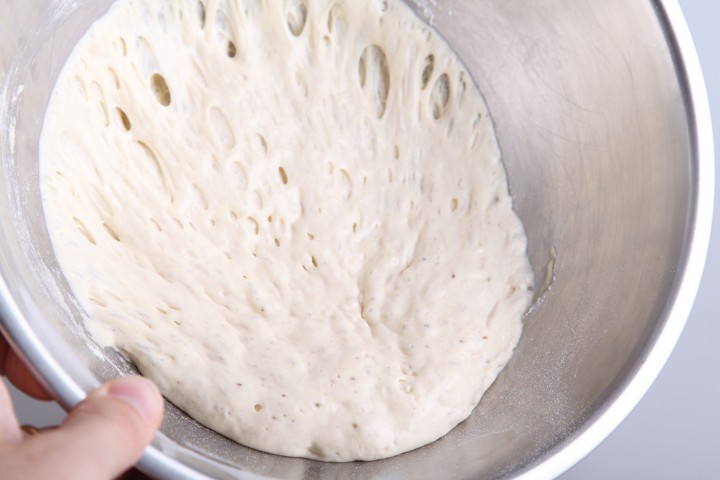 What is it?
There are several traditional methods for creating starters for breads. All of these starters are easy to prepare.
A starter usually consists of a simple mixture of wheat flour, water, and a leavening agent (typically yeast or a sourdough culture). After mixing it is allowed to ferment for a period of time, and then is added to bread dough as a substitute for, or in addition to more yeast. So pre-ferments are critical for best tasting bread – You can call it a starter, biga, poolish, preferment, or sponge – they all do sort of the same job and only really differ by water content.
Biga and poolish are terms for pre-ferments used in Italian and French baking, respectively, for sponges made with domestic baker's yeast. Poolish is a fairly wet sponge (typically made with a one-part-flour-to-one-part-water ratio by weight), while biga is usually drier. Bigas can be held longer at their peak than wetter sponges, while a poolish is one known technique to increase a dough's extensibility.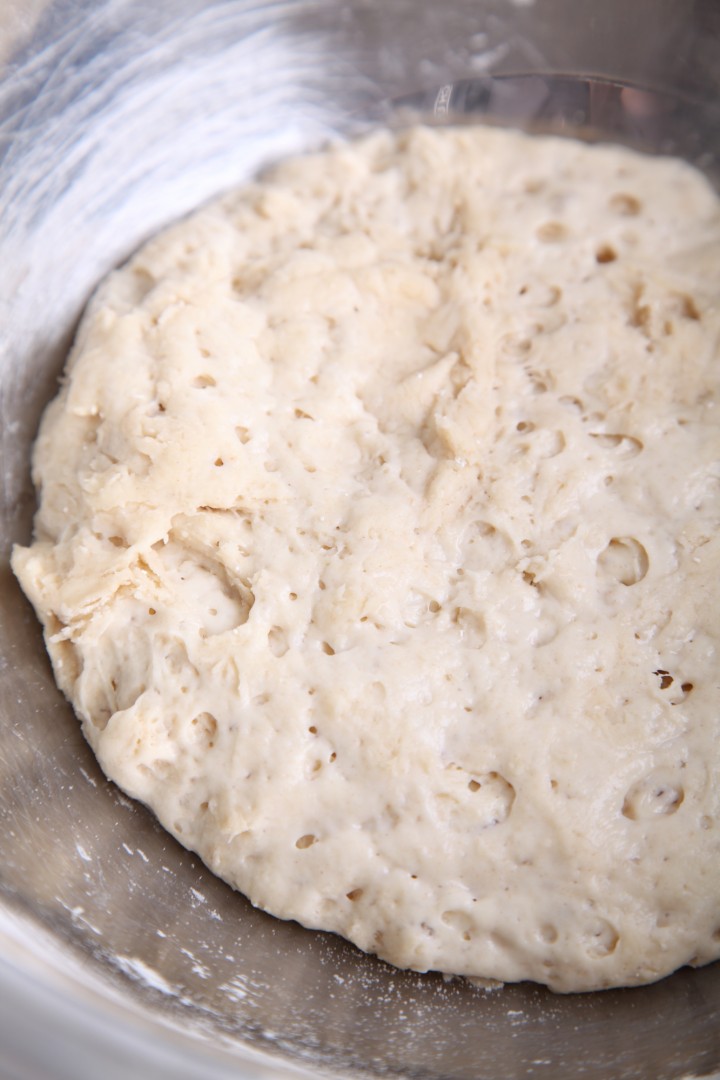 Why use it?
The primary difference between making bread with a starter and making bread with the direct or straight yeast method is that starter breads require much more time to prepare, but the flavor and texture of the bread is almost impossible to achieve with other leavening methods. Bread made with starters like poolish and biga also tends to keep better, compared to bread made from straight doughs.
Poolish & biga tips
If you are working with pre-fermented doughs like poolish or biga make sure not to 'over ripe' your pre-ferment. This is especially true when using larger percentages of preferment in your final dough (think up to 50%) because over riping will kill the gluten in your preferment (the yeast will eat them all) and you will end up with a weaker and hard to handle dough.
The higher the percentage of pre-ferment you use the more your bread crumb will have a nice chewy texture (but it stops at around 50%). We like our bread that way, it gives you something to chew on. The sugars that are released from the flour in the pre-ferment also add a nice golden colour to your bread.
Yes you can make the same bread recipe using a biga or a poolish, you just need to make sure you adjust the water content.
You can make a poolish or biga from another type of flour than the one you are using for the actual bread. For example, we use spelt, rye or whole wheat flour to add extra (and different) flavours to our bread.
Percentage of instant dry yeast in poolish
You can prepare your poolish up to 8 hours but also up to 16 hours in advance. But you have to adjust the amount of instant dry yeast you use. Logically, the more time a pre-ferment gets, the less yeast you have to use.
This is the schedule we use
Poolish up to 8 hours in advance – 0.23% – 0.33%
Poolish up to 12 hours in advance – 0.1% – 0.2%
Poolish up to 16 hours in advance – 0.03% – 0.08%
We use the smaller amount in summer when conditions are warmer, and the second, slightly bigger amount in winter.
Example – How to calculate the right amount of yeast
You make a poolish consisting of 200 g flour and 200 g water. You make it 12 hours in advance (typically the night before the morning of baking) and it is summer or a nice warm room temperature for the poolish to ferment in.
You calculate the amount of instant yeast needed as follows:
amount-of-instant-yeast = amount-of-flour / 100 x percentage-of-table
For example;
200 g (amount of flour)
0.1% (yeast amount used in summer for 12 hour poolish)
To calculate 1% of 200g of flour you divide 200 g by 100 and multiply by amount in the table;
200 / 100 x 0.1 = 0.2 g instant yeast
(for fresh yeast multiply the amount by 3)
What does 0.1 gram of yeast look like?
To give you an idea of how tiny the amount of 0.1 gram of instant dry yeast is we have made some pictures. The third picture shows 0.1 grams of yeast in a teaspoon, the last picture shows 0.1 grams of yeast in a 1/4 teaspoon.

To give you an idea of how much instant dry yeast goes into a measuring teaspoon:
1 tsp dry yeast = 3.1 g
1/2 tsp dry yeast = 1.6 g
1/4 tsp dry yeast = 0.78 g
As the amounts used are tiny, especially when baking just one loaf of bread, a precision scale for measuring is something worth considering.
Also check out our recipe for pizza dough with a poolish
Find our favorite bread recipe with a sourdough culture based poolish here