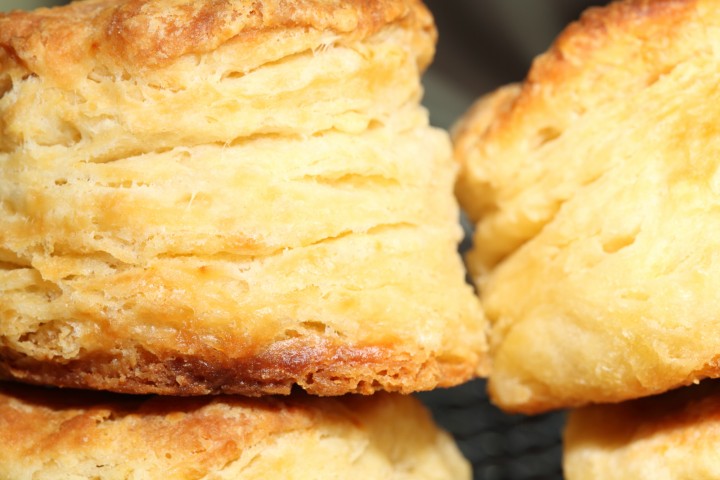 Aiming for crusty, fluffy and flaky, all at the same time!
Ever since I first read about American 'Southern style' buttermilk biscuits I have been intrigued by them. First there was confusion because of the word biscuit. In the UK a biscuit is a cookie (the word cookie, comes from our Dutch word 'koekje' and was adopted in the US centuries ago). But wait, this biscuit looks like what the British like to call a scone. And the Americans do not seem to eat it with jam and cream, but rather like to serve them with something they call gravy, but it does not look like the stuff we recognize as such! Confused? Just check out this wiki page if you want to brush up on your cookie/biscuit history.
I also tried a biscuit version with oil, but I did not like it that much, even when using an oil that is very mild in taste. Like most people, I just love the taste of butter, no shortening, no lard, just real butter. Next to that, I would say these biscuits go with just about everything, sweet or savory. You decide! We especially like it with a bowl of homemade tomato soup.
I am not ready with these biscuits yet. There are many schools of biscuit making that teach different ways. I am sure there are more biscuit making methods and recipes out there worth the effort and equally delicious.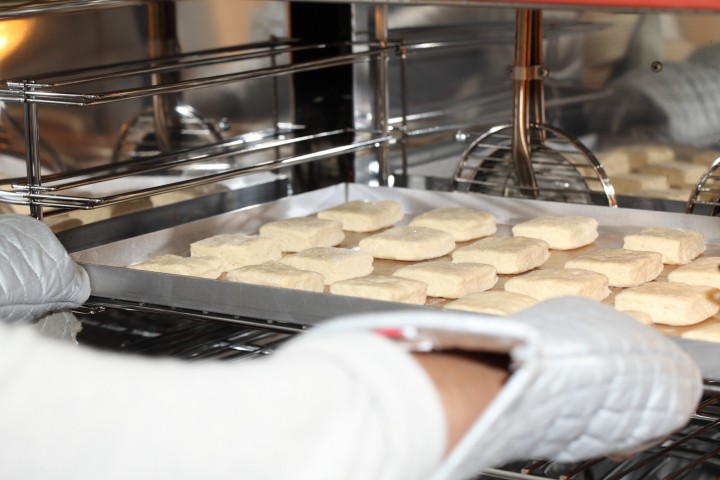 Ingredients for the Biscuits
makes about 12
350 g pastry flour or all purpose flour or a combination (we use French Type 45 & 55)
7 g salt
12 g baking powder
1/4 tsp baking soda
15 g sugar or honey
115 g cold butter in cubes
about 220 ml buttermilk
butter for brushing tops (optional)
Making the Biscuits
This recipe will yield about 12 biscuits (in the pictures I used a double batch of the recipe, making 24 biscuits in total), depending on the size of your cutter. The cutter I use is a 6 x 6 cm /2.36 x 2.36 inch square or a round shape with a 6 cm diameter.
In a bowl combine flour, baking powder, baking soda, salt and sugar. Add the cold butter in cubes and very coarsely rub it into the flour, making sure there are still plenty of pea size morsels of butter in the mixture. Be brave!

Now add 150 ml of the buttermilk, stir with the back of a kitchen knife until it just comes together. Take a look at the consistency, the dough should come automatically together while stirring, without kneading, and there should be no crumbs left on the bottom of the bowl. Add more buttermilk to absorb all the morsels and crumbs until you have a shaggy mass. I normally end up using all the buttermilk. Mind you, it needs to be sticky to ensure the light consistency of the biscuit. Kneading or too much fumbling will make your biscuits tough and will brake down the morsels of butter in the dough. We do not want that to happen so stop fumbling!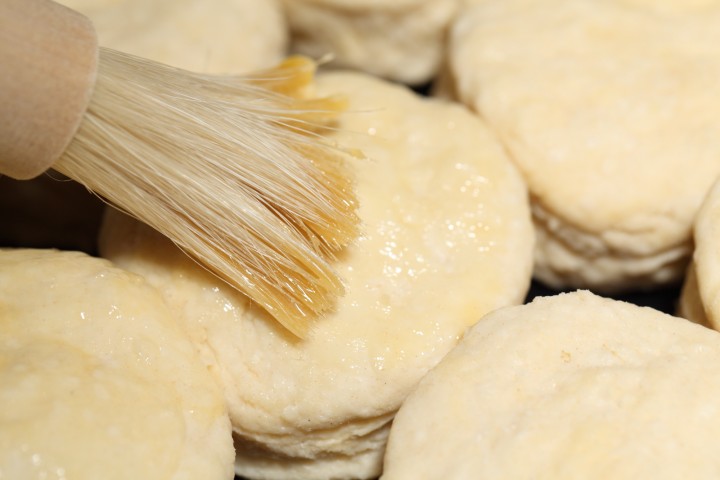 Turn the dough out on a floured work surface. With floured hands, gently pat the dough into a rectangle. Fold the dough into thirds, letter style. The folding is done to give the biscuits a more flaky texture. Like I said before, the dough is sticky so it is a good idea to use a plastic scraper to lift and fold the dough. Rotate the dough 90 degrees and again shape the dough into a rectangle and fold into thirds. Now again pat the dough into a rectangle making sure it is about about 2.5 cm / 1 inch thick.
Preheat your oven to 230ºC / 445ºF.
Cut out round or square shapes, whatever you like best. Put them on a lined baking tray. You can put them close together so that the sides are touching and stay soft or leave some space between them for crusty sides. Cover the biscuits with floured clingfilm and leave to relax (not you, but the gluten!) for about 15 minutes.
Now you can brush the tops of the biscuits with butter if you like. Put the tray in the oven. The biscuits take about 14 to 16 minutes of baking. You can rotate them after about 8 minutes to get a more even bake. Keep a close eye on them, they should be pale to golden brown in color. Remove from the oven and serve warm.
We use type 45 and 55 French flour for these biscuits. You can also experiment with a combination of all purpose and pastry flour or cake flour. Using only type 45 flour makes them particularly light and fluffy. Using the right kind of flour can make a huge difference for your end result.
We use our own home made baking powder. You can find our formula for baking powder and self raising flour here.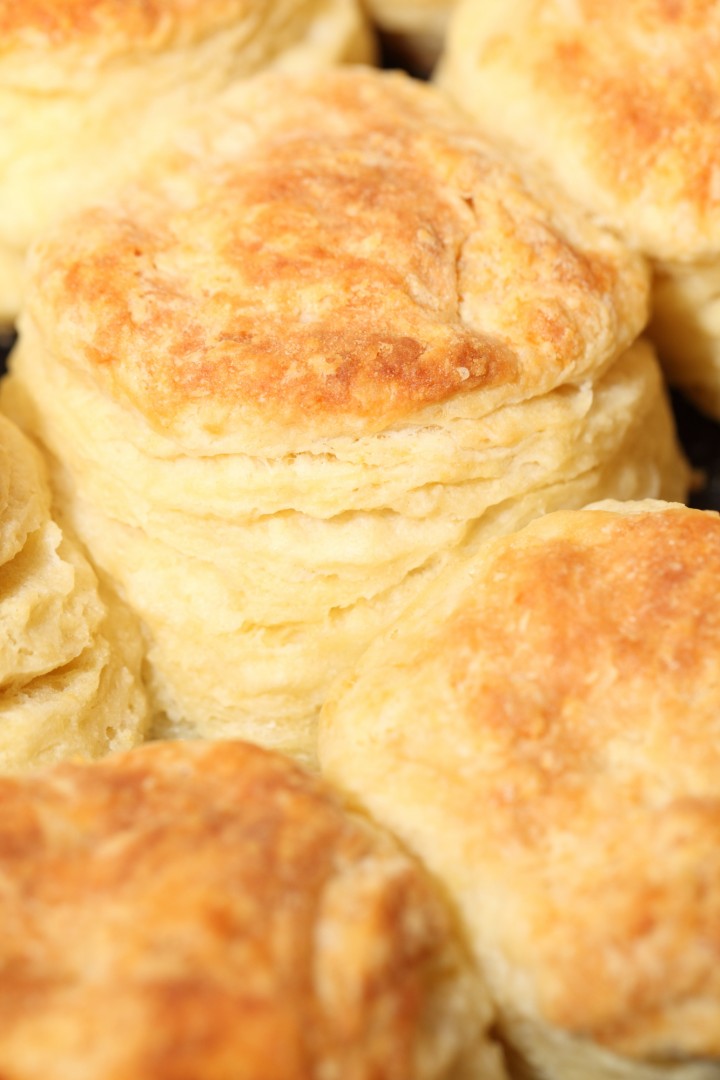 Space between the biscuits means crusty sides, putting them close together will result in soft sides. I like crusty, because of the contrast with the soft and fluffy crumb.
You can keep these biscuits warm for longer if you wrap them in a tea towel after baking.
You can also leave them to cool on a rack and store them in the freezer where they will keep for may weeks. You can thaw them and give them a quick pick me up in the oven. What I like to do is to cut them in half and lightly toast them in the toaster so the edges are slightly crispy and the inside is soft and warm.
Like I said, these biscuits will probably go with just about anything. And although there is plenty of butter in them, that does not mean they wont get even better with more butter!