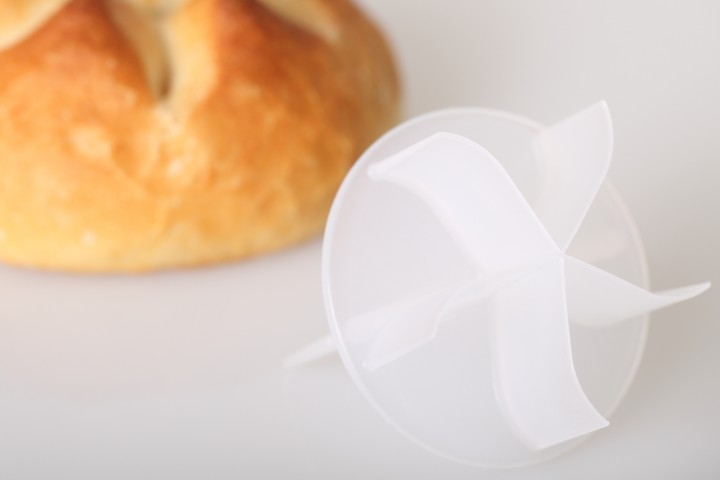 The Kaiser roll is also called a Vienna roll or Semmel or Kaisersemmel or kaiserbroodje in Dutch
Think sweet smelling soft crumb and thin crispy crust, these rolls are on the other side of the artisan bread baking spectrum. But they deserve their place in your warm, fresh-out-of-the-oven home-baked bread repertoire!
Everybody, in Holland for sure, knows these rolls with the characteristic star shape, made by hand or with a stamp. When you buy these rolls they usually do not seem to have much weight or taste. But, as so often with home baking, making them yourself changes everything. You use the right (and probably much less) ingredients, you give it time and suddenly it is very rewarding to make these adorable little rolls. They go with any meal, are great at a traditional family dinner or a summer picknick or just with a bowl of homemade soup.
Lets get baking!
Ingredients for the Kaiser rolls
makes 12 rolls
500 g German 550 /French type 55 / all purpose flour
8 g salt
7 g instant yeast
160 g water
150 g milk
1 tsp / 7 g honey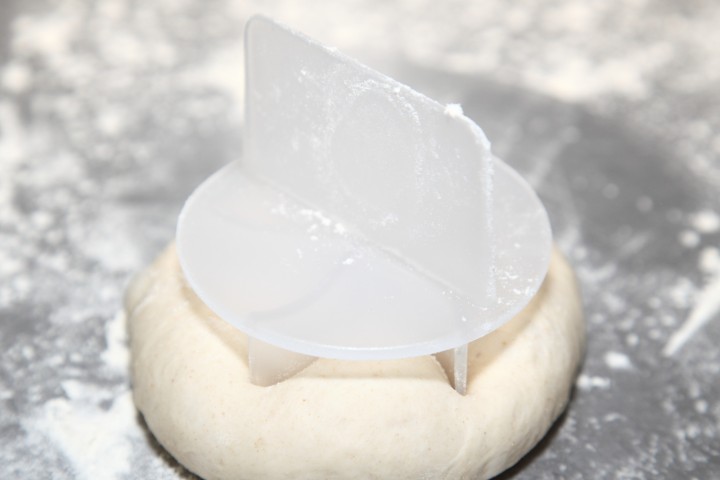 Before you start
Making this dough is pretty straightforward, combining, kneading, resting, shaping and final proofing, but for a good baking result it is important to use the right (quality) ingredients and also keep your dough under optimum conditions during the whole making and baking process. If you want to learn more please check out these tips:
–Tips on dough temperature
–Tips on the use of your oven for splendid results

Note: We use European flour which absorbs a few % less water than American type flour. People using American type flour should add 4-9 ml water to the dough.
Making the Kaiser rolls
In a mixing bowl of a standing mixer with a dough hook attached, combine the flour with the salt. Add the yeast, water, milk and honey and knead for 7 minutes. If you are kneading by hand it will take a bit longer, between 12 and 15 minutes depending on your kneading. You are aiming for an elastic dough that is ever so slightly sticky. Leave to rest for 2 hours in a bowl, sprayed with some oil, and cover with clingfilm.
Now divide the dough into 12 equal pieces of just about 70 g each. Shape the dough pieces into balls, place them on the baking sheet or tray you are also going to use to put them in the oven, cover (we do this with a floured piece of clingfilm) and let them relax for 10 minutes.
Preheat your oven to 220ºC / 430ºF. The preparation time from this point until the bread actually goes into the oven is about 1 hour.
Continue by pressing the kaiser roll stamp into each ball of dough like you see in the picture to get the 5 pointed star pattern. Cover them and leave to proof for around 1 hour. When you think the rolls have risen enough, use your floured finger to carefully make a very small dent in the dough. If the dent remains, the bread is ready to bake, if the indentation disappears, the dough needs a little bit more time. Check again after 15 minutes.
You can also decorate your rolls with sesame seeds or poppy seeds before they go into the oven. Spray with some water and sprinkle on the seeds.
Try to create some steam in your oven by putting a small metal baking tray on your oven floor when you preheat the oven and pour in half a cup of hot water immediately after putting the bread in the oven. Release some steam by setting your oven door ajar 5 minutes before the bread is ready. If you are going to create steam with a baking tray, you maybe also want to turn your oven temperature a bit higher, because you are going to lose some heat in the process.
Bake in the preheated oven for 20 minutes and leave to cool on a rack.