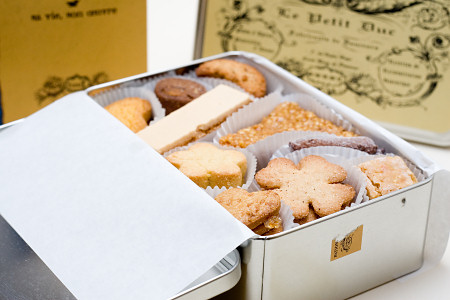 My last holiday was a 'mer à boire' for a foody like me. Everywhere you go in Italy and Provence you see something worth exploring. Even supermarkets are interesting abroad.
But the cookies I found in St. Remy de Provence were a real treasure! The place is called 'Le petit Duc' and it specializes in cookies fabricated with ancient preserving techniques (no added badness like we are used to nowadays). They use recipes that date back to the 14th century. Al the cookies have intriguing names like 'Coeurs du petit Albert', 'Folie de Paulette' and 'Walkyries'. Every cookie has it's own consistency and asks for the attention of all your senses while eating them. Delicate is the best way to describe them. Very special indeed. If you keep them in the tin box like in the picture, they will keep fresh for at least six months. But after this picture was taken, an hour or so later the box was miraculously half empty…
In the shop we met Madam Anne Daguin and she very kindly let us take a look in the bakery. There the 'triangles aux amandes de Provence' were just being made. They are among our favorites, together with the 'désiré' with almonds an vanilla.
At the moment I am attempting to read the book, which is in French. And of course I am going to try the recipes. I will keep you posted!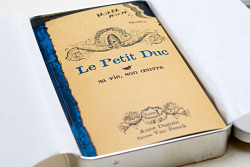 When I saw this little book in a tin on the counter, about this place and it's recipes, I just had to have it. Anne, also the author of the book, wrote a lovely message in it, which made it even more special. With cookies and book (nr. 356) I left the store, feeling like a spoilt child.
Le Petit Duc
7 Boulevard Victor Hugo
Saint-Rémy-de-Provence