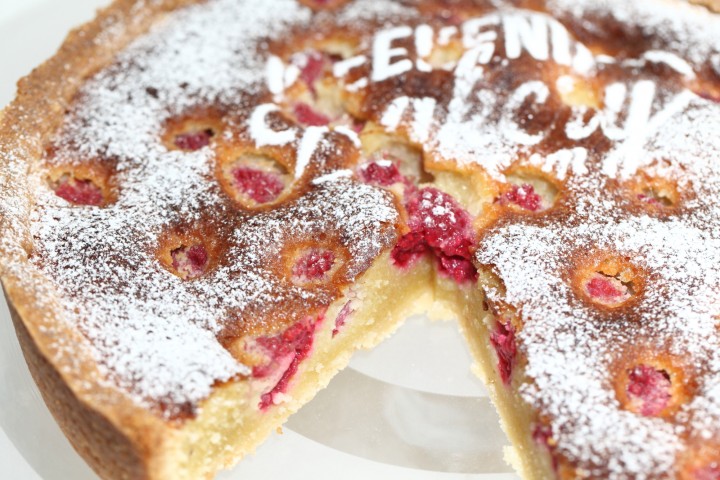 It is said that the name Frangipane comes from a 16th century Italian Marquis called Muzio Frangipani. Whether this is true I do not know … I do know that this simple frangipane recipe works. I like to call it the Italian version of our Dutch almond paste (amandelspijs) mainly used in Christmas stollen and speculaas.
I made these tarts the first time to practice for Christmas when I wanted to bake a nice bakewell tart with marzipan in which frangipane is also used. I found that for me tart fruits like raspberries work best with frangipane. Raspberries have a nice sharpness that combines perfect with the sweetness of the frangipane. Pears are sweet and when combined with more sweet it is just a little less interesting to the pallet. If you like sweet, don't let this stop you of course. I think apricots would also work very well, maybe cherries and certain plums or apples and of course cranberries.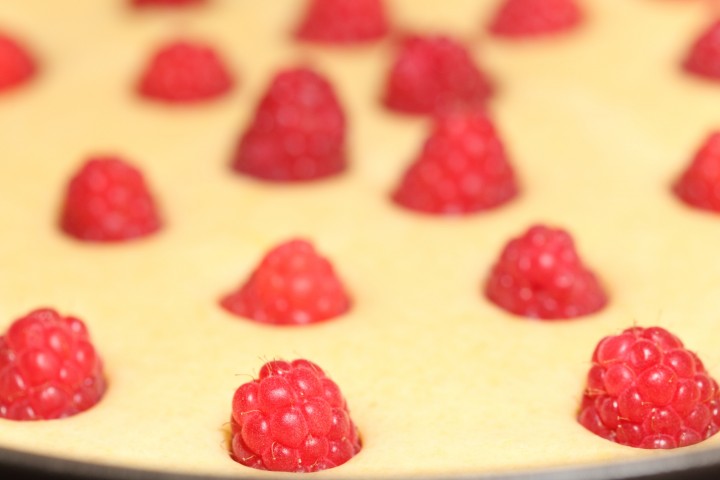 Ingredients for the Tart base
125 g butter
125 g caster sugar
225 g flour
pinch of salt
1/2 egg or one egg yolk
Ingredients for the Frangipane
125 g butter
125 g sugar
3 medium eggs (125 to 150 g)
125 g finely ground almonds or almond flour
zest of 1 small lemon, orange or tangerine
+ 125 g of fresh raspberries and/or other fruits of choice
Note: To keep this recipe easy and simple I bake the tart, base and filling, in one go. The bottom does not go soggy this way when I bake it, but it is not exactly crisp either. This is absolutely no problem, the tart is perfectly delicious. But…if you are looking for a perfectly baked, crisp bottom I would suggest blind baking the pastry for 10 minutes before filling it.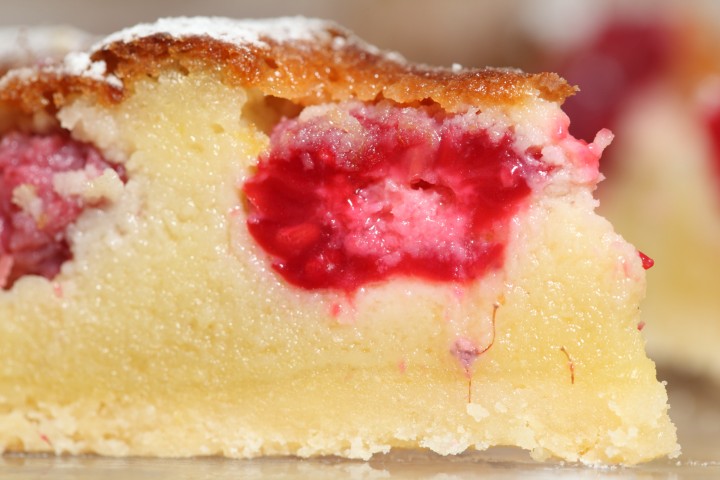 Making the Frangipane and Raspberry Tart
Make a firm dough with the flour, butter, sugar, salt and the half egg. Rap in clingfilm and leave to rest in the fridge for 30 minutes. Make sure the dough is cool but still easy to work with by the time you want to roll it out.
Now make the frangipane by slowly melting the 125 g butter over low heat and letting it cool slightly. Beat the sugar together with the three eggs and the grated zest of lemon, orange or tangerine until creamy and add the melted butter while continuing to beat. Add the almond flour and mix well.
Preheat your oven to 175ºC / 345ºF.
Fill a greased mold (approx 24 cm/ 9.5 inches diameter and a height of about 3.5 cm /1.4 inches preferably with removable bottom) with the rolled out pastry dough.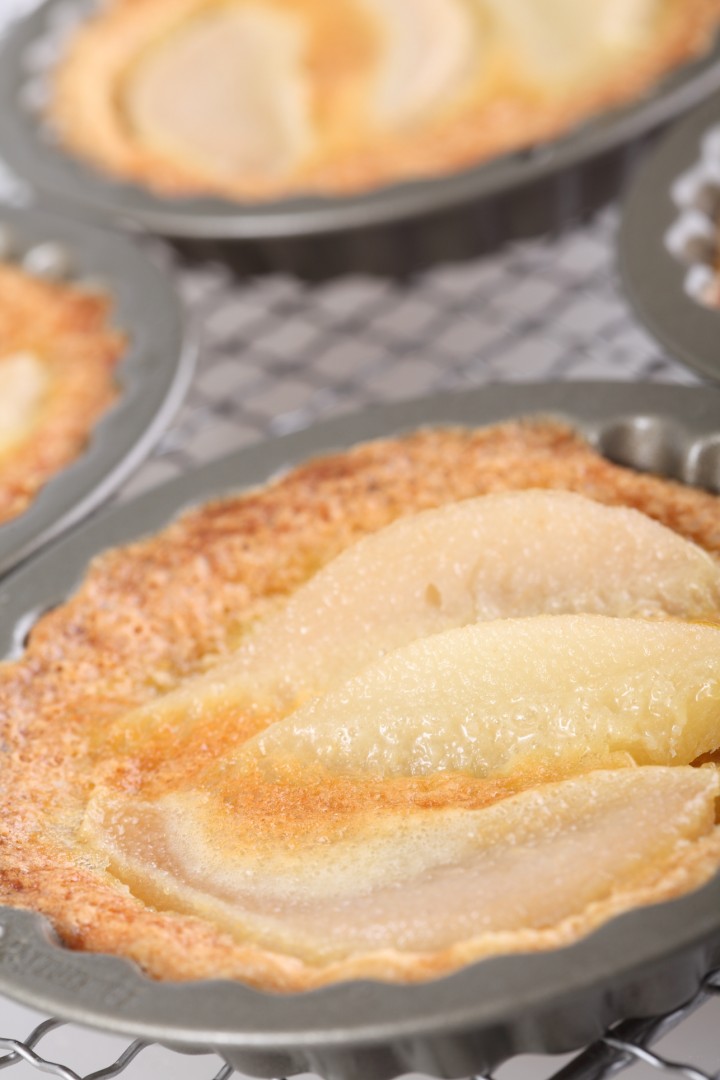 Now spread the frangipane evenly into the mold (it very probably will spread out nice and even on it's own). Now add your fruit. You can lay the raspberries (in a pattern) on top of the frangipane, they will sink in a little bit anyway, so no need to push them, you still want to see them.
Slide the tart into the oven and bake for about 45 minutes, depending on your oven. When it's beautiful and golden brown, puffed and firm to the touch, it is ready. Leave to cool on a rack. You can dust the tart with icing sugar before serving.
A different version with poached pears
You can also make individual tartelettes, like I did with the poached pears version. For this I used three pears and poached them in water with a cup of vanilla sugar, juice of a lemon and a cinnamon stick in a saucepan and left them to simmer until tender (10 to 15 minutes). I sliced them after I left them to cool in the liquid.
Make sure to drain the pears on a paper towel before using them because you do not want too much liquid in your frangipane for fear of sogginess. Three pears is too much for six tartelettes, but they keep well in their liquid in the fridge for several days and you can also use them in muffins or cupcakes or eat them with some whipped cream.
Enjoy!