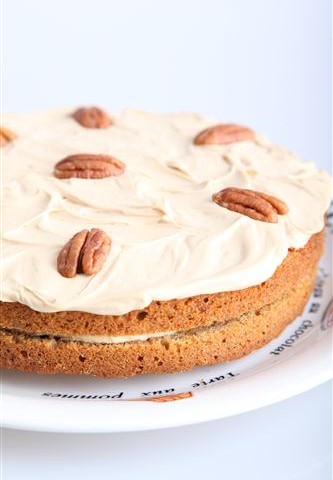 This pie can just as easily be made with walnuts of course. It's a classic with a twist, because instead of making a butter cream, you use mascarpone. It's a quick option and the taste is great, the mascarpone makes it just a tat lighter and 'fresher' then the butter variety. You can make the sponge cake a day in advance and the cream the next day before serving. But the whole pie keeps really well and I think it tastes even better the next day. You can store it in a cake box in your fridge. Using instant coffee works great and gives the pie it's nice mocha flavor.
Ingredients for the Sponge
1½ level tbsps instant coffee mixed with 2 tbsps boiling water
75 g pecan halves
175 g self-raising flour
1½ tsps baking powder
175 g soft butter
175 g caster sugar
3 large eggs, room temperature
For the topping and filling
1 tbsp instant coffee mixed with 1.5 tbsps boiling water
1 tbsp sugar
250 g mascarpone
8 pecan halves
Making the Coffee Pecan Pie
Pre-heat the oven to 170°C (325°F).
Lightly toast the pecans by spreading them on a baking sheet and placing them in the pre-heated oven for 7-8 minutes. After that, reserve 8 halves to use as decoration later and finely chop the rest.
Put the flour and baking powder in a sieve and sift it into a large bowl. Now add all the other cake ingredients (except the coffee and walnuts) to the bowl and go in with an electric hand mixer and whisk together until you have a smooth mixture, then fold in the coffee and chopped walnuts. You should end up with is a soft mixture that drops off the spoon easily when you give it a sharp tap; if not, add some water. Divide the mixture between two greased sandwich tins of about 20 cm (or use one tin and later slice the cake in two halves), spreading the mixture around evenly. Then place the tins in the center of the oven and bake them for 30 minutes.
For the filling and topping place all the ingredients, except the reserved pecan halves, in a bowl and whisk them together till blended. Then cover the bowl with clingfilm and chill till needed.
When the cakes are cooked (feel springy in the center), remove them from the oven and leave them in their tins for 30 seconds then loosen the edges with a palette knife and turn out on a cooling rack. Then spread half the filling and topping mixture over the first cake, place the other cake carefully on top and spread the other half over.
Arrange the reserved pecan halves in a circle and serve the pie, otherwise, chill in the fridge.
Enjoy!