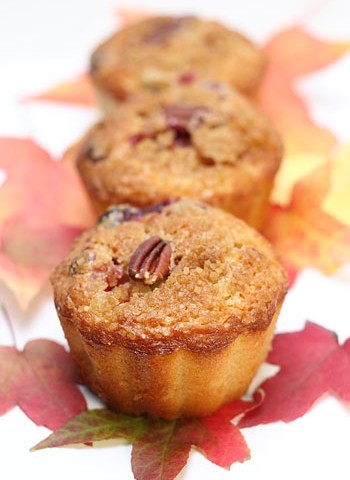 It's these kind of recipes that send out the right kind of whiffs to get me in a cheery autumn mood. All I need then to make me completely happy is a look out of the window onto the trees with burning leaves against a clear autumn sky.
Recipe for the Autumn Muffins
makes 12
300 g self raising flour
175 g soft brown sugar
250 ml yogurt or buttermilk
80 ml melted butter or vegetable oil
1 whole egg
1 tsp vanilla extract
50 g fresh cranberries (or dried if not to be found)
1 tart apple in little chunks
hint of cinnamon for the apples
1 tsp of cinnamon mixed with raw cane sugar for the topping
Making the muffins
Preheat the oven to 180 ºC / 355 ºF conventional setting. This is a basic muffin recipe that you can use to make all kinds of combinations with fruits and nuts and spices. Its simple, first you mix all the dry ingredients in a bowl. In a separate bowl you mix all the wet ingredients. Then put the wet and dry ingredients together, but do not over mix. Fill a muffin tray with the mixture and sprinkle each heap of batter with the cinnamon/sugar mix. I use organic cinnamon that has a really intense flavor. Bake the muffins for 20 minutes (depending on your oven) and leave to cool on a tray. Or better: eat warm from the oven, but do not burn yourself on the pieces of apple or cranberries, they tend to be hot longer because they contain more water.
Tip: Make sure your ingredients, including your spices, are fresh. Like ground coffee, ground spices also lose their intensity very quickly. You can grate cinnamon yourself with a Microplane grater.
I also tried these muffins with speculaas spices and zwetschgen /quetsch jam (a sort of tangy plum) I brought home from France. Also very nice and seasonal for our 'Sinterklaas' feast.