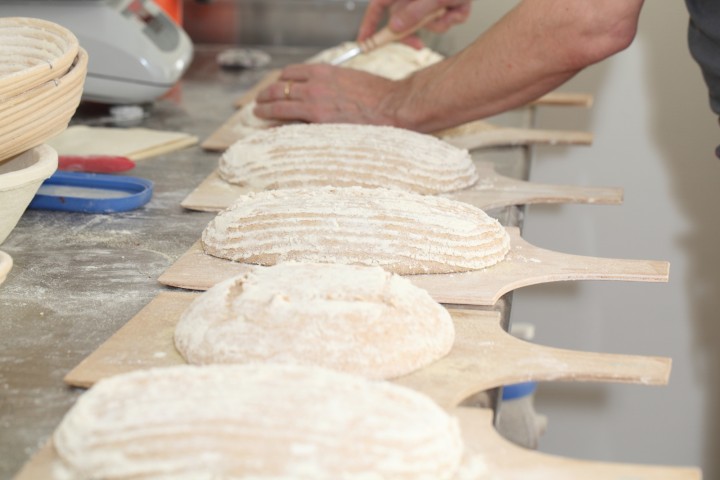 Blessed are those who bake…for they get to share!
Last year we focused on croissants and baguettes, this year it was a balanced combination of sourdough and sweetness. Here are some pictures we were able to shoot, in between stretching and folding, whisking and filling.
There is always the feeling that there is so much more out there, waiting to be baked. We have a brand new year in front of us, to try, test and taste, to knead and bake, to inspire and to be inspired.
We are very grateful for everything. All the visitors that flock to our website, all the baking friends we make on a daily basis, all the baking questions and answers, received and given.
Happy baking to you!
December: Happy Holidays, happy baking days! Next to the traditional stollen and speculaas, there is always room for pastries with the 'invented for Christmas' cranberries…
November: Home milling, new to us, baking with apples, a classic favorite. Plus some sour to balance the sweetness of things like pink fondant cakes…
October: Falling leaves, burger happiness, rolling pin love and wonderful flatbread flavors
September: Sweet and savoury, oreo cookies, steamed buns with fillings from South Africa to Surinam and lots of bread of course,
August: New versions of old favorites, new hobbies (BBQ low and slow, hot and fast) resulting in things like moink balls…
July: Falling in love with the rondo's, summer fruit bounty for bakes and jam, colorful product testing, pain blonde…
June: Making smaller versions of the cherry pie, testing different flours, discovering the baking rings, baguettes still a firm favorite
May: Weekend Boulangerie: delicious brioche, croissants, madeleines…(plus a bit of Indonesia and Italy)
April: Celebrate first Kings Day with giant orange vanilla slice, compensate calories with healthy sourdough bread salad, found out (outside) oven cleaning can be simple …
March: New space: More room for baking! Spring baking, test baking, Easter baking…all good!
February: Cinnamon knots, mini baguette boules and lots of tartine sourdough, our new favorite! Plus could not help but buy cool coffee tool (my precious uhh I mean pressi!)…
January: A great start with new techniques like handling dough for 12 loaves in a box, new recipes and new scales!