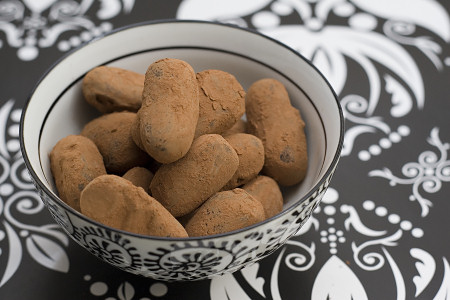 Deze slagroomtruffels zijn zo lekker dat sommige mensen besluiten ze aan hun moeder te geven om ze vervolgens per ongeluk toch allemaal zelf op te eten!
Ingredienten voor de slagroomtruffels
200 g fijne kristalsuiker
350 g verse slagroom met een snufje zout
1 vanillestokje opengesneden
250 g roomboter op kamertemperatuur
gesmolten pure chocolade (70%) van ongeveer 40°C (om te couverteren, hoeft dus niet getemperd te zijn)
cacaopoeder
Zo maak je de slagroomtruffels
Breng de slagroom met het zout en het opengesneden vanillestokje tegen de kook aan en laat het op een heel laag pitje ongeveer 20 minuten heel zachtjes tegen de kook aan broeien zodat de vanille volledig in de slagroom trekt. Laat het niet echt koken. Roeren hoeft ook niet tijdens deze fase. Hierna voeg je de suiker toe die je al roerend laat oplossen. Laat het mengsel afkoelen tot ongeveer 20 graden (kamertemperatuur).
Klop de boter met de mixer tot een zalvige massa en giet al mixend geleidelijk de op kamertemperatuur zijnde slagroom/suikerstroop erbij.
Indien het mengsel schift is het te koud en moet je het 'au bain marie' opgewarmen. Indien het te slap is laat je het afkoelen in ijswater en klop je het op.
Vul de spuitzak met gladde spuitmond en spuit de massa in kleine langwerpige hoopjes op vetvrij of bakpapier en vries deze in. Na ongeveer 45 minuten is alles bevroren.
Neem steeds 10 slagroomvullingen uit de vriezer en haal deze dan één voor één door de warme chocolade van 40°C en leg ze in de bak met cacaopoeder. Neem ze uit de poeder wanneer ze gestold zijn en schut de overtollige cacaopoeder eraf.
Bewaar ze in de koelkast of doe ze meteen in de vriezer als je ze langer wilt bewaren.