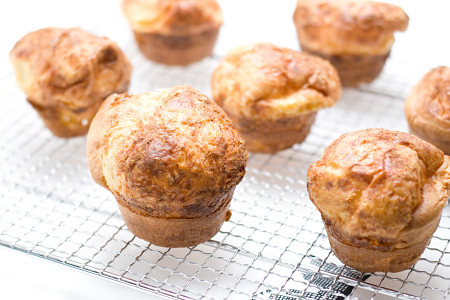 Een tijd geleden had ik het genoegen om in New York te zijn voor een Pilates conferentie. Ik lunchte bij Bloomingdale's met mijn vriendin en we namen allebei een zeer fris ogende Caesar salade met gegrilde tonijn. Toen me werd gevraagd of ik er een popover bij wilde, was ik meteen geïntrigeerd. Dat zag er interessant uit! En het smaakte nog beter. Maar wat was het? Ik had er nog nooit van gehoord. Broodachtig met kaas, warm, hol en vers en duidelijk ei, maar moeilijk te vergelijken met iets dat ik al ken. Eenmaal thuis, kon ik natuurlijk niet wachten om zelf popovers te maken. Ik bladerde door mijn kookboeken en op internet en vond een aantal recepten. Natuurlijk was mijn doel om zo dicht mogelijk bij de Bloomingdale popovers te komen als mogelijk.
Dit is het beste recept tot nu toe. Ik denk dat de NY versie cheddar kaas bevatte, maar het is soms moeilijk om die hier te krijgen, vandaar de Parmezaanse kaas in het recept. Ik gaf ze ook een beetje een 'schop in de popovers' met wat cayennepeper die ik kocht bij Dean en Deluca (natuurlijk, als je toch in NY bent!). Er zijn speciale popover pannen (ik heb er een gekocht), maar je kunt ook je muffin vorm gebruiken. 'Start spreading the news these popovers are here to stay!'
Ingredienten voor de popovers
6 popovers
15 g ongezouten boter, gesmolten, plus extra voor de vorm
125 tarwebloem
1/2 tl zeezout
2 grote biologische eieren
300 ml melk
50 g geraspte Parmezaanse kaas (of cheddar)
flinke snuf cayennepeper
Zo maak je de Popovers
Verwarm de oven voor op 230 °C conventionele oven of 210 °C hetelucht. Vet je bakblik in met boter.
Meng de bloem en het zout in een grote kom. In een afzonderlijke kom, mix je de eieren, melk en de gesmolten boter. Voeg de cayennepeper toe. Giet dit bij de bloem en meng voorzichtig tot het net gemengd is (zeer belangrijk!). Vul de muffin blikken een derde vol en doe wat geraspte Parmezaanse kaas in het midden en bedek dan met meer van het mengsel tot twee derde vol. Zet de vorm in de oven en bak gedurende 15 minuten. Verlaag de temperatuur tot 175 °C, en bak nog eens 15-20 minuten. Haal ze uit de oven, en laat iets afkoelen op een rooster. Je kunt een klein gaatje in de popovers maken om de hete stoom te laten ontsnappen (voorzichtig). Eet warm en geniet!
Je kunt ook zoete popovers maken met suiker en kaneel of vanille bijvoorbeeld.