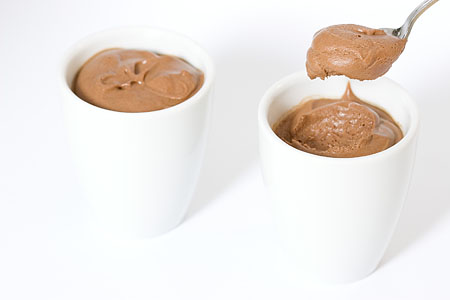 Van alle chocolademousse recepten vind ik deze, gebaseerd op een creatie van Jamie Oliver, één van de beste. Misschien komt het door de honing of de kick van de likeur. Ik gebruik een extra eiwit om de substantie iets meer lucht te geven. Je kunt het eiwit ook weglaten als je van een stevige mousse houdt. De likeur die ik zelf gebruik is van Zuidam, die is echt heel lekker en puur en te krijgen bij de betere slijterij. Maar je kunt natuurlijk ook je fles Amaretto uit de kast halen. Lekker veel proeven tijdens het bereiden, dat is je voorrecht als kok!
Ingredienten voor de Chocolade Mousse
225 g donkere chocolade (70% cacao van goede kwaliteit) in stukjes
70 g roomboter in stukjes
350 ml slagroom
2 grote eieren en 1 extra eiwit
1 tot 2 eetlepels Amandel-likeur
2 eetlepels acacia-honing
Zo maak je het
Smelt chocolade en boter 'au bain marie' dus in een schaaltje boven een pan met licht kokend water. Laat onder af en toe roeren langzaam smelten en meng boter en chocolade volledig door elkaar tot een gladde massa. In een andere kom klop je de slagroom net zo lang tot deze half stijf is (zacht glooiende piekjes). Scheidt een ei en behoudt het eiwit. In een derde kom klop je de twee eieren, het eiwit en honing tot deze licht van kleur en zeer luchtig zijn. Dan meng je voorzichtig de likeur, het chocolade/boter mengsel en de geklopte ei/honing massa door elkaar. Doe dit met een spatel. Voorzichtig genoeg zodat de lucht niet te veel ontsnapt uit het mengsel maar wel stevig genoeg om alles mooi egaal te mengen. Meng deze massa met de geklopte room. Nu kun je de mousse in een grote vorm of in afzonderlijke glazen, schaaltjes of kopjes doen. Zet in de koelkast om op te stijven (een hele nacht is het beste).