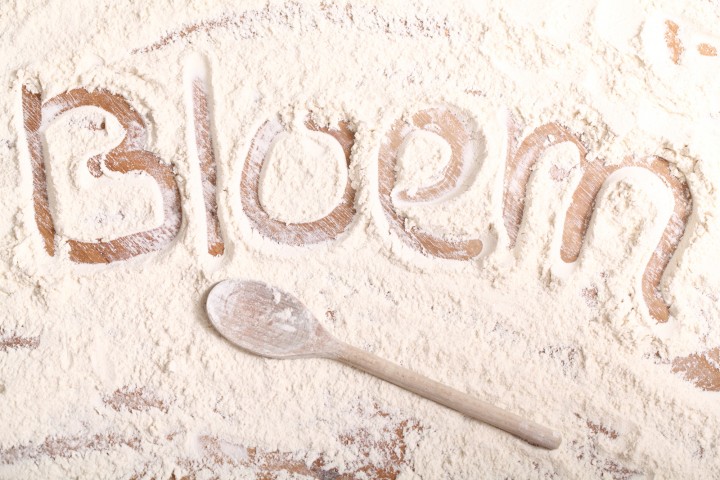 Flour quality and type are the essence of good bread. It all begins with buying the right kind for your recipe!
Getting good quality flour is the easiest way to improve the way your bread will look and taste. Flour from supermarkets tends to be very white, often old, lacking in taste and natural enzymes, and, most important, not very useful for bread baking (at least over here in Holland).
We get our flour from a windmill, which gets its wheat from the center of The Netherlands. They then grind it on big stones, powered by wind. The flour has an EKO (organic) seal of approval, a very nice yellowish hue from the natural carotene and it tastes of fresh grass and wheat berries. The flour is so fresh we have to 'store' it for 2 weeks to improve the baking properties and water absorption ability.
We are very lucky to have found great bread flour so close to home. How much difference it makes is also shown in our flour experiment for which we baked the same loaf with both high quality flour from a mill and cheap supermarket flour.
This flour overview teaches you more about flour types and how they are referred to in different countries. It can help you buy the right type of flour, no matter what country you bake in.
| Ash | Protein | US | German | French | Italian | Netherlands |
| --- | --- | --- | --- | --- | --- | --- |
| ~ 0.4% | ~ 9% | pastry flour | 405 | 45 | 00 | zeeuwse bloem |
| ~ 0.55% | ~ 11% | all-purpose flour | 550 | 55 | 0 | patentbloem |
| ~ 0.8% | ~ 14% | high gluten flour | 812 | 80 | 1 | tarwebloem |
| ~ 1% | ~ 15% | first clear flour | 1050 | 110 | 2 | gebuilde bloem |
| > 1.5% | ~ 13% | whole wheat flour | 1700 | 150 | Farina integrale | volkorenmeel |
Ash content explained
To establish the ash content of flour a fixed amount of the flour is burned and what is left after this process is the 'ash'. The amount that is left is expressed as a percentage of the original fixed amount. The ash consist of minerals that are left after burning, so they do not combust.
It is a way of determining the quality / purity of the flour. A higher ash content indicates that the flour contains more of the germ, bran, and outer endosperm. Lower ash content indicates that the flour is more refined. As you can see in the table above, the whole wheat flour has the highest ash content.
German flour type numbers (Mehltypen) indicate the amount of ash (unburned mineral content, measured in milligrams) obtained from 100 g of the dry mass of this flour. Standard wheat flours range from type 405 for normal white wheat flour for baking, to strong bread flour types 550, 812, and the darker types 1050 and 1700 for wholegrain breads. There is also a type 1600 which fits between white wheat flour and whole wheat flour, it will give you a darker white bread.
French flour type numbers indicate the ash content (in milligrams) per 10 g flour. The numbers are a factor 10 lower than the German types. Type 55 is the standard, hard-wheat white flour for baking, including puff pastries ("pâte feuilletée"). Type 45 is often called pastry flour, and is generally from a softer wheat (this corresponds to what older French texts call "farine de gruau"). Some recipes use Type 45 for croissants although many French bakers use Type 55 or a combination of Types 45 and 55. Types 65, 80, and 110 are strong bread flours of increasing darkness, and type 150 is a wholemeal flour. Note that there is no type 40 French flour like the German type 405, the closest is type 45.
In the United States and the United Kingdom, no numbered standardized flour types are defined, and the ash mass is only rarely given on the label by flour manufacturers. However, the legally required standard nutrition label specifies the protein content of the flour, which is also a way for comparing the extraction rates of different available flour types.
British flour types for bread baking:
Stoneground strong wholemeal* 100% extraction rate* – 12-14% protein
Stoneground wholemeal 95% extraction rate – 12-14% protein
Strong white extraction rate 72-75% – 12 to 13% protein
Extra strong white extraction rate 72-75% – 14 to 15% protein
Plain white 72-75% extraction rate – 9 to 11% protein (can be use to replace Italian 00 flour for example, but less suitable for most bread baking and most often used for cakes and cookies / biscuits)
Brown 80% extraction rate – 12-14% protein
*Extraction rate: The amount of original grain left in the flour. These extraction rates are not often mentioned on the bags. To make white flour you sift out germ and bran. If you sift out all the germ and bran it's about 28% and you end up with 72% extraction flour.
*We often use the term wholewheat (like in America) but it means the same as the UK term wholemeal, but wholemeal can also refer to other grains like wholemeal spelt flour. In Holland we call this 'volkoren'.
In the Netherlands it is even harder to establish the protein content and ash mass as most bags simply state 'Tarwebloem' or 'Patentbloem'. As a general rule all flour, both 'Tarwebloem' and 'Patentbloem', you can buy in supermarkets have a low protein content and will not bake great bread. We have found out, by baking and experimenting a lot, that most 'Tarwebloem' flours sold by windmills in The Netherlands work well for baking artisan breads.
Soft wheat with lower protein content and less gluten is used for pastry. Hard wheat with higher protein content and more gluten is used for bread.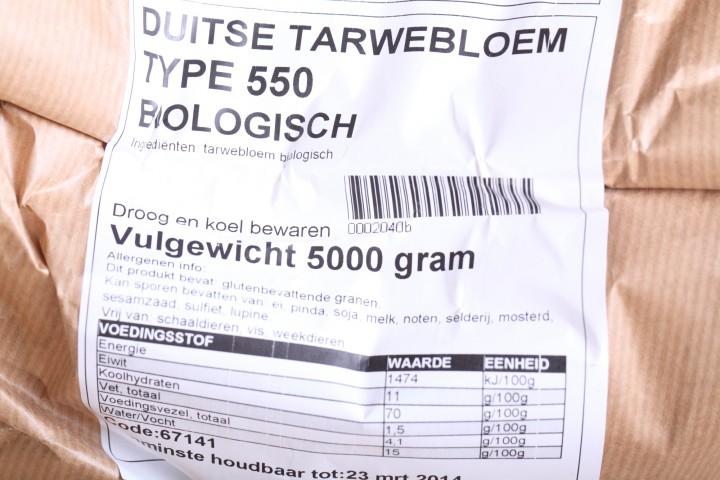 In general, as the extraction rate of the flour increases, so do both the protein and the ash content. However, as the extraction rate approaches 100% (whole meal), the protein content drops slightly, while the ash content continues to rise. Apart from the extraction rate itself the wheat can be of the soft or hard type. Hard wheat (usually hard spring wheat) has a higher gluten content (between 11% and 13%) and is excellent for baking bread. Soft wheat has a lower gluten content (between 9% and 11%) and is often used in all purpose flour and pastry flour which gives a more crumbly texture. Soft flour is usually divided into cake flour, which is the lowest in gluten, and pastry flour, which has slightly more gluten than cake flour. To make things even more complex, you can make whole wheat flour from soft wheat and patent flour from hard wheat and vice versa.
The English word for "flour" is originally a variant of the word "flower". Both derive from the Old French fleur or flour, which had the literal meaning "blossom," and a figurative meaning "the finest." The phrase "fleur de farine" meant "the finest part of the meal," since flour resulted from the elimination of coarse and unwanted matter from the grain during milling.
'Dutch' flour glossary
| Flour | Description |
| --- | --- |
| 00 bloem | Very fine Italian flour made of hard- or soft wheat. |
| Amerikaanse patent | A high protein content wheat flour, so very high in gluten. Found in Dutch bakeries under the name 'lely'. |
| Bread flour | Usually to indicate a high protein content wheat flour (around 13%), so very high in gluten. |
| Durum | Triticum Durum, a wheat type with high protein content growing in warm areas. The germ has a yellow hue. Often used for Italian pasta. |
| Franse bloem | Very fine flour of only the germ and the endosperm. Often used for French baguettes. |
| Gebuilde bloem | Fine flour with only a part of the bran (usually has an extraction of 80% and 85%). |
| Grano Tenero | Soft wheat, low in gluten. Available in different extractions. |
| Grano Duro | Hard wheat, high in gluten. Available in different extractions. |
| Griesmeel | Coarse ground grains, for example wheat, spelt, corn or rice. |
| Kiem | Germ, the seed for a new plant, contains B vitamins, some protein, minerals and healthy oils. |
| Manitoba | A Canadian high protein content wheat flour, so very high in gluten. |
| Meellichaam / Meelkern | Endosperm, contains starch, protein, some vitamins and minerals. This is the food source for the germ to grow into a new plant. |
| Patentbloem | Very fine wheat flour without germ and bran. There is a big difference in quality between brands. |
| Patisserie bloem | Zeeuwse bloem or pastry flour. Very finy white flour with a low gluten content. |
| Semolina | Coarse ground grains, often from durum wheat. |
| Semolina rimacinata | Fine ground grains, often from durum wheat. |
| Tarwebloem | Fine ground wheat. Whiteness is between 'patentbloem' and 'tarwemeel'. |
| Tarwemeel | A blend of ½ bread flour, ½ whole wheat, used in 'tarwebrood'. |
| Volkorenmeel | The coarse ground complete wheat grain, contains the whole kernel, used for 'volkorenbrood'. |
| Zachte bloem | Triticum Sativum, soft wheat flour with low to medium protein / gluten content. |
| Zeeuwse bloem | Fine flour with low gluten content, used for cookies and pastry. |
| Zemel | Bran, protective outer shell. High in fiber and B vitamins. |