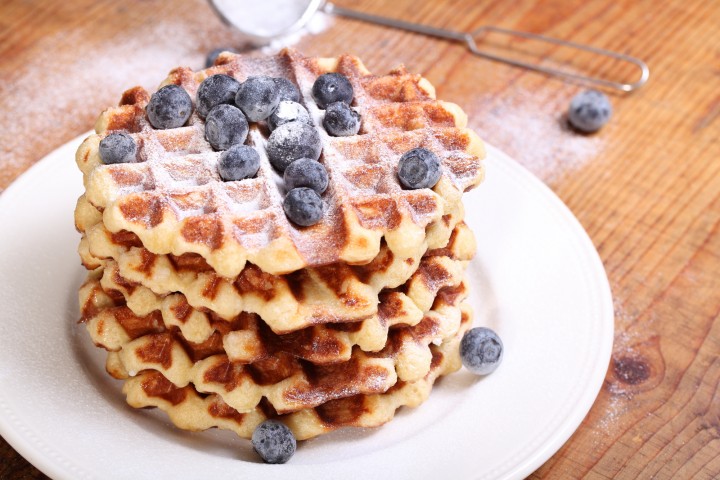 This type of Belgian waffles are also called Liege waffles or 'gaufre de Liège'
A slight diversion from bread baking. After a quick visit to Belgium over the New Year, lured in by the delicious smell of waffles several times, we could not help but go on a quest again and make our own. Fresh from the waffle plate, still warm, they are delicious. A crispy outside with caramelized sugar and a sweet buttery fluffy interior. Who can resist?!
We found a wonderful waffle recipe with lots of background information (you can find it here) that worked very well for us, but we changed and simplified a few things. The most important thing we changed was cutting the amount of pearl sugar in half. As you can judge from the picture both sides of the waffle dough ovals are still generously coated in the sugar. For us the result is just perfect and we would not want it to be much sweeter. But of course you can experiment with the amount and see what you like best.
There were many steps to the original recipe, but we have to be honest and tell you that we skipped a few (even one described as essential) in our version because we did not detect much difference in the end result. We also changed / simplified the mixing process, based on how it behaved in our mixing bowl.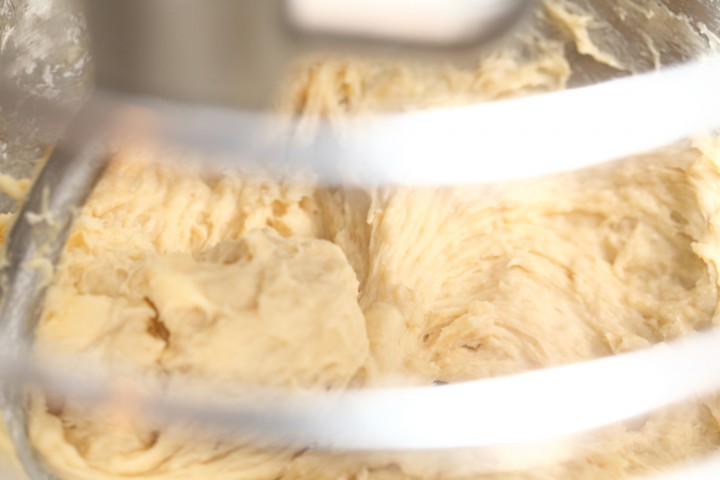 Ingredients for the Liege waffles
makes 5 waffles
240
g
flour (we use equal parts T55 and Manitoba)
60
g
milk, lukewarm
40
g
water, lukewarm
4
g
instant yeast
50
g
egg
120
g
butter, softened at room temperature
20
g
sugar (we use organic castor)
15
g
honey
10
g
vanilla extract
4.5
g
fine salt
75
g
pearl sugar
Day 1
Making the waffle dough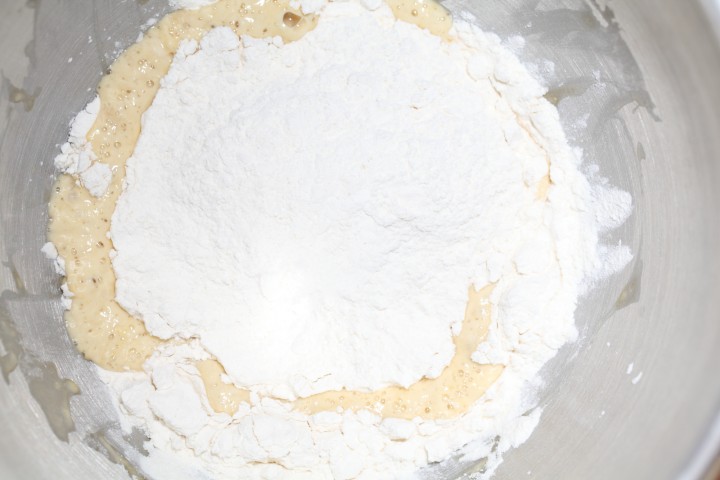 In the bowl of your standing mixer, combine the milk and water with the instant yeast. Add the egg and 80 g of the flour. Mix at low speed for a minute to blend.
Now sprinkle the remaining 160 g of flour over the mixture, but do not stir! Cover your bowl with clingfilm and let it stand for 60 minutes. After this rest you will hopefully see the batter bubble up through the flour (see picture on right).
Now add the sugar, salt, honey and vanilla on top of the flour bubble mixture in your bowl and combine.
Add the softened butter and knead for 4 minutes. Give the dough a 5 minute rest and then mix again for 3 minutes. The dough should be forming a sticky ball.
Transfer the dough to a greased bowl, cover and leave to rest at room temperature for 3 to 4 hours.
Turn out the dough on a lightly floured work surface and give it one stretch and fold (a full letter fold, left over right, right over left, bottom over top, top over bottom) so you will end up with a squarish piece of dough. Put it back in your bowl, cover and refrigerate overnight.
Day 2
Preparing the waffle dough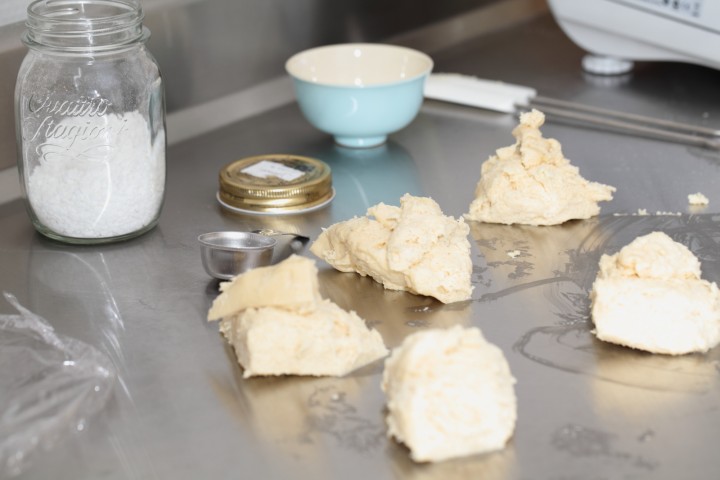 Take your square of dough from the fridge and divide it into 5 equal pieces of around 110 g each. Shape these pieces into ovals.
Sprinkle 15 grams of pearl sugar on your workbench, take a piece of dough and press both sides in the pearl sugar, like you see in the gallery below.

Take the next piece of dough, again sprinkle 15 grams of pearl sugar on your bench and press a piece of dough in it. Continue this until the 5 pieces of dough are all covered in pearl sugar.

Place the sugared dough pieces in a bowl, cover and leave to proof for 90 minutes
Indication for temperatures and baking time: A professional heavy cast iron waffle plate should be around 185 ºC / 365 ºF. The waffles should take around 2 to 3 minutes to bake. A home baker appliance like ours needs to be heated to 190 ºC / 375 ºF, and the waffles take 2.5 minutes to bake to perfection.
Baking the waffles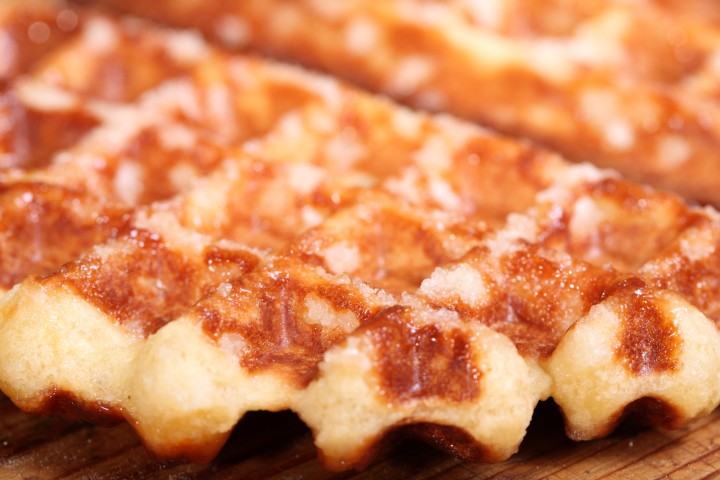 Preheat your waffle iron at the lowest setting. Even this can be too hot for the waffles not to burn. We open the waffle iron for 30 seconds to cool it down a bit before putting on the first piece of dough. We use a infrared thermometer to check the temperature of the waffle plates (see picture).
Bake your waffles in the preheated waffle iron. We use a not so professional (Tefal brand) snack apparatus with waffle plates and did a few test runs to determine the right method and temperature to turn out perfect waffles. The most important thing is to caramelize the sugar and not to burn it.
It is best to continue baking one waffle after the other. This way the butter and sugar residue left on the plates does not burn when the iron is without waffle! We preheat at setting 1 and bake at setting 2, but this only works if you bake continuously!
We also found out that with our home style waffle iron it works best to bake one waffle at a time. Even though the iron can bake two waffles in one go, we get the best and more even bake if we bake on waffle in the center of the two plates (see picture).
You should aim at a baking time of around 2 to 3 minutes, the waffle should have a beautiful golden color (on our waffle maker it takes 2.5 minutes). If the waffle is too light carefully raise the temperature, if it is too dark, lower the temperature. It is best not to increase or decrease the cooking time because you could end up with a dried out or undercooked waffle.
After the first 30 seconds of baking, without opening the waffle iron, press the two halves together once. The dough ball expands between the two plates during baking and this way the dough is forced sideways.
To clean the waffle plates of an electric waffle maker first unplug it, then carefully pour some water on the bottom plate and close the lid. The steam will clean the plates. Wait till it has cooled. Now the plates are very easy to clean under a running tap. Works perfect for us!