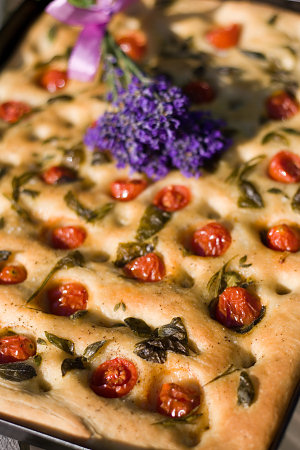 At the moment the whole of Europe is baking under a hot sun. But still I turn on the oven because I can't help baking, even at temperatures of 30 degrees C and more. Hot weather triggers images of Mediterranean food: colors of red, purple, orange and green. Lavender, tomatoes, olive oil, rosemary and thyme….I can see this focaccia on a big wooden table under a shady tree. Good wine and good company will do the rest.
Enjoy
Ingredients for the Focaccia
350 g flour
15 g fresh yeast / 5 g instant yeast
9 g sea salt
Teaspoon of sugar or honey
+/- 200 ml lukewarm water
Splash of olive oil
Ripe cherry or date tomatoes
Fresh herbs from the garden (go wild)
Salt and pepper
Baking tray (20 x 30 cm)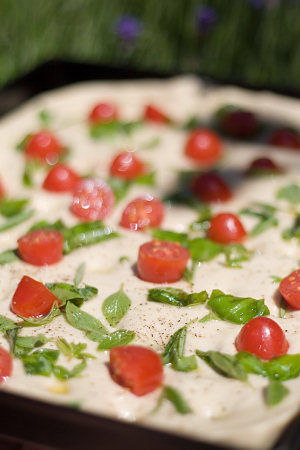 Make the focaccia
Let the fresh yeast dissolve for 5 minutes in a bit of the lukewarm water. Mix flour and salt in a bowl. Add the yeast and sugar in a small hole in the flour. Add the rest of the water. Bring everything together. When the dough starts forming a ball, add the olive oil. Mix for about 15 minutes by hand or 8-10 minutes with the Kitchenaid. Leave to prove at room temperature for about 1 hour.
Now gently press the air out of the dough, knead for a minute and shape it so that it fits your baking tray. Cover the fresh herbs (you can chop them up if you want or leave hole) in olive oil. Pour this mixture over the dough and make sure every part of the surface is covered. Add the little tomatoes and scatter them nicely over the dough. Now make indents with your fingers and or thumbs in the dough, getting the characteristic focaccia holes. Add some salt and ground black pepper. Leave to prove again for about 30-45 minutes. Bake in a preheated oven at 220ºC / 430ºF for about 30 minutes.