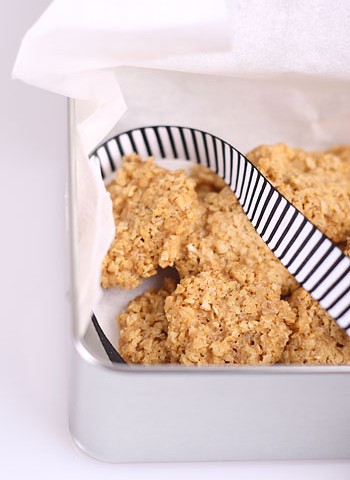 This is a our own version of a recipe Ed's grandmother got when she got her first gas oven in the 1950's. The recipe was published in a booklet from the gas company. The cookies are very crisp with an intense buttery caramel taste. Perfect as a little treat with a cup of hot cocoa or earl grey tea.
You can conjure up all kinds of variations with this basic recipe. Dried fruits like cranberries, pieces of white chocolate or almond slivers. For some reason I like this plain version best.
Ingredients for the Oatmeal Cookies
makes 25
30 grams of wheat flour
70 grams of soft brown sugar
85 grams of oatmeal
1 small teaspoon of baking powder
a pinch of salt
75 grams of butter
Making the oatmeal cookies
Preheat the oven at 150ºC / 300ºF (I use the convection option to get the best result for me, normal or gas oven 160ºC / 320ºF). Mix the dry ingredients in a bowl. Add the butter and cut into little pieces using two knives. Knead into a ball with a cool hand. Make 25 small balls and lay them out on a buttered tray (or cover tray with baking paper or silicon sheet). Depending on how big your oven is, you should maybe do this in two batches, because otherwise there will not be enough space for the cookies to spread out. You can press lightly on the little balls.
Bake the cookies in the preheated oven for about 20 minutes. Leave them to cool for a few minutes before transferring them onto a cooling rack. Delicious!
Tip: Use a 10 ml measuring spoon to scoop out the little balls.