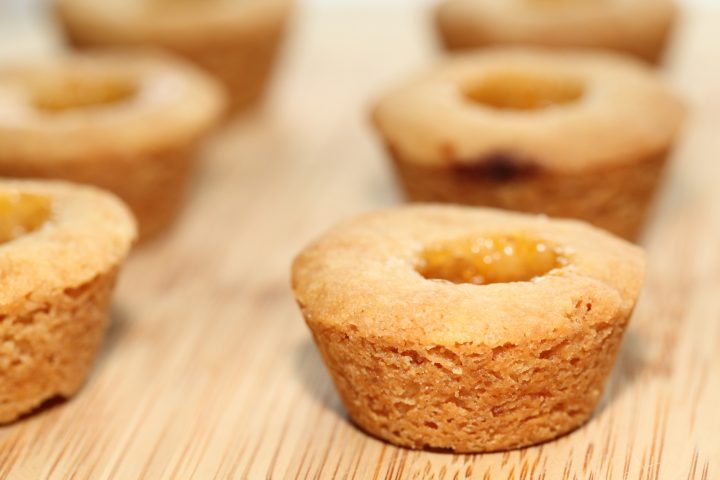 These bites would also be an ideal part of an afternoon tea
Klik hier voor de Nedelandse versie
We can tell you with confidence, everybody loves these bites. Rondo dough is so addictive, buttery soft with crunchy edges, like relishing fresh Dutch apple pie dough. The big challenge is to stop eating them yourself and preserve them for your guests.
This recipe is an easy and fun alternative to the original rondo recipe, which is a bit more elaborate with the almond paste filling and use of the rondo rings. This recipe combines the delicious rondo dough with apricot jam or another favorite of yours. We can think of many excellent combinations, from strawberry jam to fig and quince jelly. To get some of the almond flavor, while leaving out the original almond paste filling, you can add a little bit of almond extract to the dough, but you really do not need it.
These bites keep well in the freezer too, so you can make them in advance and defrost 30 minutes before you want to serve them.
Enjoy the bites baking!
---
Ingredients for the Rondo bites
makes 24
200 g pastry flour / French type 45 flour
5 g baking powder
Pinch of salt
150 g butter in cubes (we use butter with 82% fat content)
100 g soft white or light brown sugar (muscovado)
120 g / 24 tsps abricot jam or jam of choice
1/4 tsp almond extract (optional)
For this recipe we use a mini muffin pan with 12 holes, if you have a 24 hole pan, you can make all the rondo bites for this recipe in one go of course.
The holes in our muffin pan measure 5 cm / 2 inches on top and 3.5 cm / 1.4 inches at the bottom.
Making the dough
Combine the flour, baking powder and salt and sift. Add the butter cubes and rub with your fingers together with the flour until a wet sand consistency. Add the muscovado sugar (and optional almond extract) and combine to form a smooth dough ball. Be careful not to overwork the dough by kneading too much, because you will not get that crumbly texture but make sure you end up with a smooth dough and all the butter is completely incorporated. Divide the dough into 2 equal parts, cover and leave to rest in the fridge for 1 hour.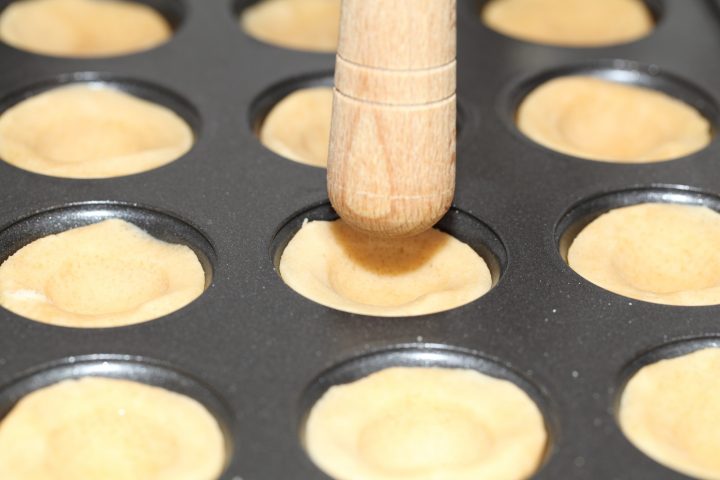 Making the rondo bites
Preheat your oven at 175ºC / 350ºF, conventional setting. Take your mini muffin pan. You can brush the holes with butter, but if you use a non-stick pan you could also omit this part, because the butter content of the bites is already very high. We can tell you from our own experience, we do not prepare our tin and the bites do not stick. But please don't be mad if yours do, we are just saying what works for us.
Take the first piece of dough from the fridge. Divide this dough into 12 equal parts (each weighing around 19 grams). Roll each piece of dough into a ball and place it in a muffin tin hole. Press the dough into the hole. Now make an indentation in each piece by pressing a wooden tamper or other fitting utensil in the dough, like you see in the picture. If you do not have any fitting tool laying around you can also use your thumb.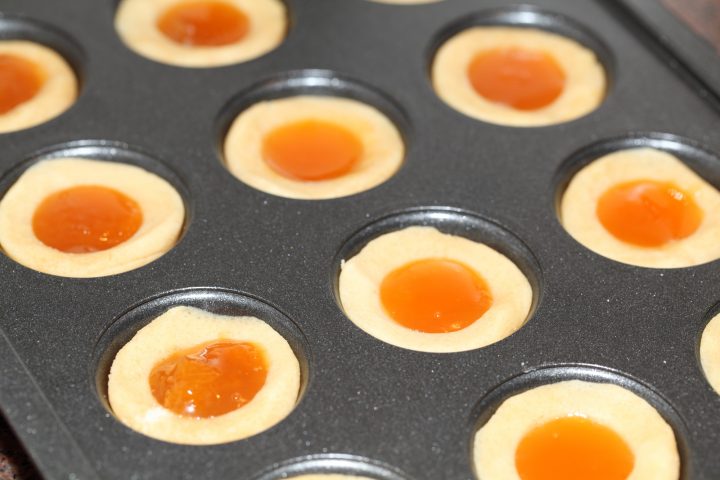 Now fill each hole with a teaspoon of apricot jam or your jam of choice. If your jam is very thick and/or sweet it could also benefit from the addition of a little bit of lemon juice.
Bake the rondo bites in the preheated oven for around 17 minutes until golden and crispy (depending on the workings of your oven). When ready, leave the bites to cool in the muffin pan for 10 minutes to firm up. Now you can try and give them a spin in their own cup, to check if they are not sticking anywhere and can easily be released. Take them out by turning the pan upside down. Leave to cool on a cooling rack.
Repeat this process with the other half of your dough, or, if you have two pans and enough oven space you can put two pans in the oven and bake all 24 at once of course.
Be sure to eat some fresh. Like we said, they can be stored in the freezer, but only if there's anything left to store of course! We would also advice to consume the bites within one or maximum two weeks of freezing, because there is always a loss of quality over time.