Using high gluten flour with homemade malt, combined with long kneading, means you can proof these buns to ultimate fluffiness
Making and eating fluffy buns has always been a joy, but with the recent addition of our homemade diastatic malt, in our eyes, they reached perfection.
So with this recipe we want to show you what a difference a small quantity of malt can make in terms of proofing, texture, color and crust. It allows for longer proofing to get to a light and airy texture. The enzymes in the malt break down starch into sugars which in turn promotes a beautiful golden crust color. The use of strong flour combined with longer kneading also builds strong gluten structure. This again enables you to have a long final proof without risk of collapsing so you can aim for ultimate fluffiness!
Happy bun baking!
---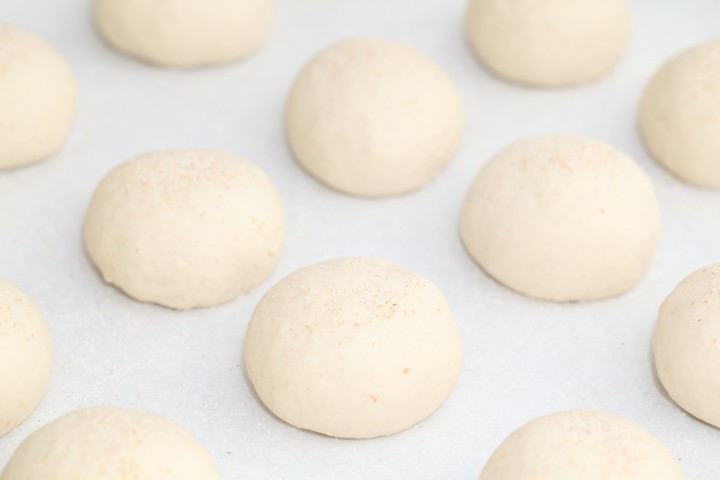 Ingredients for Fluffy White Buns
makes about 12 buns
500 g strong bread flour / Manitoba flour*
5 g diastatic malt (see how to make your own)
24 g fresh yeast / 8 g instant yeast
10 g honey
8 g salt (I would use 7 which works for me but 8 is more standard)
300 g (same as 300 ml) water
20 g fresh dairy butter – softened
Tip*: You can use regular bread flour / all purpose flour / plain flour for this recipe and add 20 grams gluten powder to get a similar result.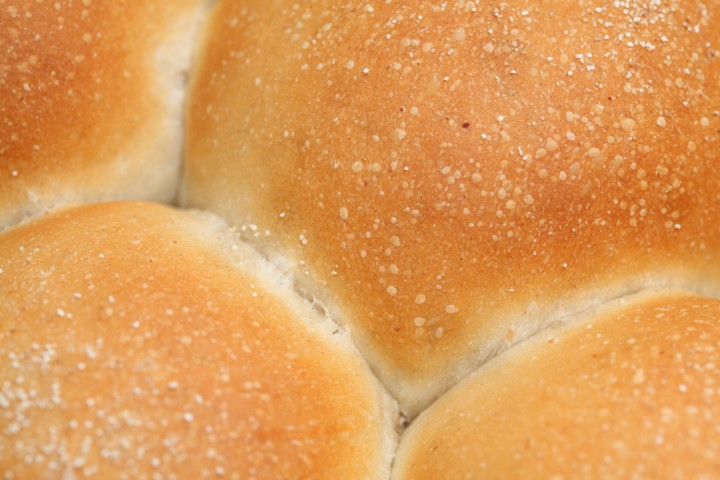 Making the Fluffy White Buns
In a mixing bowl combine flour, diastatic malt, salt, yeast and honey and 200 g of the water. Gradually add the rest of the water while mixing and when the dough starts to come together, add the butter. If you use a standing mixer, knead for 10 minutes, longer by hand, and aim for very good gluten development. Make sure the dough is not too sticky or too dry. It can feel a bit tacky, which means that when you poke the dough with your dry finger it should stick for a second but then peel of as you remove your finger. So if you need a bit more water to achieve this, just add a few grams more. Leave to relax for 15 minutes.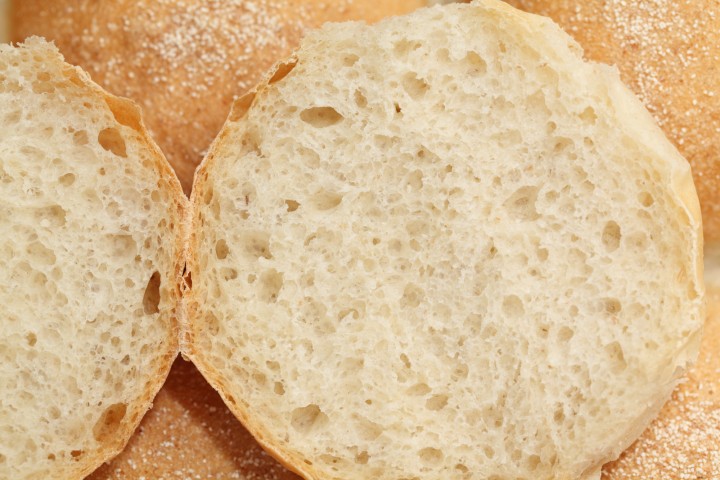 Now divide the dough into 12 equal parts and preshape into balls. Again leave to rest for 15 minutes. Gently press the balls with your hand until slightly flat and round again into smooth balls. You can lightly dust your work surface with flour but do not use too much or it will be very hard to shape them because the ball will slide around on the flour.
Place the buns on a baking tray lined with a baking mat or baking paper and make sure to leave some space (3-5 cm / 1-2 inches) between the buns so they can expand freely. It is no problem if they touch each other after proofing.
Now the rolls are ready for their final proofing. Loosely cover them with floured clingfilm or a proofing cloth. You can also sprinkle some semolina or rice flour on on top to further avoid stickiness and give the crust a slightly different texture.
Depending on your dough temperature and room temperature the final proof should take 1.5 to 2 hours. Just be patient and check regularly. When you think the dough has risen enough, use your finger to carefully make a small dent in the bun. If the dent partly remains (pops sort of half way back out) proofing is just right, the buns are ready to bake, if the indentation disappears, the dough needs more time. Give it another 15 minutes, then check again.
During the final proof, preheat your oven to 230 ºC /454 ºF conventional setting or 200 ºC /390 ºF convection.
When ready dust the buns again lightly with some (rice) flour or semolina and place the buns in the oven and bake for 20 minutes, depending on your oven. Leave to cool on a wire rack.
Of course these buns are best eaten while fresh. You can put them in a bag while slightly warm, this way they will keep soft. They also keep well in your freezer for up to one month.