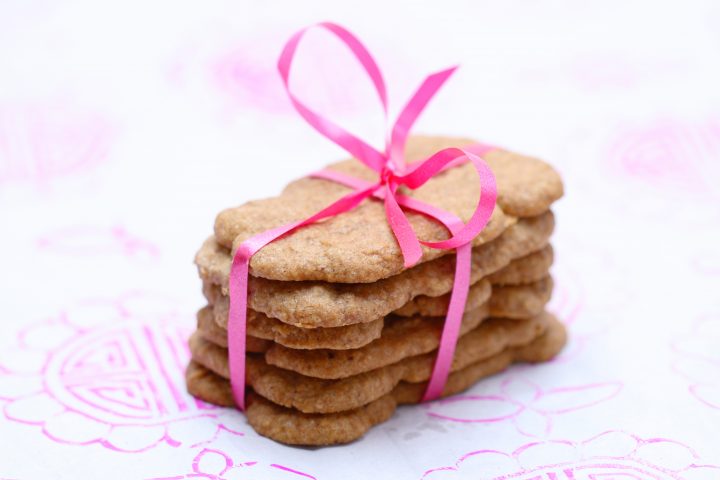 People from Holland consider speculaas as Dutch as cheese, tulips and liquorice…
2013 updated version!
Like marzipan, speculaas (or speculaasjes as the individual cookies are called) is a cookie highly connected with the feast of Sinterklaas in Holland. The name speculaas has to do with the wooden molds the cookies are made in (we call it a speculaasplank, speculaas (sometimes also called speculoos) comes from the word speculum which means; mirror). One of the more famous shapes is a windmill of course!
Every year we are on a quest for the best spice and dough mix that will amount to the ultimate speculaas taste and texture. This fall, with the feast of Sinterklaas in site, we again blew new life into our speculaas project and after some more experimenting with dough and spices, we updated our recipe. Hope you will give it a try and like it too!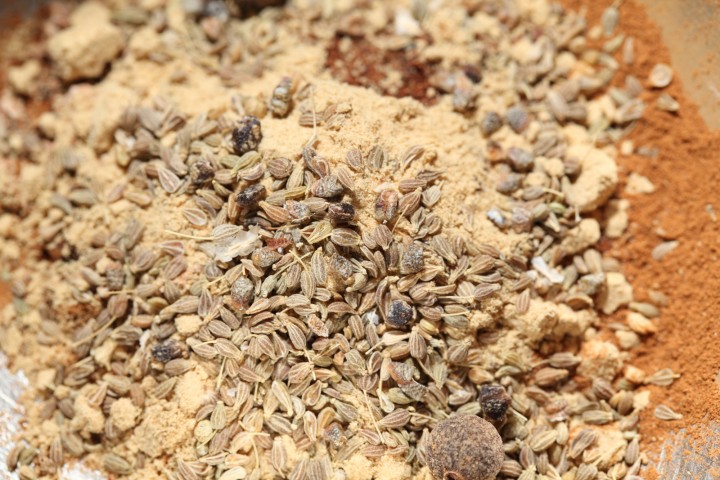 The speculaas spice mix before grinding
Ingredients for the speculaas spice mix
makes enough for 2-3 recipes of speculaas
6.5 g cinnamon
2 g ground cloves
1.5 g grated nutmeg
1 g ground white pepper
2 g aniseed powder
1 g ginger powder
1/2 g cardamom powder
You can also experiment with the spices of course by adding allspice or ground coriander seeds for example or using less or more of one of the ingredients, until you find your favorite blend. You can also buy sachets of ready made speculaas spices. But for the ultimate pleasure in smell and taste, you really must make your own! I started with a pestle and mortar but nowadays I use a cheap coffee mill for the grinding.
As for the soft brown sugar in the recipe. You can experiment with light, dark or muscovado sugar, they all have there own taste and can all be used. In Holland we have 'witte, gele & donkere basterdsuiker'. We prefer the yellow (gele) version for this recipe.
Pressed for time or nothing else at hand? You can also use pumpkin spices (usually a mix of cinnamon, ginger, nutmeg, cloves and allspice) to use in this speculaas recipe.
Recipe for the speculaas dough
makes about 20 speculaasjes
225 g pastry flour / all purpose flour
115 g dairy butter at room temperature
130 g soft brown sugar
7 g / 2 tsps baking powder
3 g / 1/2 tsp baking soda
2 tbsps / 30 g buttermilk or milk
3 tsps / 7 g speculaas spices (see recipe above)
few pinches of salt
fine rice flour to dust the molds
a speculaas mold made of wood
Making the speculaas
Make the spice mixture in advance. Preheat the oven at 165ºC / 330ºF conventional oven. Sift the flour with the baking powder, baking soda, salt and spices. You can also leave out the baking soda, with it you will get a more brittle cookie, without it the cookie is more crunchy. Add the butter to the sugar and combine. Then add the buttermilk and beat until smooth. Add the flour mixture and quickly knead into a ball. If you are using almond extract you can add that to the milk. Press the ball into a disc shape, cover and rest in the fridge for at least 30 minutes. You can also make the dough a day in advance. This way all the ingredients really get a chance to blend. Just make sure your flour has a very low protein content, otherwise you might end up with a less crunchy cookie.
Take the dough out of the fridge. Sprinkle rice flour in the speculaas molds. Press an amount of dough in the speculaas shapes and cut away the excess dough with a very sharp knife. Tap the shapes out of the molds (this is NOT easy, esp. with new molds, they need a bit of help and maybe some light swearing) and place them on a baking tray. If you want you can add flaked almonds at this stage by pressing the underside of the cookie in the flakes and placing them, flakes side down, on the baking tray.
Bake in the oven for about 16-18 minutes, depending on your oven. All ovens are different so you may have to vary your baking times and oven temperature to get the best result. Keep a close eye on the speculaas during the later stage of the baking, because you don't want your speculaas be too dark, (you will taste and smell it, burned sugar!). Take them out and leave the speculaas on the baking tray for a few minutes to firm up. Transfer them to cool on a rack.
The speculaas should be crunchy all the way through, from the edges to the center of the cookie. You will only know this for sure when they are completely cooled.
Tips for using your speculaas molds
Be generous with the sprinkling of rice flour on your molds, especially when they are new
Take extra care to flour the corners of the molds, for easier release from the molds
Make sure your dough is as cold as possible but still pliable enough to fill the mold
Make sure your knife for cutting away the excess dough is super sharp and cut with confidence and in one go
Your knife should be level to the speculaas mold, held flat against the wood, when cutting away the excess dough
Put dough back in the fridge for a while if it becomes too warm and soft
If your speculaas will not be released by tapping, help it along with your fingers and/or with a blunt kitchen knife
Gently brush excess flour from your speculaasje with a pastry brush
The speculaasjes hold their shape better if you put them in the fridge before baking to firm up again
Make sure your mold is dry and clean before storing it and cover it so it will not collect any dust

If you do not have a wooden speculaas mold, you can roll out the dough and make nice shapes with cookie cutters and decorate with almonds. Bake like the speculaasjes.

You can also make a speculaas pie, filled with (home made) almond paste ('gevulde speculaas'). Check out our recipe for almond paste and our recipe for delicious speculaas pies filled with almond and cranberries.

you can also make smaller individual speculaas pies

Note: Some research done by me shows that there is a common root that binds speculaas spices to a British and an American variety. It comes close to something the Brits call 'mixed spice'. This mixture also contains cinnamon and nutmeg and can contain a variety of extra spices like allspice (piment), ginger, cloves, coriander, caraway and cayenne pepper. The American 'pumpkin pie spice' also contains cinnamon and nutmeg, and usually ginger, cloves and sometimes allspice. So in conclusion they all have a base of cinnamon, followed by nutmeg, ginger and cloves and after that there's some variation to be found. Interesting!

Also check out our collection of Dutch speculaas molds in our WKB bake shop.