When is it ever NOT a good time to make pizza?!
Note: This posting is form quite a while back. If you want to know how we like to make pizza now, Check out our latest pizza baking and dough making with our new oven here!
If you are a novice to pizza making or you just want to make a good and quick pizza dough check out our recipe for basic pizza dough.
If you are not stressed for time and are looking for good taste, try and make this pizza dough, using a poolish preferment. A poolish is made in a minute, the only thing is you have to think in advance. You can make the poolish anywhere between 8 and 16 hours before you start making the final dough. The most logical choice here would probably be the 8 hour option: you make the poolish in the morning, the final dough in the evening. You can see in the list below how much, or rather how little, yeast you need in combination with the prefermenting times. The amounts of yeast can really only be measured with a precision scale. This recipe will allow for 4 pizza's, but can easily be doubled of course.
up to 8 hours 0.3 g instant yeast
up to 12 hours 0.2 g instant yeast
up to 16 hours 0.1 g instant yeast
A teaspoon of instant yeast weights about 3,1 grams. So half a teaspoon is 1,5 grams, a quarter teaspoon is 0.77 and one eight teaspoon is 0,39 grams. So for the 'biggest' amount you need less than one eight teaspoon, for the other options even less. You can see why we prefer scales…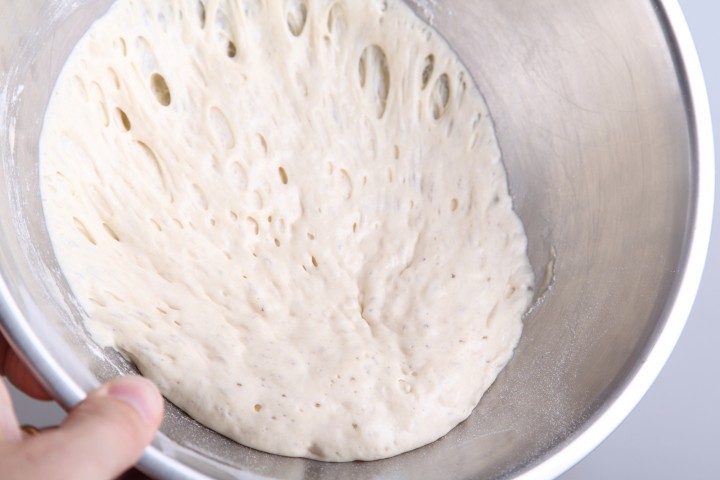 Making the poolish
Ingredients for the Poolish
100 g wheat flour / bread flour / 00 pizza flour
100 g / 100 ml water
0.3 g instant yeast (see list above)
Flour, water, tiny bit of yeast, stir, wait a while: poolish!
Make the poolish by mixing flour, water and yeast with a spatula or dough whisk until well combined (about 30 seconds), cover the bowl with clingfilm and leave to develop at room temperature for 8 hours.
Making the pizza dough
Ingredients for the Pizza Dough
makes 4 pizza's
the poolish from step one
250 g wheat flour / bread flour
8 g sea salt
5 g instant yeast
approx 120 ml water, lukewarm
flour for dusting the peel (semolina flour or cornmeal would be ideal)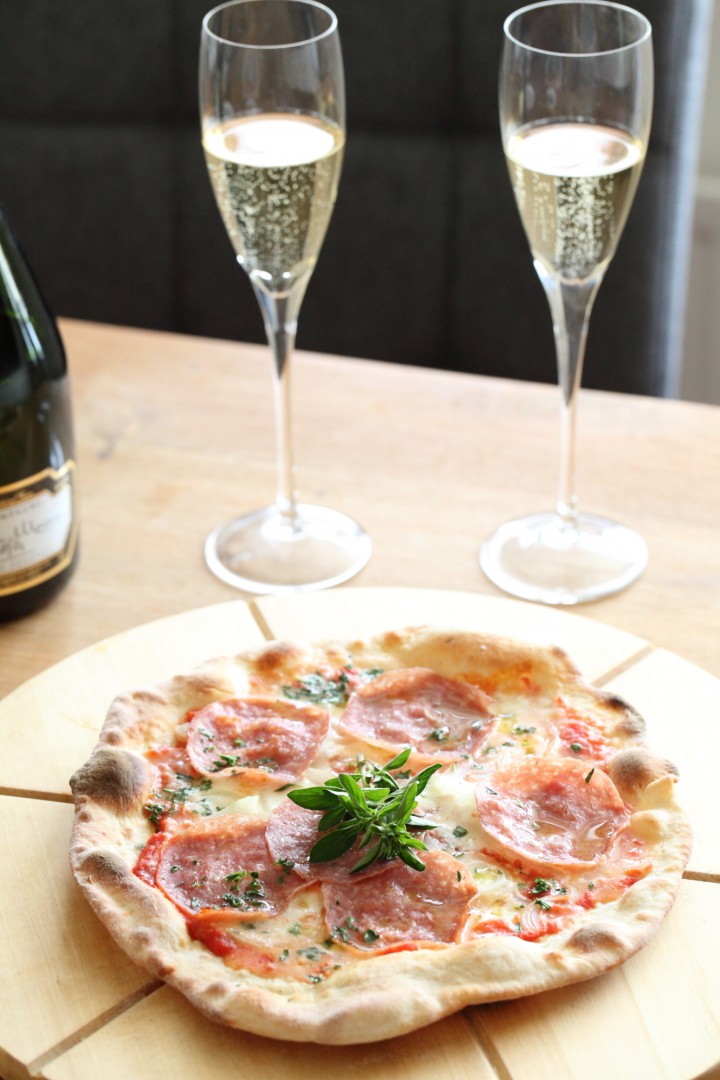 Good pizza effort, celebrated with Champagne!
Scoop the prepared poolish in the mixing bowl of your standing mixer. Add the flour, salt, and instant yeast. Now add water and knead with dough hook for 7 minutes, or until the dough is smooth and slightly sticky (by hand it will take a bit longer, 10 to 15 minutes, depending on your technique). The dough should clear the sides of the bowl but stick just slightly to the bottom of the bowl. Transfer the dough to your worktop, very lightly dusted with flour. Prepare a sheet pan by misting it with spray oil or by lining it with parchment / baking paper. Using a dough scraper, cut the dough into 4 equal pieces. Lift each piece of dough and gently form it into a ball. Transfer the balls to the pan and cover with floured or greased plastic foil. Leave to rest at room temperature for 1 hour.
At least 45 minutes before making the pizza, place a baking stone on the floor of your oven, or on a rack in the lower part of the oven.
Preheat the oven as hot as possible, (most ovens won't go higher than 300ºC / 570ºF). For our pizza baking we use the Bestron Alfredo pizza maker, it has a stone and two heated spirals and can reach temperatures above 350ºC / 660ºF and works really well for us. We have had ours for many years now, but we understand the newer models have some sort of heat restriction, so may not work as well as our trusty old Alfredo.
Place the dough balls on top of a floured counter and sprinkle them with flour; dust your hands with flour. Take a ball of dough and using your hands gently press it into a flat disk. Now you can try tossing the dough like a real Italian pro but this is a skill that requires some practice (I can't do it). You can, like most people, resort to using a rolling pin and roll and stretch the dough into a round shape of about 25 cm /10 inches. Now place the pizza on the peel or pan, making sure there is enough (semolina) flour to allow it to slide. Lightly top it with sauce and your other ingredients of choice (start with 3 or 4 ingredients, keep it simple to give the crust a good chance to bake).
Slide the pizza onto the hot stone and close the door. Keep an eye on it and see if after 2 minutes or so it needs to be rotated for even baking. The pizza should take about 5 to 6 minutes to bake.
Remove the pizza from the oven and transfer to a cutting board. Wait a minute before slicing and serving, to allow the ingredients to set.
Enjoy!