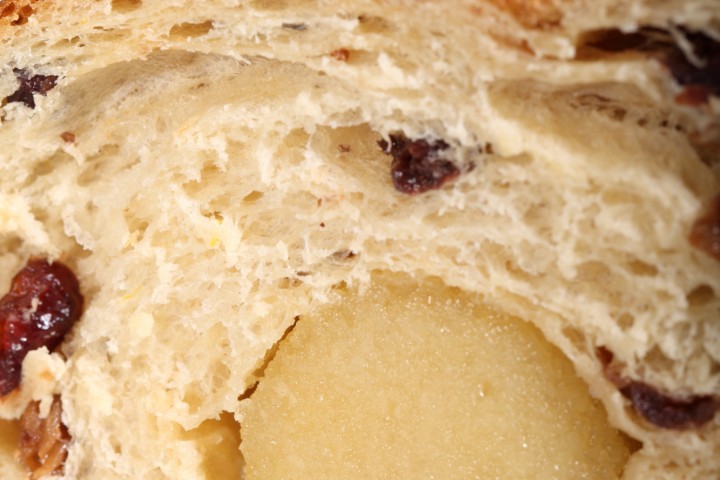 This stollen also makes a 'Perfect Easter' bread
Klik hier voor de Nederlandse versie
Our Christmas stollen bread recipe is very dear to us. It is not one to impress with an extensive list of ingredients. It is not overstuffed with candied fruits and nuts. No, our stollen is all about flavour and the optimum ratio between filling and crumb and staying true to the taste and traditions we know and love from our childhood. Of course you can add as much succade, chopped cherries, spices and rum as you like, but if you believe in 'less is more' you will not regret giving this stollen a chance. For us, baking stollen is part of our perfect Christmas.
In Holland people eat a lot of stollen (known as 'Kerstbrood' or 'Kerststol') during the festive season. After the holidays most of us can't stand the look of it at least til Easter, when the same type of bread is offered again as Easter bread ('Paasbrood').
The secret to a good Stollen: the best ingredients for fragrant soft bread, the best home made almond paste and the right bread to filling ratio!
There are a few ingredients from the list, the sweetener and the almond paste, that are best made in advance. You can make them many weeks before baking day and they will not deteriorate.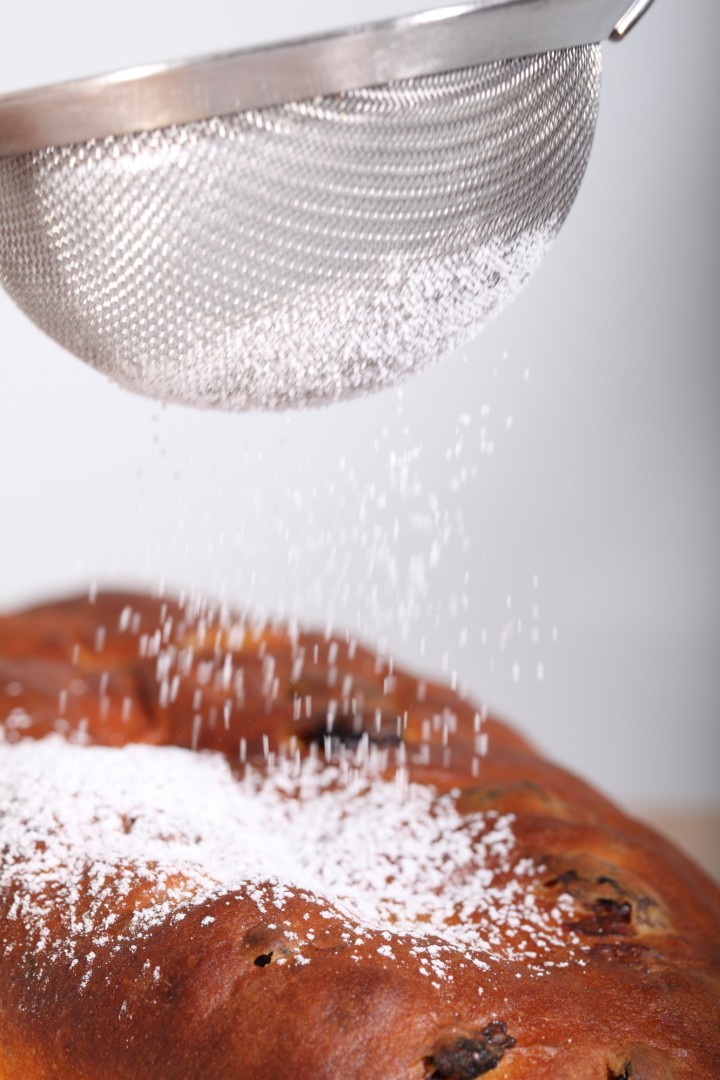 *Please note that the amount of liquid may vary. Depending on the type and brand of flour you use, you may need less or more.
Before you start
Prepare your dried fruits by soaking them in hot water for 15 minutes (if you want you can also soak them in water with added rum or other liqueur of choice). Rinse them and leave in a sieve above a bowl to let excess water drip off. Set aside.
You need to prepare a mixture we call 'sweetener' which gives the dough it's distinctive and pleasant taste. For this you mix 45 grams of sugar with the zest of 1 unwaxed lemon and one unwaxed orange. You can store this mixture in your fridge, it will keep for a long time.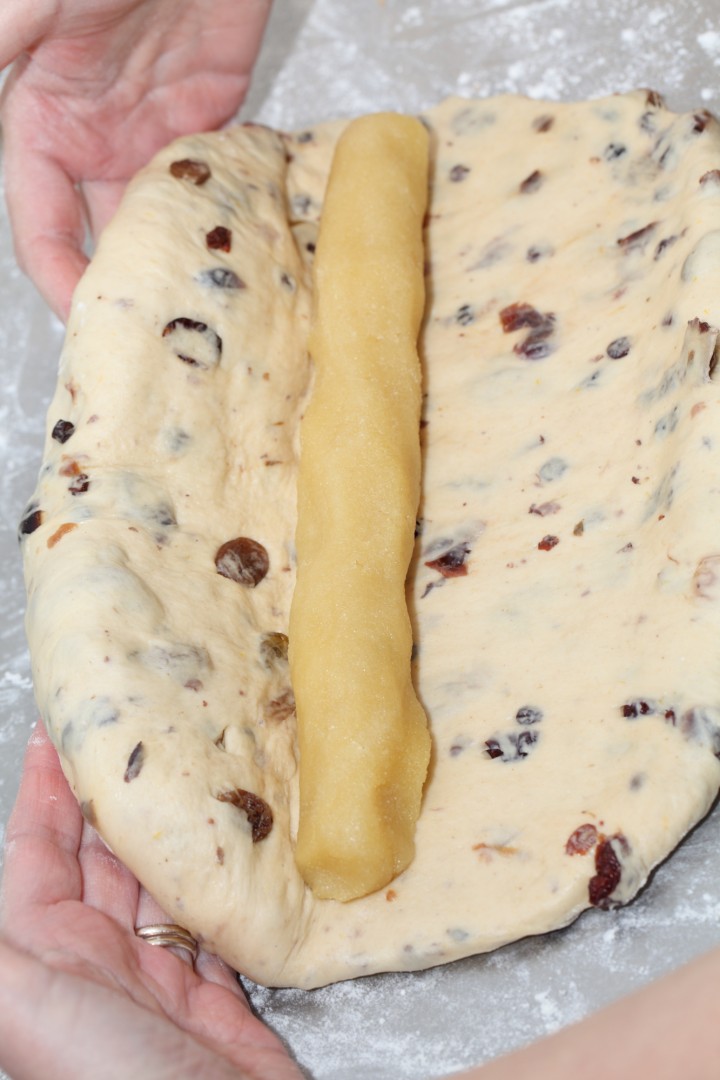 Prepare your almond paste (find almond paste recipe here) by combining it with half a small beaten egg until completely absorbed, add the egg in stages until you get the right consistency. You can also add only the egg yolk if you want to make it even richer. The almond paste should be lovely smooth and supple, not too wet not too dry. Of course this is a matter of preference. It's a bit sticky, but this 'kneading the egg through the almond paste' job is best done by hand. We like it smooth enough to reach a consistency that allows for the almond paste to be smeared on the bread itself after baking. Set aside.
Making the stollen
In a bowl combine half the flour (125 g), all the yeast, the egg yolk and lukewarm milk. Mix well with a dough whisk, cover and let stand for 30 minutes. Then add the remaining ingredients (except for the dried fruits!) and knead for 5 to 7 minutes with a standing mixer or about 10 to 14 minutes by hand. The aim is to get a smooth, supple and satiny, ever so slightly sticky, dough with good gluten development.
Now add the prepared dried fruits (if you want you can also add other stuff like nuts and candied peel at this stage) and carefully work it through your dough so it's evenly distributed. If your fruit mixture is a bit wet you can sprinkle on some flour before adding it to the dough.
The ideal temperature of your dough should be around 25 ºC / 77 ºF (see our article on dough temperature)
Form the dough into a ball, place in a greased bowl, cover and let it rest for 20 minutes in a warm, draft-free environment. We use our small household oven as a proofing cabinet by preheating it to 30 ºC / 86 ºF, turning it off before putting the dough in.
Flatten the ball into a disc, roll into the shape of a loaf, cover and let it rest again for 20 minutes in a warm, draft-free environment.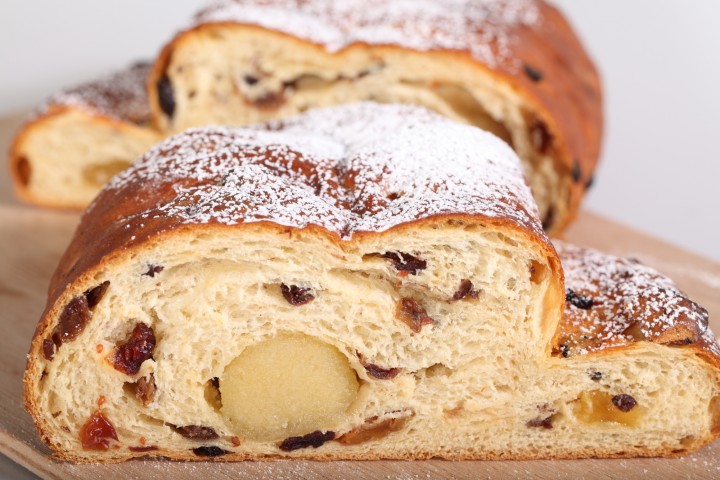 Now flatten the loaf with a rolling pin, making sure to leave the edges a little thicker and also leave the top half of the dough a little thicker than the bottom half. Make a sausage shape out of the almond paste, just a tiny bit shorter than the length of the bread and place it in the middle. Fold the dough in half, making sure the thicker edges land against each other, the top edge lands more on the thinner center section. Now press the dough between the bump of the almond paste sausage and the thicker outer edge down firmly. At this point it is wise to place the stollen on the baking sheet that is also going into the oven, so you don't have to move or touch the stollen anymore.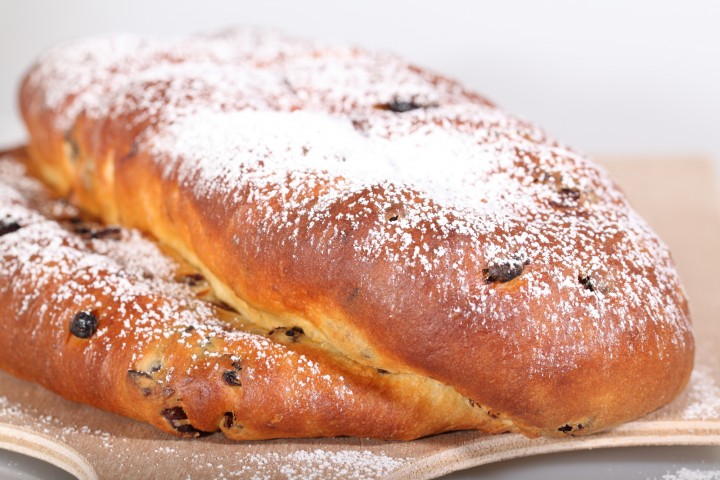 Preheat oven to 190 ºC / 375 ºF
Now it is time for the final proofing. Depending on the temperature of your dough and surroundings, this should take at least 40 minutes to 1 hour. Make sure the bread is fully risen before it goes into the oven. When you think it has risen enough, use your finger to carefully make a very small dent in the dough. If the dent remains and you feel no resistance at all anymore, the bread is ready to bake, if the indentation disappears, the dough needs more time. With this type of bread, we dare you to take it as far as possible with this final proofing, so the bread will be light and fluffy!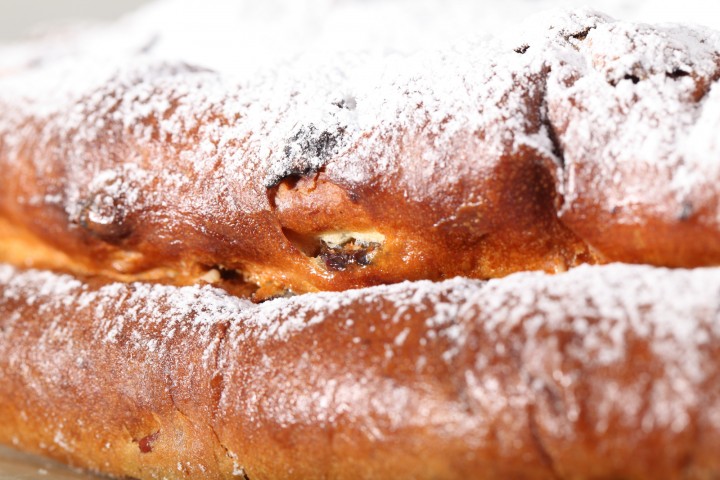 Bake the stollen in the preheated oven for 35 minutes until golden brown. Keep a close eye on your stollen, if the browning process goes too quickly you can temper your oven to 160ºC / 320ºF, about 20 minutes into the baking process and/or protect it with some aluminum foil. Leave the stollen to cool on a rack for 10 minutes then brush it with some melted butter. Alternatively you can lacquer it with warm apricot jam. When it is completely cooled you can dust it with icing sugar. We like to eat our stollen with fresh dairy butter.
Alternatively you can brush the stollen with an egg mixed with a tablespoon of water and decorate with almond shavings before it goes into the oven. Watch closely again, so the almonds will not burn. Cover the top with aluminum foil when you think they have the right color.
Happy baking and merry Christmas!
PS: Baking to impress? Bake a big stollen by doubling the ingredients. Of course you also have to adjust your baking time. A big stollen will take 45 to 48 minutes to be ready to wow your family and friends! But be sure it fits in your oven. It can be up to 50cm wide!