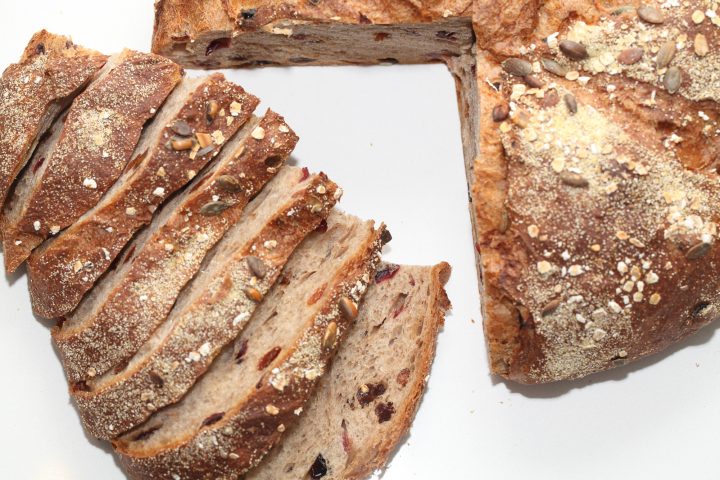 Think of this bread as a sturdy, healthy and spicy version of a classic raisin bread
Klik hier voor de NL versie van dit recept!
This bread has been two years in the making, mainly in our heads and more recently in our ovens. We are truly very happy with this recipe. It was inspired by a phrase in Dutch that goes 'Ouwe jongens krentenbrood', which translates as 'sturdy guys current loaf'. This expression originated somewhere in the 80ties of the last century and is attribute to a satirical duo called Van Kooten & De Bie. It has a lovely original meaning that everyone immediately can relate to. It's seeing a dear old friend after many years, going for a drink together and you just pick up where you left off all those years ago. Comfortable and easy. This loaf will hopefully give you the same feeling when baking and sharing it!
For this recipe we use a combination of raisins and cranberries with added speculaas spices because it is delicious and it is the season for it. Of course you can use only raisins and/or currants and use cinnamon or pumpkin spice as an alternative.
Enjoy!
---
Ingredients for the poolish
100
g
wheat (bread) flour
100
g
whole rye flour
200
g
water (room temperature)
1.5
g
instant yeast (1/2 tsp)
Ingredients for the final dough
makes 1 loaf of 1126 grams
the poolish from step 1
300
g
strong bread flour (at least 12% protein)
100
g
water
7.5
g
(sea) salt
5
g
instant yeast
20
g
olive oil
30
g
Date syrup (or runny honey)
50
g
organic eggs (1 medium egg is about 50-55g)
0.3
g
ground vitamine C (optional*)
7
g
speculaas spices (2 tsps) (or cinnamon or pumpkin spices)
200
g
raisin / cranberry mix dry weight (plus some flour to sprinkle on after soaking and draining)**
Vitamin C in bread baking*
Next to being a well know food supplement, vitamin C, also known as 'ascorbic acid' can also used in baking as a bread enhancer. So, What does it do?
Due to the properties of vitamin C, it can be used as a dough (gluten) strengthener during fermentation, helping to improve the structure of the dough.
Some flour types are sold with added vitamin C. The regular wheat and bread flour we use does not contain any vitamin C. So adding a tiny pinch to your dough can help improve your baking result. Professional bakers can buy 'commercial grade' ascorbic acid, but home bakers can also use crushed vitamin C tablets (it's effectively the same stuff). The recommended amount is 0.07%. So this means that for this recipe, with 500 g of flour, you can use a third of a 1000mg vitamin C tablet and you will be very close to the required amount of 0.3 g. Grind the 1/3 piece of tablet to a fine powder and add it to the flour.
Tip:**Soak your raisins and cranberries overnight in your favorite tea, so they get nice and plump. Drain them in a sieve the next day to remove any excess moisture or use this moisture as part of your liquid in the recipe. Sprinkle the fruit with some flour before adding it to the dough to absorb excess moisture.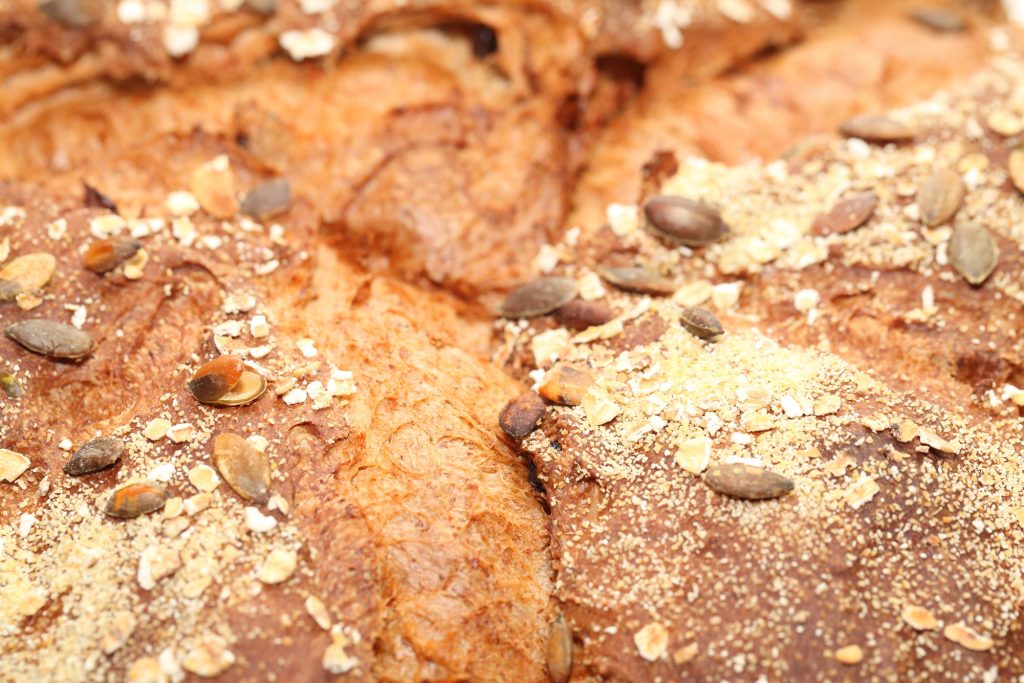 DAY 1
For this recipe we are going to make a starter or preferment called a poolish. A poolish is a type of wet sponge usually made with an equal weight of water and flour and a small amount of yeast and NO salt. Making a poolish helps bring more taste and strength to your bread while using less yeast.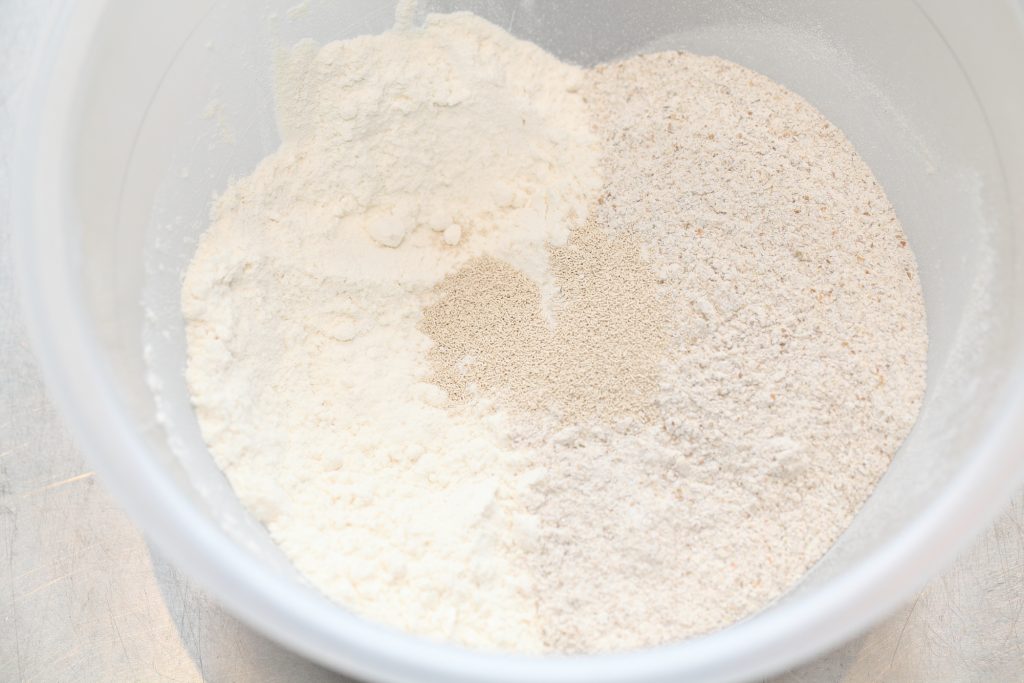 Making the poolish
For this recipe we make a poolish of 100 grams bread flour, 100 grams whole rye flour and 200 grams of water with 1.5 grams of instant dry yeast (if you cannot weigh this amount use halve a teaspoon of yeast). We put this poolish in the fridge overnight for 16 hours and will use it in the final dough the next day. So if you want to use it the morning of the following day at 9, you make the poolish at 5 o'clock afternoon the previous day. Of course you can vary with amounts of yeast and time for the poolish to develop. For 18 hours fridge time you take 1.2 grams and for 24 hours take 0.9 grams of instant yeast for example. (See the % table with our pizza dough recipe)
In a bowl stir together the flour and water at room temperature with the yeast. Mix it well until you have a homogeneous slurry of very wet dough, almost like a batter. Cover the bowl, put in the fridge to ferment for 16 hours. It should look airy and have a nice smell. Now it is ready for use in the final dough.
Note: It is always better to use a under-developed poolish, so use it sooner rather than leaving it longer to avoid it from turning into a gluten-damaged slurry!
Before you start with day 2 of the recipe, you might also want to consult our tips for bread scoring with confidence and tips for handling wet dough and for dough kneading.
DAY 2
Making the final dough
Scoop the poolish of day 1 in the mixing bowl of your standing mixer. Add the flour, salt, yeast, olive oil, date syrup, the egg, speculaas spices and the optional vitamin C and most of the water. Let everything come together by first mixing slowly and gradually add the rest of the water. Then turn up the speed let the mixer knead the dough until well developed (see pictures). With a KitchenAid type mixer, the kneading takes 9 to 10 minutes, by hand it will take about 15 to 20 minutes of good kneading. The dough should be shiny and also sticky. In the beginning the dough sticks to the side and bottom of the bowl, by the end of the kneading process it will only stick to the bottom.
Take the pre-soaked and drained raisins and cranberries on which you have sprinkled some flour to absorb excess moisture. Add them to the dough and mix until they are incorporated into the dough. This should take 1 minute.
Shape dough into a rough ball, transfer to a bowl, greased with some oil, cover and leave to rest for 30 minutes.
Now turn out the dough onto your work surface and give it a stretch and fold. Do one or two full letter fold set (one set = right over left, left over right, bottom over top, top over bottom) and stop when the dough starts to resist. If you are not familiar with it, See picture gallery and also check out how this technique works in this video first.
Stretching and folding helps you get a feel for the dough and together with some rest it is great for its development. If you dough is still very cooperative, give it a few more stretches until it truly starts to resist. After the stretching and folding shape the dough into a ball, cover and leave to rest for another 30 minutes.
Now it's time to shape. It's something for which everybody develops his or her own favorite technique over time. We like a round shape for this bread and cut it in quarters and slice those when the bread is ready. For inspiration or instruction you can consult a good bread book or watch the short video on our website.
You can sprinkle the top of the bread with some semolina, plus some pumpkin seeds or oats, to give it a more rustic look. This also makes the top of the loaf less sticky to any cover.
Transfer the shaped dough to a baking sheet, cover and leave to proof for 1.5 to 2 hours. Ideally the temperature of your dough when proofing this bread should be around 25-26ºC / 77ºF. When you think it has risen enough, use your finger to carefully make a very small dent in the dough. If the dent remains, the bread is ready to bake, if the indentation disappears, the dough needs a bit more time. Take 15 minutes and check again.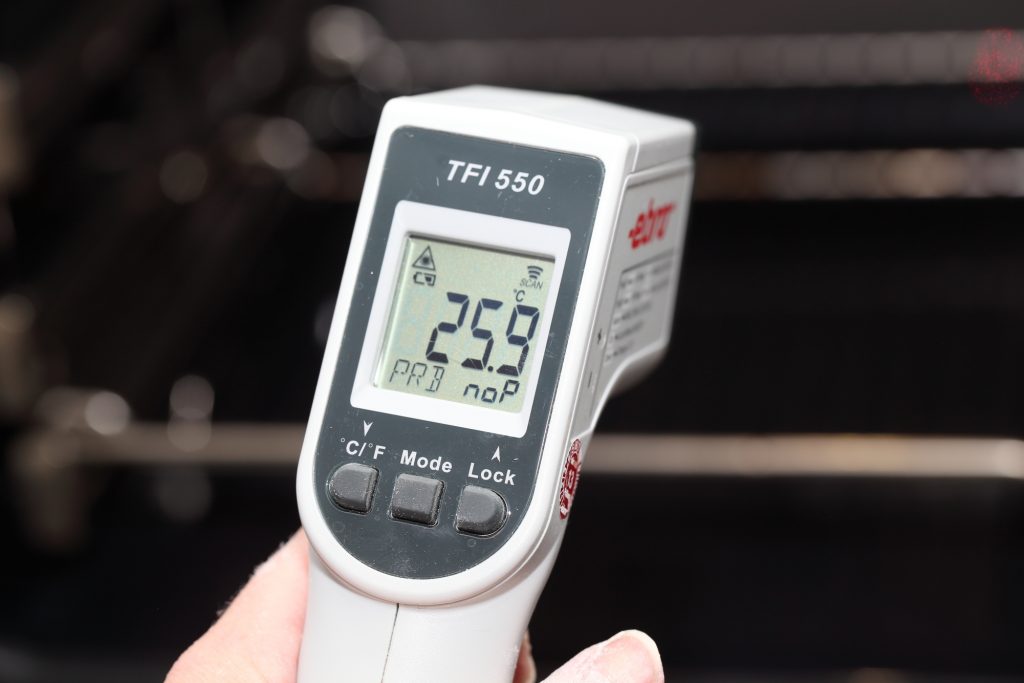 Preheat your oven to 210ºC / 410ºF conventional setting at the final stages of the proofing. At what point depends on how long it takes for your oven to heat up. Make sure it is well heated and stable before you put in the loaf. You can check out our tips on how to make the most of your oven for the best baking results here.
Tip: To get a nice crust, color and shine, try to create some steam in your oven. You can use the steam setting in your oven if you have one of course. Alternatively you can create steam by putting a small metal baking tray on your oven floor when you preheat the oven. Pour in half a cup of hot water immediately after putting the bread in the oven. If you are going to create steam with a baking tray, you maybe also want to turn your oven temperature a bit higher, because you are going to lose some heat in the process.
If you want you can slash the top of the loaf. Now place the bread in the preheated oven and bake for approximately 40 minutes. Check regularly to see how fast the loaf is browning. If you think the crust has the desired color, you can temper your oven to 170ºC / 340ºF for the rest of the baking time. Leave to cool on a rack.
Eat while fresh of course! You can also store the (sliced) loaf in the freezer and give the slices a quick pick me up in a toaster or defrost at room temperature or use the microwave (best very short at high wattage)to get a slightly warm and fluffy slice. Delicious eaten just plain, also with fresh butter or cheese.