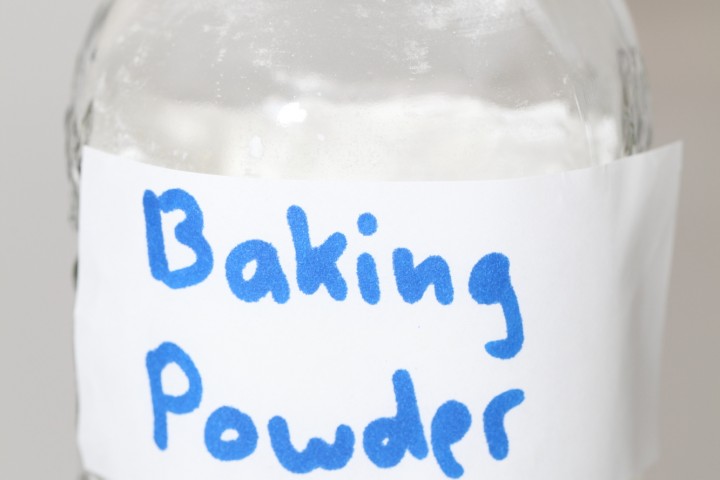 Rule of thumb for your baking: 1 gram baking powder to 25 grams of flour
Have you ever read the back of a packet of baking powder to check what is actually in it? Next to cornstarch and baking soda also referred to as E 500(ii) in Europe, you can find other raising agents. The one in a much used package in Europe was labelled E 450i. I looked it up in my E-numbers and additives book and I read that this 'disodium diphosphate' can have several side effects like slowing down your intake of calcium, hyper activeness in children and possible kidney damage. This for me was a first incentive to take a closer look at alternatives.
For many years I already used baking powder from the organic store, consisting of cream of tartar (an acid), baking soda (a base) and corn starch (a filler to absorb moisture). Then I got the idea of making it myself, just for the fun of it and also learn more about the how and why. I found a place where I could buy a larger quantity of cream of tartar (a kilo at brouwmarkt here in Holland), next to the bigger packages of organic cornstarch and baking soda that you can easily find anywhere. So now I can make baking powder and self raising flour with my favorite organic flour for many bakes and feel good about it. And I save some money in the process too…

Making your own baking powder is easy and it has several advantages:
You know what goes into it and avoid things like aluminum and genetically modified corn
It is, so I found out, 30 to 50% cheaper than buying the commercial packages
You won't run out of baking powder that easily anymore
You can make the right amount of powder in advance, according to your baking needs
You use it with your favorite flour to make the best quality self raising flour
Ingredients for baking powder small batch
100 grams
50 g cream of tartar
23 g baking soda
27 g cornstarch
Ingredients for baking powder large batch
250 grams
125 g cream of tartar
56 g baking soda
69 g organic cornstarch
For people without scales: for 1 teaspoon of baking powder, mix 1/2 teaspoon cream of tartar with 1/4 teaspoon of baking soda and 1/4 teaspoon cornstarch.
How to use the baking powder
As a rule of thumb for your baking you add 1 gram baking powder to 25 grams of flour used.
You have to work quickly after stirring, because this baking powder is a so called single acting or fast acting powder.
Baking powder comes in two versions: single acting baking powder, like the one described above, contains acid that dissolves in water. The chemical reaction begins as soon as liquids are added. You have to work quickly to get the most out of this type of powder. I use it in cakes, muffins, scones and cookies and for me it works perfect.
The double acting baking powder, which is the more common commercial version, contains a second acid that only kicks in when it reaches a certain temperature in the oven. If you buy this variety, make sure you get the one that is aluminum free.
Many recipes call for baking soda rather than baking powder. Usually these recipes use some kind of liquid acid like buttermilk or yogurt to react with the baking soda to produce the bubbles.
Baking powder does not last forever! It has a shelf live of 6 to 12 months and it is sensitive to moisture so it is best kept in a cool and dry place. You can test if your baking powder is still active and ready for your baking by pouring some hot water over 1/2 a teaspoon of the powder. If it immediately and enthusiastically starts to bubble you are good to go!
More on this subject:
E-notes – How it works and history
Baking powder versus baking soda
Baking ingredient substitutions