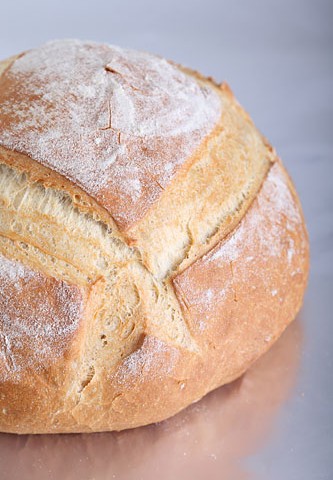 I believe there are few things more rewarding than baking bread. The dough, the smell, the cracking of the crust, the warm oven. Eat this loaf while it's still warm with fresh dairy butter and soft dark brown sugar. I love making this bread with fresh yeast. Use 20 grams of fresh instead of the 7 grams instant yeast, if you can get it.
Happy baking!
Ingredients for the Crusty White Loaf
makes 1 bread
500
g
white wheat (bread) flour
275
g
luke warm water
8
g
(sea) salt (1.4 tsp)
7
g
instant yeast (2 1/4 tsp)/ or 21 grams fresh yeast
10
g
honey (1.5 tsp)
20
g
soft butter
Making the Crusty White Loaf
Note: We use European flour which absorbs a few % less water than American type flour. People using this type of flour should add 3-8 g water to their dough.
Mix flour and salt. Add yeast and honey to the flour mixture and add the the water to make a nice dough (not too dry, not too wet, ever so slightly sticky). If you use fresh yeast, first dissolve it in some of the water before adding it, however if you use instant yeast you can add it directly to the flour. Add the butter when the dough is starting to form a ball. Knead for approximately 10 minutes with a KitchenAid or Kenwood type mixer or about 15 minutes by hand (for you (semi)professional standing mixer owners I would recommend 6 to 7 minutes kneading time).
Cover and let it rest in a warm place for an hour. Gently knock it back, shape and let proof for (at least) one hour. Check regularly. When you think it has risen enough, use your finger to make a small dent in the dough. If the dent remains, the bread is ready to bake, if the indentation disappears, the dough needs more proofing time.
Tip: also check out our advise and tips on the right dough temperature
Bake in a preheated oven 230º C / 445º F for 40 to 45 minutes. Make sure to keep an eye on it during baking. If it browns too quickly you can set the oven at around 200º C but make sure you get a full bake otherwise your bread will not be cooked properly. Try to create some steam in your oven by putting a small metal baking tray on your oven floor and pouring a cup of hot water onto it just before baking. Release some steam by setting your oven door ajar 5 minutes before the bread is ready. That way the chance of getting a crusty crust increases. Slashing the dough with a lame or bread scoring knife in a nice pattern also helps with your oven spring and crust. Leave to cool on a wired rack.